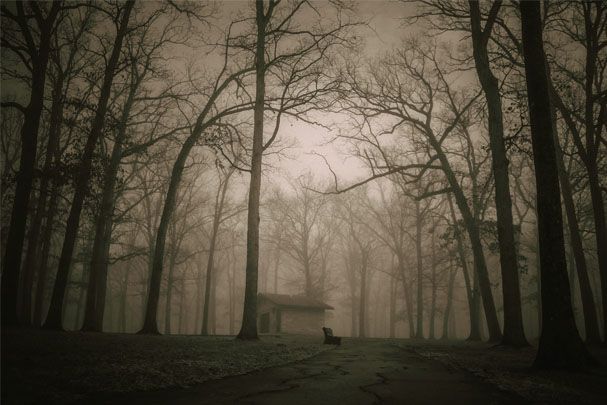 Nationwide Vehicle Contracts explores the haunted locations perfect for a Halloween-themed road trip.

Halloween is the perfect time to embrace all things that scare us. Don't like horror films? It doesn't matter; it's Halloween, so you can conquer all your fears.
It's also the perfect time to explore the eerier side of the United Kingdom, including haunted landscapes and spine-tingling experiences.
In this blog, car leasing experts Nationwide Vehicle Contracts talk about some of the most notorious haunted roads and locations in the UK and Ireland.
Most Haunted Locations
The Screaming Woods, Kent
Tucked away in Pluckley, Kent, is the Screaming Woods, which is said to be one of the most haunted forests in the UK. Named after the eerie screams and ghostly figures that appear, many of the nearby villagers swear to have seen black shadows following them while they were travelling across the forest. The Screaming Woods is sure to raise the hairs on the back of your neck.
For a spooky drive, start in Pluckley, then drive westerly down Smarden Bell Road until you see the car park. Then, venture into the woods and hope for the best.
Pendle Hill, Lancashire
Pendle Hill is located in East Lancashire near Burnley and Nelson, attracting thrill-seekers from far and wide. Rumoured to be the site where 12 women were accused of witchcraft in the 17th century, Pendle Hill is rumoured to be the home of their restless spirits.
Many visitors have told stories of supernatural encounters, and some have reported the feeling of being strangled with invisible hands.
To get there, come off the M65 at junction 13 and head to the village of Barley.
Chillingham Castle, Northumberland
Chillingham Castle is known for its haunting history and is said to be Britain's most haunted castle. Originally built in the 12th century, the castle is notorious for housing several resident spirits, including the 'Blue Boy' and the 'White Pantry Ghost'.
To get there, head North from Newcastle.
Leap Castle, Ireland
Leap Castle is a must-visit for ghost hunters. Believed to be one of the most haunted castles in the world, with numerous people being imprisoned and executed in the castle. The castle's notorious 'Bloody Chapel' is said to be inhabited by malevolent spirits.
To get there, travel to County Offaly in Ireland, and you can take a guided tour of the castle and explore its dark and chilling history.
Plas Teg, Wales
Plas Teg in North Wales is a historic Jacobean house that's rumoured to be haunted by several spirits. The most famous of these is Dorothy, the 'Grey Lady,' who fell to her death when going to meet a local farmer's son with whom she fell in love.
It's rumoured that Dorothy haunts the A541 road and that she can be seen running to meet her love.
Most Haunted Roads
A75 Road, Scotland
The A75 Road in Scotland is now thought to be Scotland's 'most haunted road'. A four-mile stretch known as the Kinmount Straight, between Carrutherstown and Annan, is said to be haunted. Reports of sightings have covered all sorts of things, from peasants carrying bundles to a couple walking in the road and then mysteriously disappearing.
Flash Lane, Derbyshire
Flash Lane is rumoured to be home to a headless horseman who first appeared back in the 1990s and a group of ghostly peddlers, one of whom was murdered at the nearby Darley Dale. There have also been sightings of UFOs in the area!
It's so haunted that even the locals try to avoid the road.
A229, Kent
Blue Bell Hill on the A229 is thought to be one of the most haunted roads in the UK. Back in 1965, three women were severely injured in a road accident and died soon after. One of the women, Judith Langham, was due to get married that day.
Since then, motorists have reported seeing a girl in a white dress step onto the road and then quickly disappear. It's suspected this is Judith.
Stocksbridge Bypass, Sheffield
The Stocksbridge Bypass was only built in 1987, but numerous workers reported eerie paranormal sightings during its construction. On the same night, a pair of security guards saw two children in old clothes dancing and laughing and a cloaked figure, both of which disappeared when they investigated.
Further mysterious sightings have been reported over the years, and even police officers have experienced strange goings on.
A666, Greater Manchester
If you're religious, look away now! The A666 in Manchester is known as the 'Devil's Highway', and I'm sure you can piece together the clues (666 is the devil's number). There have been numerous sightings of 'dark shadows' that lurk at night, causing a shock to drivers and passers-by.
Surely, the Ministry of Transport could have skipped the number 666! That's a recipe for disaster.
Looking for more spooktacular blogs? We've produced a range of Halloween-themed blogs, such as Halloween Car Events: Spooky Car Shows, Races, and Parades Around the World.
If you want to avoid a scary driving experience, we're one of the UK's largest car leasing brokers, offering a range of lease deals to suit your every need.