Hopefully you didn't miss Elliot's brilliant piece published on this blog on Sunday about the School Run: but if you did, please click on the link to have a read, and then return here for more tips and ideas on how to not only keep your hair, your sanity and your temper, but also to stop your car being 'accidentally' vandalised by jealous and irate pedestrians and houseowners and to stop the same people threatening you verbally and with rolled up newspapers and umbrellas - as well as keeping children safe too!
While it is fully understandable that parents drop kids off on the way to work in the commuter nightmare that are traffic jams, the general conception of 'school runners' is that they are usually mums driving big cars before heading off to a bit of shopping at Waitrose before attending a Coffee Morning with other well-off mums. Sometimes this is true, but being a 'runner' myself (and male) most of us are in a bracket that contains 'Is-that-the-timers?', 'Look-at-the-weathers' and 'Can't-be-bothered-walking-ers.'
Some of these ideas come from the Institute of Advanced Motorists' Peter Rodger who is asking drivers to take extra care and also from Allianz Global Assistance who are concerned that parents aren't even ready for all this..
Plan your morning, because the later you leave, the more you compromise your concentration and the safety of other road users. You will be amazed how much leaving 5 minutes earlier makes to your journey and your attitude.

Make sure that your children are always strapped in because in a rush this is so easy to forget – and don't be distracted by the noise that they often make behind your head, especially if there is more than one of them!

Check oil, tyres and petrol the day before. Don't risk a petrol station visit on the day because a lot of people will have the same idea.

The nearer you get to school, the more schoolchildren there are so make sure that you are paying attention because some of the kids won't be. They will be too excited about seeing friends again and showing off new phones, clothes, make-up and photos!

If you are going to a primary school, especially look out for new starters in nursery and reception classes. They will be especially excited, and don't know any road safety rules at the best of times!

Around school areas, speed limits are usually 20mph – and it's that for a very good reason. You need to be able to react to any children wandering out from – or dashing out from – between parked cars. As road safety charity Brake say when continually promoting their Go 20 campaign; at 20mph, drivers have more time to react and stop in time if they need to (Studies show when 20 limits replace 30, it means fewer casualties among pedestrians and cyclists.)

Never stop on the yellow "zig zags" by the school gate, and always make sure that any passengers alight on the pavement side

And while we are on the parking bit: don't park across driveways because people live there and want to get cars in and out; don't park with your wheel on the pavement so that pedestrians have to squeeze past you or go into the road to do so (especially people who have prams); and don't park with due inconsideration. There are other people on the road who need to use it so parking a 4x4 on a single lane road when you could block it by doing so isn't a good idea.

In fact; try to arrange a car pool with other parents because the less cars that there are around school gates, the better.

If your children are walking to school on their own as part of the school run, make sure they are aware of road safety issues such as the dangers that abound when crossing busy roads – encourage them to always use the pedestrian crossing if there is one. According to Brake figures, 5 children under 16 are killed or seriously injured when walking or cycling every day in the UK
IAM chief examiner Peter Rodger said: "The school run brings with it a 20% growth in rush hour traffic. A little preparation can go a long way to making the school run easier, safer and less stressful, so take the extra time and plan ahead."
Lee Taylor, Chief Sales Office for Allianz Global Assistance commented: "Taking a few simple steps could therefore ensure a smoother school run. Some may seem like common sense, but you'll be surprised at how many drivers forget after a two month break."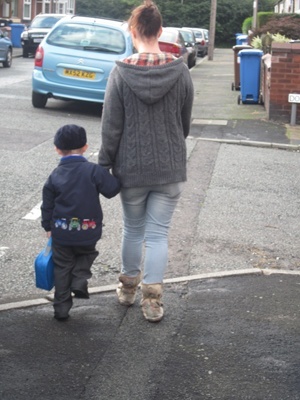 Brake's GO 20 campaign urges drivers everywhere to commit to slowing down to 20mph around homes, schools and shops, even where the limit is 30mph, and also calls for 20mph limits to become the norm across built-up areas, for more safe pavements, paths and crossings, so children and adults can walk and cycle for their health and enjoyment, and for cheap and sustainable travel, without being or feeling endangered. It is a big decision to let children walk or cycle to school unsupervised, especially when other parents let their children do so and the peer pressure builds on your child. Faced with this and the positives in letting a child lead a more active lifestyle many adults are having to weigh up the options against the threat of their child being hurt by drivers, with recent research showing that many are put off letting their child get out and about by the inherent dangers of traffic danger.
Julie Townsend, Brake's deputy chief executive, says: "While it's important kids and young people receive road safety education, it's crucial that drivers take on the ultimate responsibility for protecting children on foot and bike. Our research shows there's a contradiction in what some drivers say they want and the way they behave at the wheel. As well as campaigning for government and local authorities to do more to reduce speeds in communities to tackle pedestrian and cyclist casualties and create nicer places to live, we're appealing to drivers everywhere to do their bit too. By slowing down to 20mph around homes, shops and schools, you'll be helping to save lives, and enabling kids to walk and cycle more in their neighbourhoods."