NEW ADVANCED ACTIVE SAFETY TECHNOLOGY ADDED TO THE CIVIC RANGE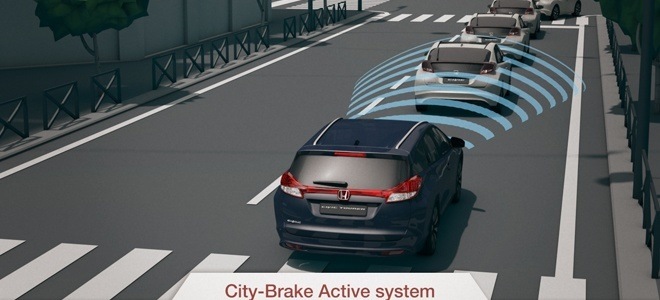 From 2014, in all British-built Honda Civic models, a new suite of advanced active safety features is being added to make the Honda Civic even safer to drive on the road.
This will include both the new Civic Tourer and Civic hatchback as all Civics will benefit from addition of the new Driver Assistance Safety Pack that includes advanced laser-radar cameras and sensors. The technology that this involves will, according to Honda, "help avoid a collision and ensure that high levels of safety are affordable and accessible to a wide range of customers within the compact family-car segment."
The Driver Assistance Safety Pack is designed for all journeys, whether it be travelling across a busy city or cruising along a motorway, dropping children off at school or taking a leisurely drive on a sunny day – working hard to prevent accidents or, if that's unavoidable, lessening the impact of them
The Safety pack includes the following systems:
City-Brake Active system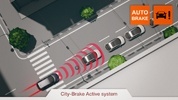 This is a laser radar system that scans ahead on the road and is specifically designed to help avoid or lessen the impact of low-speed accidents. The City-Brake Active system automatically puts the brakes on if it thinks that there is a chance of collision in the immediate future with a car or a truck, and is designed to work at speeds of 18mph or below.
Don't worry; it's not a slamming-on of the brakes. At first the car will sound a warning (and there is a visual warning too) but if that is 'ignored' that's when automatic braking occurs. The driver can turn the City-Brake Active system off only if the car is stationary and the engine is running, and will stay off until the ignition is switched off. It turns itself back on once the ignition is switched back on.
Forward Collision Warning
Similar to the City-Brake Active system in that it detects the risk of an impact by recognising the vehicle (car or truck) directly in front, the Forward Collision Warning system uses a multi-purpose, forward-facing camera to detect any collision risk. It starts to work once a speed of 9mph is reached, and like its cousin it warns drivers visually and audibly, but doesn't operate the brakes this time.
The system can be turned off, and drivers can also set the warning distance to one that they feel is necessary.
High Beam Support System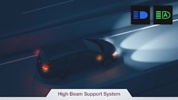 One of my own personal bugbears is the use of High Beam headlights at night on unlit roads, especially when you are going towards them and the oncoming driver fails to dip them. The High Beam Support System works by switching High Beam headlights on or off automatically at speeds of more than 24mph, depending of course on the behaviour of the oncoming or preceding cars, trucks and motorcycles, whether or not there is a bicycle involved and the environmental brightness at the time. Once again, the system can be turned off by the driver at any time.
Lane Departure Warning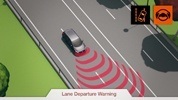 Another piece of technology that uses the multi-purpose camera at the front to track lane markings on the road. The Lane Departure Warning system detects if the car deviates from its current lane without indicating, and alerts the driver again audibly and visually. The system this time kicks in at speeds of more than 39mph where the road has a curve radius of 250m or more, and again can be switched off should the driver wish to.
Traffic Sign Recognition System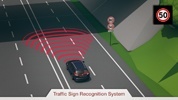 Now this one is a lot cleverer than a lot of drivers as, as the name suggests, the Traffic Sign Recognition System uses that multi-purpose camera again (I told you it was multi-purpose) to automatically recognise road signs when the vehicle is moving and displays them on the intelligent Multi Information Display (iMID) once the driver has passed the sign.
Only certain road signs though - mainly circular ones displaying speed limits and 'No Passing' information – and it shows two at one time on a split screen, with speed on the right and others on the left with other information such as weather conditions (although I'm sure you can work that bit out by looking out of the window!)
It will only tell you about the sign if it is relevant to the vehicle you are driving in that it won't tell you about Heavy Goods Vehicles limitations on speed and height restrictions if you aren't driving one (which you aren't because you are in a Honda Civic, aren't you?) and it is always right because, unlike other competitor versions of the system, Honda's Traffic Sign Recognition System uses a camera rather than GPS.
Blind Spot Information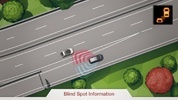 Radar technology is the brains behind the Blind Spot Information system that does exactly what it says on the tin, automatically detecting vehicles in the driver's blind spot when travelling at more than 12mph, and warning the driver. It spots both cars and trucks and is obviously very useful when overtaking and merging or changing lanes.
It works by displaying a warning sign on the wing mirror if it spots a vehicle in the blind spot, staying there until it disappears. If the driver doesn't spot this and indicates, the visual warning blinks and there is then an audible warning.
Cross Traffic Monitor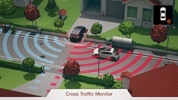 Used when reversing, Honda's Cross Traffic Monitor system uses rear-side radar sensors to detect and warn of approaching vehicles by showing them in the rear-view camera screen, or on the iMID as a moving arrow along with an audible warning. It detects cars and trucks travelling up to 15mph, and can be turned off by the driver once the vehicle has stopped.
'Safety for everyone'
These technological improvements are part of Honda's commitment to safety encompassed in the term 'Safety for Everyone'; and that includes drivers, passengers, pedestrians and occupants of all vehicles.
No wonder both the Civic Tourer and Hatchback carry the coveted five-star Euro NCAP rating for safety.