Honda (UK)'s 1000cc 109HP Mean Mower is officially the world's fastest lawnmower as it broke the Guinness World Record by almost 30mph with an average speed of 116.57mph.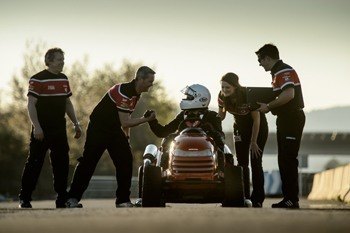 Under the watchful eye of an adjudicator from the famous World Records keepers, Piers Ward of BBC TopGear Magazine was behind the wheel of the Honda Mean Mower at the IDIADA Proving Ground, in Tarragona, Spain, to break the previous record of 87.83mph which had been held for nearly 4 years.
Over the required two runs, the Mean Mower lawnmower not only had to cut grass and actually look like a lawn mower, but it also had to do the same run (in both directions) in a time span of an hour – and anyone who has tried to cut grass at normal speed will realise the problems inherent in doing it at over 100mph!
Ellie Ostinelli, PR Communications Manager for Honda (UK) comments: "The original brief for Mean Mower was to create the world's fastest lawnmower – and now it officially is, by some distance! We are all delighted to hold a GUINNESS WORLD RECORDS title and we'd like to thank everyone who was involved in what has been a challenging yet incredibly exciting project."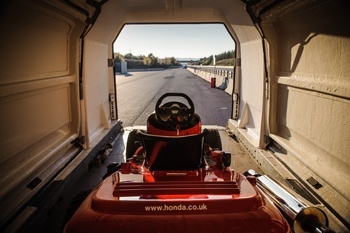 Obviously, this blog isn't here to tell you about just anything that beats speed records, but this was HONDA – and the whole point of Honda doing this was to show the world that their marketing tagline of 'spirit of innovation' is actually what it says; and to also demonstrate its motor sport heritage, and the fact that Honda make a lot more than just cars.
Looking at just what they did with Mean Mower IS that demonstration, courtesy of Honda (UK)'s British Touring Car Championship (BTCC) partner, Team Dynamics, who designed and built the lawnmower in the UK. Starting with a Honda HF2620 Lawn Tractor they re-engineered it from the ground up by adding an all-new fabricated chassis, custom-made from 4130 chromoly, so that the basis was there right at the start supplying strength, safety and solidarity on a very light platform. Then the 1000cc engine from a Honda VTR Firestorm was added before finishing off the skeleton with bespoke suspension and wheels from an ATV.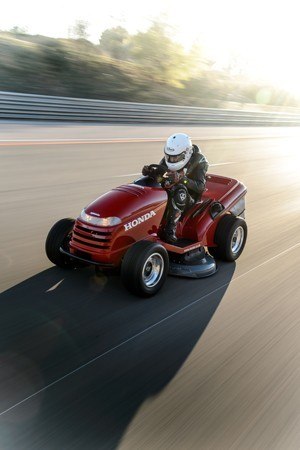 As stated previously, the finished thing had to look like a lawnmower, and every effort was made to retain the look of the original mower as possible, with changes such as a fibre-glass custom-made cutter deck to reduce weight, a grass bag as a fuel tank, a high capacity oil cooler and a secondary water cooling radiator.
Contrary to my previous (possibly flippant) comment, the lawnmower cuts grass at a maximum speed of 15mph by using two electric motors on the cutter deck, spinning 3mm steel cutting cable at an incredible 4000rpm – and this is twice the speed of a normal HF2620 mower.
Using feedback supplied by Honda Yuasa Racing drivers, three times BTCC champion Matt Neal and 2012 champion Gordon Shedden, the designers decided that the Mean Mower needed a custom-made paddle shift six-speed gear system (and that's what it got), a custom-made Cobra sports seat, a Scorpion exhaust system and a steering rack taken from a Morris Minor.
Although it may seem a bit Blue Peter-like in construction (or should that be Robot Wars?) the actual result of this remarkable feat of engineering is "a lawn mower set-up and geared to achieve a top speed in excess of 130mph, weighing just 140kg, producing 96Nm of torque, an incredible PTW ratio of 532bhp/tonne; and an estimated 0-60 of just four seconds." Try making THAT out of stickyback plastic and a couple of egg boxes.
Obviously, looking at the high speed involved, safety was a main concern of the designers and builders, so ATV wheels were used. ATV racing is held on rough off-road tracks
Safety was paramount to the project, so every effort has been made to make the mower stable and secure. To achieve optimum balance ATV wheels have been used – ideal because ATV racing is held on rough off-road tracks, and in order to ensure optimum balance in this world record attempt, these wheels were used with super-soft tyres as well to ensure optimum grip and excellent handling on the tarmac.
So does it show off Honda's abilities? The fact that every effort was made to use Honda parts, where possible, including brakes and several motorcycle components. Almost everything else has been custom-made by Team and the fact that the Guinness World Record was not only broken but SMASHED speaks volumes.
If you want to see a video of the Mean Mower in action, click here.
If only the Mean Mower was about when George Jones wanted his drink.