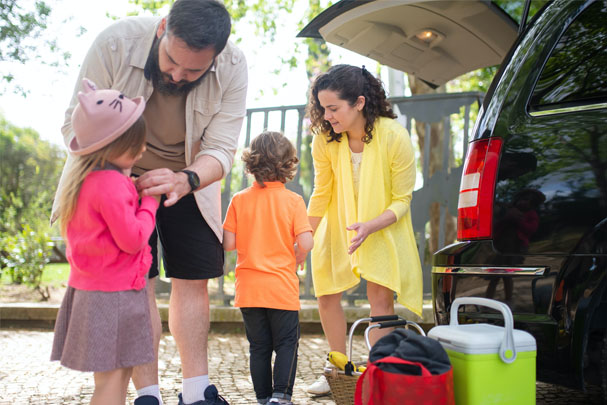 Nationwide Vehicle Contracts explains how to select the right car that fits the needs of your growing family.

Picking the right car for your growing family can be a tricky task. You need to balance many things, such as practicality, reliability, and the range of technology available.
Although you're probably very busy already, it's best to take your time to ensure you choose the right car that will serve you and your family well. After all, think of all the memories that are going to be made in the car!
In this blog, Nationwide Vehicle Contracts explains what you must consider to ensure you choose the right car for your growing family.
Consider Your Needs
The first thing you'll need to do when choosing the perfect car for your growing family is assess what you need. Consider your current situation and future plans, such as more children or pets.
If this is the case, you'll need a larger car, such as an SUV or a people carrier, to accommodate.
You'll also need to think about the need for additional features in the future. If your children are young at the minute, you'll need better technology and storage space in the future to keep them happy.
Safety
As always, your family's safety is a priority. Therefore, choose a car with some of the latest car safety technologies, such as stability control, anti-lock braking, and various cameras and sensors. These come standard on most cars nowadays, but it's always worth double-checking.
Suppose you really want to push the boat out in terms of safety. In that case, some cars now feature additional safety systems, such as blind-spot monitoring, lane departure warning, automatic emergency braking, and driver-understanding technology.
If you want more information on car safety, check out our guide detailing the safest cars for young families.
Seating/Interior Space
The main consideration you'll have to consider with seating is whether to opt for five or seven seats. There's plenty of choice available for five seats, with most large hatchbacks, estates, and SUVs equipped with five seats.
However, if you have a large family (or plan on doing so), you must consider a seven-seater car. You can either choose a dedicated seven-seater car, such as the Volkswagen Touran, or an extended version of an SUV, such as the Volkswagen Tiguan Allspace.
If you need a seven-seater, remember they typically come with less boot space and mediocre on-the-road performance.
Reliability
There's nothing worse than breaking down, especially if you're heading somewhere with all the family! This is why it's essential you choose a family car that's reliable.
By doing some research online, such as reading reviews, you can find out which family cars are the most reliable.
A reliable car will ensure low maintenance costs for your family and thus keep your money in your pocket for essentials.
Budget/Fuel Efficiency
One of the final things to consider when choosing the perfect family car is your finances. Have a look at your finances and assess how much you can spend on the car, and also figure out how much money you can spend on fuel each month.
One consequence of market competition in the car industry is that there are loads of deals on the market, meaning that if you do some research, you can find a good car for an affordable budget.
Also, there are now loads of options regarding fuel efficiency. Thanks to technological advances, most petrol and diesel cars exceed 40 miles per gallon, which is great if you're driving on a budget.
However, if you want to increase miles per gallon, consider choosing a hybrid or electric car for your family. They typically come with much better fuel efficiency, meaning you'll save money in the long term.
Check out our fuel efficiency guide for more information.
Conclusion
When choosing a car for your family car, it's essential that you first consider your situation and any future plans you have.
Once you've considered this, start the selection process by looking into safety, seating/interior space, reliability, and fuel efficiency/budget.
If you've found a car that ticks all of the boxes above, you can guarantee it will serve your growing family well.
Nationwide Vehicle Contracts produce various blog giving motoring advice, such as How to Choose a Car Leasing Company You Can Trust and the Top Five Car Accessories You Need as a New Parent.
If you're looking for the perfect family car, check out our leasing deals on a range of affordable family cars.