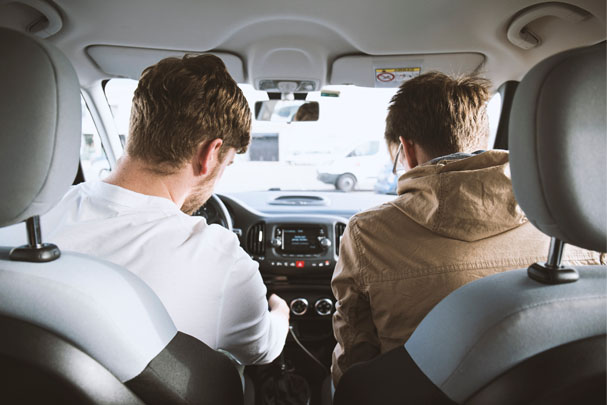 Nationwide Vehicle Contracts provides tips on how to create a carpooling programme for your business and how to promote it to employees.

As businesses continue to balance home and office work, a carpooling scheme is a good solution to promote to your employees to get them back into the office.
Carpooling is when people travelling to the same or similar destination share their journey, thus reducing fuel costs and vehicle emissions. It's a great way to help the environment and also be more sociable on your way to work.
However, setting up a carpooling scheme can take a lot of effort, especially if you run a large business. To help you along, Nationwide Vehicle Contracts provides expert advice on creating a carpooling programme for your business.
Does my business need a carpooling programme?
The first thing you should do before you set the wheels in motion is assess whether a carpooling programme is actually needed for your business. You should consider one if your business can relate to the following:
Rush hour traffic makes it difficult for employees to get to work

Employees experience a lot of stress while commuting

On-site parking can't accommodate all employees
Do some research
Although you (the business owner or high-ranking employee) might want to set up a carpooling programme, there's no point setting one up if there's no demand for it. Conduct a survey before you put any plans into place to ensure that if you set a programme up, most employees will participate.
Also, assess if a carpooling scheme would be practical. If you run a small business and a lot of your employees live far away from your office or in different cities, the scheme clearly isn't going to work. This is something you need to clear up before going ahead with it.
Offer incentives
If the initial survey didn't meet the needs of your scheme, offer incentives to employees to convince them to change their minds. Common incentives include the following:
Organise
You've established that your business and employees need a carpooling scheme, what's next? First, you'll need to put someone (or a team) in charge of the programme. These people will ensure that the scheme continues to run smoothly, and if there is any issues, employees can come to them to find a solution.
The first task of the organiser will be to pool employees together who live in a similar area. Once this has been sorted, add them to a group chat on a shared social media platform, such as WhatsApp or Facebook Messenger.
Once the group chats have been created, the individuals can organise the carpooling rota themselves. As the organiser, give them autonomy to organise it, but check in with each person to ensure they are satisfied with the schedule.
Set some rules
To ensure your carpooling scheme continues to run smoothly, you'll need to set a few ground rules:
Establish how far in advance each group needs to make their rota to ensure everyone has time to plan around it.

If someone is sick or can't make it, establish how long in advance they need to let the driver know. The same goes if the driver can't make it; they must let their passengers know beforehand. At least a days notice should suffice.

Choose pick-up and drop-off locations and stick to them.
Get feedback
Once the programme has been running for a couple of weeks, reach out to each group and gather feedback on their thoughts, both good and bad. This will show which areas need improvement and you can come up with a solution to solve any issues.
It will also show the employees that you care about what they think, which can go a long way in boosting employee morale and maintaining the success of the scheme.

Do you carpool to work? Nationwide Vehicle Contracts produce a range of blog articles on various topics, such as The Best Cars For Carrying A Bike and How To Deal With The Pressures Of City Driving.
We are also one of the UK's largest car leasing brokers and offer a range of affordable leasing deals. For more information, call one of our car leasing experts on 0345 811 9595.