As we make our way into spring, Nationwide Vehicle Contracts talks you through our top tips to successfully spring clean your car.
As the lighter nights creep in and the temperature starts to increase, everyone here at Nationwide Vehicle Contracts is getting super excited about spring. As we all emerge from winter hibernation, there's never been a better time to start your spring cleaning regime. This spring, dust of the cobwebs, throw away any clutter and get everything more organised.
Check out our top spring clean tips below.
Firstly, we suggest you remove everything from your car. From the car mats and emergency kits to everything rattling around in your glove box and drink holders.
Then wash the outside of your car by using car shampoo, a sponge and warm water. Don't forget the headlamps, wing mirrors, windows and windscreens.
Once the main body of the car is sparkling clean, move onto the tyres. Use a high-pressure hose to clean the tyres, it will dislodge any hard to move dirt. Next, apply the degreaser or cleaning solution and use a soft-bristled brush to clean.
You should then dry the main body of the car using a clean and dry microfibre cloth.
When the car is dry, you can then polish the main body of the car using car polish and a clean microfibre cloth. Be sure to polish all glass with a car glass cleaning solution using a clean microfibre cloth.
You can then move onto the interior of the vehicle. Start by vacuuming the carpets, seats, back shelf, boot, dashboard, down the sides and underneath the seats and air vents.
After this, you can use car shampoo with clean water on the seats and carpet, the dashboard and any plastic including the seat belt locking mechanism. Then dry everything with a clean microfibre cloth.
Don't forget to polish the inside windows, windscreens and rear view mirror with a car glass cleaning solution.
It's also a good idea to replace your car's pollen filter.
We suggest it's the perfect time to also top up washer fluid, anti-freeze, oil and power steering lubricant.
It might be worth replacing your wipers.
And last but not least, check all your light bulbs work and replace where necessary.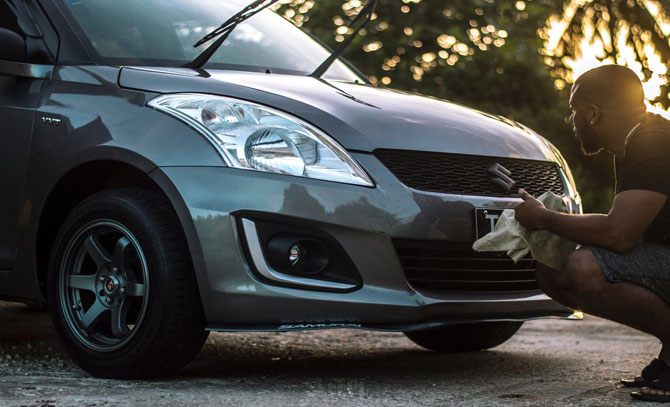 We hope these top tips help you get your car looking fabulous this spring. For even more helpful information about everything - from who can drive your lease car to the top 10 vans for sole traders - check out our blog.