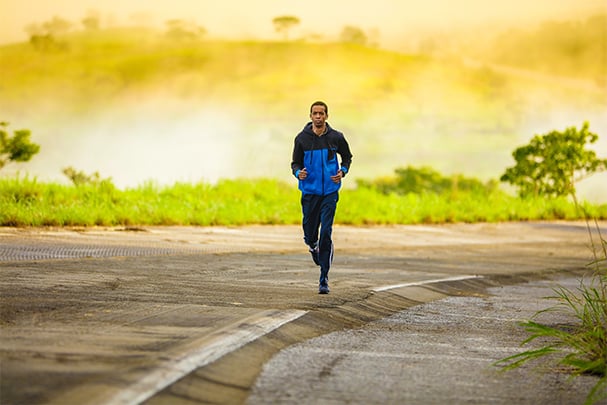 Nationwide Vehicle Contracts offers you five tips to stay safe whilst running on the road
When it comes to safety on the road, most discussions focus on protecting cyclists and motor vehicles. However, runners safety should also be as important as much as any other road user. According to Statista, around 450 pedestrians are killed on British roads every year due to drivers not having care on the road or runners not following the proper safety measures while running.
We've put together a list of some of the best tips to stay safe whilst running on the road. Our list consists of a range of five tips, from how you can be more visible on the road to why running with headphones isn't a good idea.
1. Run Against Traffic
When running on the road, you should run against traffic to see approaching vehicles. By facing on-coming traffic, it allows you to react quicker than if a vehicle is behind you. If you're in dark or low light conditions, you'll be able to see oncoming headlights.
Though, it's essential to keep in mind that if you are running around a bend, you should cross onto the other side. This is because you can't see the vehicles coming towards you, which means they can't see you either, putting yourself and drivers at risk.
2. Avoid Wearing Headphones
Headphones can significantly increase your risks when running on roads as your distracting your sense of hearing, and you won't hear oncoming cars, cyclists yelling to move, dogs, or any other potential threat. According to a study from Runners World, 61 per cent of runners listen to something while running, with 82 per cent choosing to listen to their favourite music. With more than half of runners saying they love to listen to a podcast or playlist, it's clear how popular it is to wear headphones while running.
However, If you chose to run with music or some other distraction, try to keep the volume very low or run with one earbud out so you can still hear what's happening around you.

3. Be Visible
Wear reflective clothing when running on roads or pavements to help drivers see you. By making yourself more visible to motorists and cyclists, the chances of accidents can be reduced massively. Regardless of the environment you are running in, visibility should be one of your main focuses, especially in the rain or snow, at dawn, dusk, or dark out.
While running on the road, it's best to wear reflective materials like armbands, sashes, waistcoats, jackets and footwear. Reflective clothing can be seen from up to 500 feet away at night and seen three times as far away as non-reflective materials, giving drivers plenty of extra time to avoid an accident.
4. Run Single File
When running on the road with a friend or in a group, it's essential to think about other road users and look after each other by choosing your formation carefully. You should never run two abreast on roads, even if there is a bike lane. It's best to run a single file, so neither of you strays into the traffic lane and avoid getting hit by oncoming traffic.
Also, it's good to run single file, as it allows space for other runners & pedestrians to pass with ease. For additional safety, use hand signals to communicate with the person behind you. Triathlete recommends some simple gestures you can implement into your runs. Point down for trip hazards, point to the side before turning, and wave your hand behind you to move aside for oncoming traffic.
5. Carry ID and a Mobile Phone
When going on a run, you should always carry some form of ID or a mobile phone, especially if you are running somewhere hazardous like on the road. Having some form of ID will allow you to identified if anything untoward happens to you while on your run. Most running specialists sell wrist wallets with space for you to put your name, contact and medical details on so you don't have to worry about carrying your ID.
Also, it's a good idea to carry your mobile phone while on your run in case you get lost or even hurt yourself. Having your phone with you will help you find your bearings or telephone for assistance if necessary.
To find out more about how to stay safe on the road, check out our comprehensive motoring and leasing blogs and motoring guides on everything from 10 Ways to Reduce Stress While Driving to Top 5 Car Themed Family Days Out, or call Nationwide Vehicle Contracts on 0345 811 9595 for expert advice.