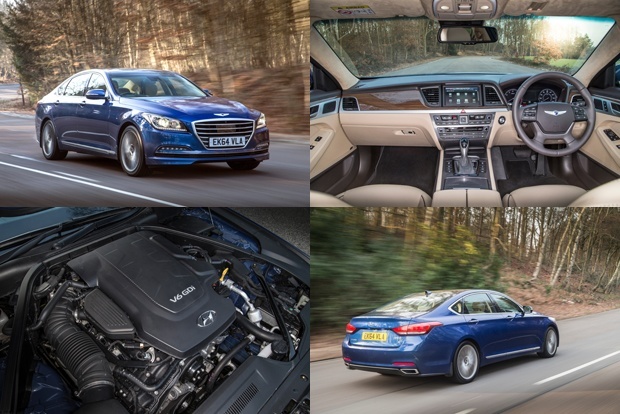 Hyundai's new high-technology premium saloon, the Hyundai Genesis, will be available in the UK from 2nd April 2015; and Hyundai are promising innovative technology, luxurious comfort, craftsmanship and premium style, and value beyond expectations. After all; what would you expect from a car that Hyundai are making their flagship model?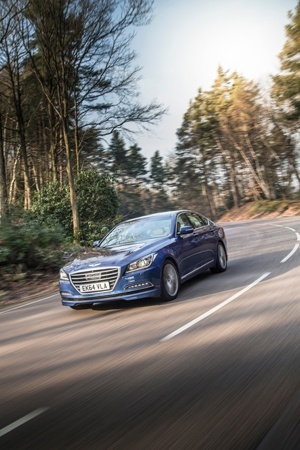 The all-New Genesis is the most refined and technologically advanced Hyundai ever made available in Europe with a powerful 3.8-litre V6 GDI engine working together in perfect harmony with an eight-speed automatic transmission to deliver power and glory to the rear wheels in a (successful) effort to deliver to the driver "an effortlessly smooth and serene driving experience."
Making excellent use of Hyundai's latest design philosophy, which the Genesis demonstrates perfectly, we can see that the exterior oozes sophistication with clean and fluid lines sweeping effortlessly across the cart, projecting an exterior style over the long wheelbase with minimal overhangs that can only give one impression: quality.
Inside, all occupants can enjoy true comfort and calm as they wrap themselves inside the cocoon-like interior which is both generous and luxurious. Making use of some of the finest materials that can be found in the segment, both driver and passengers are offered a true sense of opulence and serenity as they relax in complete comfort, delivered through a combination of plentiful space and first-class seating finished in fine grain leather.
The all-New Genesis isn't just a rest room though. Inside you will find an unobtrusive suite of intuitive new technologies that includes a set of safety features to live for as well as an advanced driver infotainment system that displays detailed vehicle information on an 8" touch screen.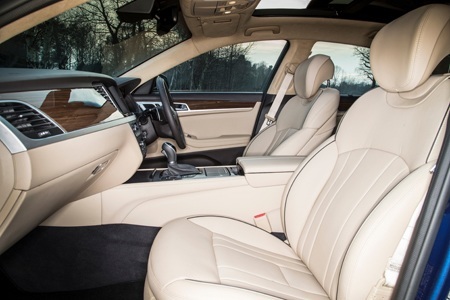 Those advanced safety features include Smart Cruise Control, Automatic Emergency Braking and the world's first CO2 cabin sensor - an incredibly innovative feature that monitors the quality of the air inside the cabin environment to help protect the driver from the dangers of drowsiness. Around the car are situated four cameras that offer a 360-degree view of the vehicle at all times, invaluable for the Rear Cross Traffic Alert system which warns drivers of approaching hazards when reversing from a parking space and the Blind Spot Detection System which monitors traffic around the car while on the road and warns of approaching hazards.
There is also a head-up display that projects important information such as speed into the driver's line of sight, and driving at night is no problem at all with the Bi-Xenon headlights that are equipped with automatic high-beam assist function.
And for that little bit of convenience there is also the Smart Boot System, which automatically opens the boot if the smart key is detected nearby for longer than three seconds, stopping those awkward fiddling with te key moments when carrying a lot of bags.
When it comes to car colour, the Hyundai Genesis is available in a choice of seven specially selected metallic and pearlescent exterior colours, along with three elegant interior trim colour options - all specially chosen to show off the car's capabilities and design.
From beginning to the end, Genesis is certainly the start of a good day.