Well; that's what Hyundai Motor are thinking as they take the covers off of the Hyundai Intrado: their vision of how cars will meet future mobility needs.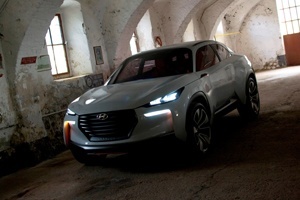 They are insistent that it is far more than just a styling exercise as, with the Intrado, Hyundai have looked at available and advanced vehicle technology and how it can help both drivers and passengers as well as working hard to understand how the design of the car can do exactly the same. All this is done in response to consumer demands for cars that "are easy to use, intuitive to interact with, and readily adaptable to the varying demands of busy, active lifestyles."
The Intrado is the first Hyundai to have been developed under the direction of Peter Schreyer, who became President and Chief Design Officer of Hyundai Motor Group in January 2013. He commented: "Effortless and sensual, Intrado reflects the open-mindedness and constant renewal of the Hyundai brand. It also shows that Hyundai wants its customers to rediscover the joy and freedom that should be associated with personal mobility. That's why this car has such purity of purpose – it's logical, lovable and liveable."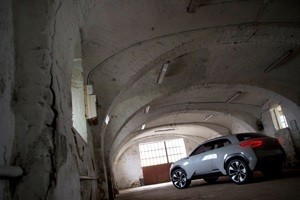 Once again, as with most concept cars announced at this time of year, the "logically, lovable and liveable" Hyundai Intrado will be taking a bow at the 2014 Geneva Motor Show, and you can see from the pictures here just what drivers can expect from the car that takes its name from the underside of an aircraft's wing.
It's not just the name that has been inspired by aircraft as both the advanced materials and technologies involved in the Intrado and actions such as the removal of all unnecessary weight and the addition of a highly efficient powertrain are also part of the accepted logical solutions to complex challenges via purity of purpose that are inherent in aircraft design and function.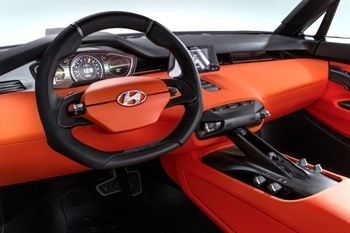 The Hyundai Intrado is very distinctive in its shape: free of unnecessary adornments, created with minimal detailing, made of advanced super lightweight steel and aerodynamic – and the interior is comparable in that its main focus is on usability (although the photo supplied with a red interior gave me a headache just looking at it!)
But inside you will find advanced materials and radical construction as the 'Beaufort Orange' contrasts with the exposed carbon fibre of the central structure to make the Intrado stand out from the crowd in so many ways!
Thomas Bürkle, Chief Designer at Hyundai Motor Europe Technical Centre, who led the design team that created the Intrado at Hyundai's Motor European R&D centre in Rüsselsheim in Germany was as expectantly verbose in his description of the car as you would expect from a designer: "In line with its promise of a motoring future that is more relevant to users' lifestyles, we have given Intrado a distinctive exterior and interior shape, formed from the lightweight frame that incorporates only what is necessary. The exterior is defined by a simple yet sporty profile which displays the latest interpretation of fluidic sculpture, while the interior shows how minimal ornamentation will perfectly fit into the varied lifestyles of the millennial generation."
Ensuring that it's future is bright (and Beaufort Orange), the Hyundai Intrado is powered by a next-generation hydrogen fuel-cell powertrain that uses a Li-ion 36 kWh battery that can be refuelled in just a few minutes, and powers the car for up to 600 kilometres emitting only water.
Maybe it is the future for our mobility needs? Only time will tell.