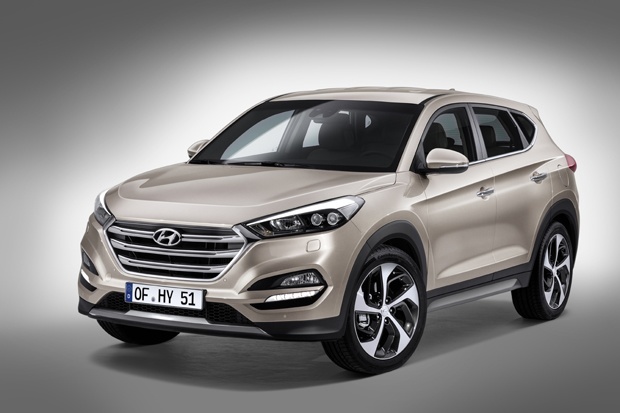 Yet another car launching at this year's Geneva Motor Show is Hyundai's redefining vehicle for the C-SUV sector: the All-New Hyundai Tucson.
"The All-New Tucson is a bold new car that represents another leap forward for Hyundai," commented Tony Whitehorn, President & CEO, Hyundai Motor UK. "With a fantastic design and advanced technologies, it makes a strong statement about where the Hyundai brand is heading and provides a highly competitive vehicle in the important C-SUV segment."
Hyundai have found themselves well up on the SUV sales chart in Europe ever since they released the Santa Fe back in 2001, with over one million SUVs having been delivered to grateful customers in the area with over 116,000 of them in the UK - and the all-new Hyundai Tucson is a very integral part of their UK business as the C-SUV segment accounted for 20.5% of the company's sales in 2014.
So what does this new vehicle have to make us all sit up and take notice?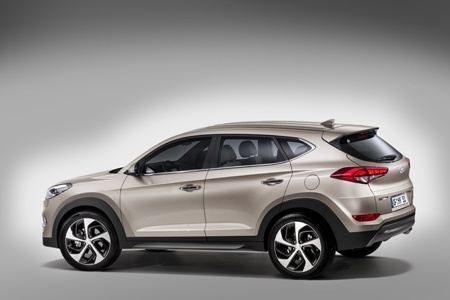 Peter Schreyer, President and Chief Design Officer at Hyundai Motor Group, explains: "Design expresses our progressive spirit and passion, and it is transforming our brand. The All-New Tucson has a bold and athletic presence achieved through refined, flowing surfaces, bold proportions, sharp lines and most importantly, our newest generation hexagonal grille – our brand signature."
Translated into a more design-led description, what he is saying is that although the new Tucson looks like an SUV, the designers have tried to take it away from the SUV chunky look to make it look more sleek and agile.
Right at the front is the aforementioned Hyundai brand signature, the hexagonal front grille, which is part of the distinctive Tucson 'face' when viewed in conjunction with the LED Headlamps, the smile finished off by the front bumper's wing-shaped appearance, which incorporates the LED daytime running lights.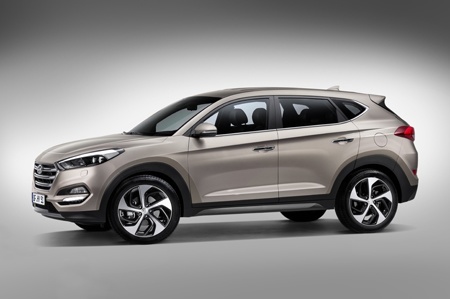 The A-pillar is visually disconnected from the long bonnet in an effort to accentuate the sleek profile, aided and abetted by the directional shape of the wheel arches contribute (even when stationary), and the expressive 'Z' character-line above the rear wheel arches helps top create a sculptured side profile and a powerful stance.
At the back you can see that cleanliness is the order of the day with horizontal lines flowing from the rear wheel arches and accentuated by slim tail lights.
So that's the initial sight, but what about the interior? Sitting-up time again?
Probably, yes!
New soft-touch, high-quality materials have been introduced right across all surfaces in the cabin, and there has also been a massive rearrangement of the whole interior with some extensive ergonomic testing to make sure that all instruments are easy to use,(the horizontal orientation is just one change to make this happen) and that driving the all-new Tucson is both easy and a real driving pleasure.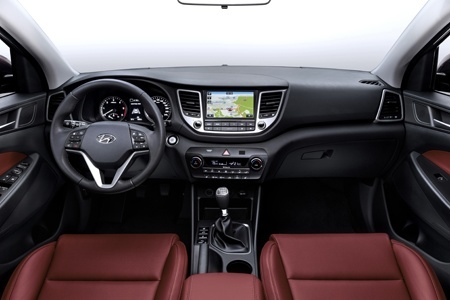 The designers have also looked at the interior dimensions, which can now be described as 'generous', with clever packaging ensuring that the exterior-to-interior dimension ratio is nothing short of excellent as it optimises the passenger space. In fact, the All-New Tucson delivers a substantial 513 litres of luggage capacity with all the seats up, all the time making sure that the passenger and driver area is both comfortable and airy.
The Tucson now has heated and ventilated front seats with longer seating cushions for enhanced support and comfort, along with a tailgate that works via 'smart power' (meaning that it opens as the key-holder approaches it),a Smart Parking Assist System (SPAS) with parallel and bay parking function for everyday use, and a new-generation navigation system that is more than three times faster than the previous version fitted in other Hyundai models.
OK. I am impressed. What else have you got to help seal the deal?
How about a wide-ranging choice of efficient powerplants and some new safety technology to make sure that you get to where you want to go safely and 'as near-as-damnit' on time?
Actually, the All-New Tucson will be available with one of the widest powertrain ranges in its class with two petrol engines (a 135 PS (1.6-litre GDI) and a 176 PS (1.6-litre T-GDI)) and three diesel ones (a 115 PS (1.7-litre), a 136 PS (2.0-litre standard power) and a 184 PS (2.0-litre high power)) all of which have been enhanced to offer improved driveability and fuel efficiency, as well as meeting Euro6 emission standards.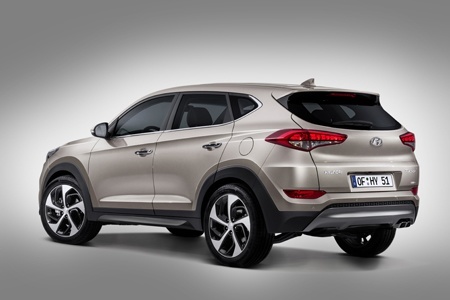 There is also the added bonus of the fact that the new turbocharged 176 PS 1.6-litre T-GDI engine is available with either a seven-speed dual-clutch transmission (7DCT) or a six-speed manual.
On the safety front, new technology like an Autonomous Emergency Braking system with three operation modes - pedestrian, city and inter-urban – is included along with existing technology that includes a Lane Keeping Assist System, a Rear Traffic Cross Alert system, Blind Spot Detection, a Speed Limit Information Function and the Active Bonnet System (that raises the vehicle's bonnet to cushion the impact shock in any frontal collision with a pedestrian or cyclist.)
SOLD! When can I get one?
It makes its public World Premiere at the 2015 Geneva Motor Show, and then goes into full production with the first of the All-New Tucson models available in Europe at the end of the summer/start of Autumn this year.