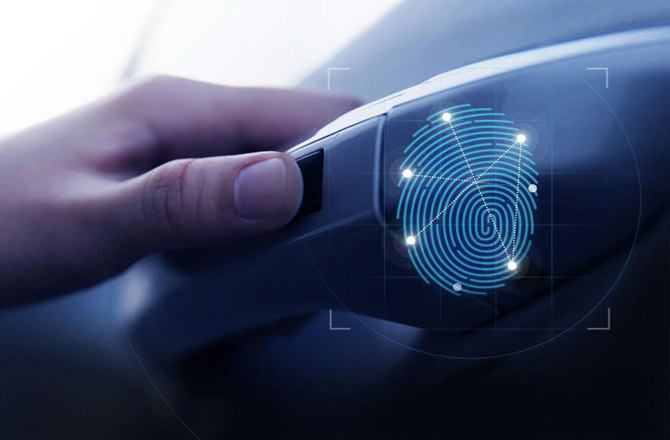 Technology will be initially tested in the brand new Santa Fe to be released in China this year
As technology gets more and more sophisticated, so do the actions of those who would wish to relieve us of our vehicles illegally so car manufacturers are looking to make car security even safer and smarter so that car thieves are not able to operate.
With this in mind, Hyundai Motor Company has announced that they have developed the world's first smart fingerprint technology that not only allows drivers to unlock their doors but also to start the vehicle.
Not only have they developed it but they have also implemented the technology initially in their brand new Santa Fe SUV model that is to be released in China and other select markets during the first quarter of 2019.
Whether or not this technology will see the end of both the car key and wireless car security operations (that are 'hackable') is a question that will be answered in time once these on-the-road trials have been concluded, but plans are already in place at Hyundai when it comes to fingerprint technology, as Albert Biermann, President and Head of Research & Development Division of the Hyundai Motor Company, says:
"In the future, Hyundai Motor plans to further expand the application of the technology to allow the adjustment of temperature, steering wheel position, and many other features which will be tailored to driver's preferences. This will ultimately offer quality driving experience to each and every Hyundai customer."
How does this technology work?
To unlock the vehicle, the driver will need to place a finger on the sensor located on the door handle. The Fingerprint technology identifies the encrypted fingerprint information and coveys this fact to the fingerprint controller inside the vehicle, and allows the vehicle to be opened.
Once inside, the technology also works when it comes to starting the vehicle with the driver touching the ignition that is also equipped with a fingerprint scanning sensor.
The technology also provides a customized driving environment by matching information of driver preference with fingerprint data, allowing the vehicle to automatically adjust seating positions, connected car features, and side-view mirror angles according to the driver.
Preventing vehicle theft
The number of vehicles being stolen by criminals using scanners and other such technological advances to clone keys, enter and steal cars is on the increase, and Hyundai is addressing these security issues by using this smart fingerprint technology.
Capacitance recognition detects differentials in the electricity level in various parts of the fingertip, and this ensures that the fingerprint technology efficiently prevents forgeries and faked fingerprints - with the chance of misrecognizing other person's finger print as the driver's only 1 in 50,000. This makes it five times more effective than conventional vehicle keys, including smart keys.
And the fingerprint system continually improves its success rate through real-time learning of fingerprints supported by a 'dynamic update' system.
By not using a phone app or wireless technology (such as used in cars such as the Volvo S90 and BMW's 2019 Series 3), and making use of physical features (as fingerprints are), then Hyundai are adding to the security of the vehicle, as well as making the vehicle more personalised by adjusting such things as seats, mirrors, and climate control to the detected driver.
For the moment, Hyundai will be offering the fingerprint system only in China versions of the Santa Fe and are using this launch as a 'test run' to see what problems come up with it, and if it works in all weathers, cleanliness and conditions. But if it does work as expected, and if there is enough consumer interest in the technology, it could well be run out into other vehicles and other markets too.
How it works with multiple users in a family or company, what happens when the vehicle is sold, and how a car hire firm could get it to work, are just some of the questions that need to be asked and answered, but with each person in the world having a unique fingerprint, surely vehicle safety is ensured in comparison to wireless and smartphone technology.