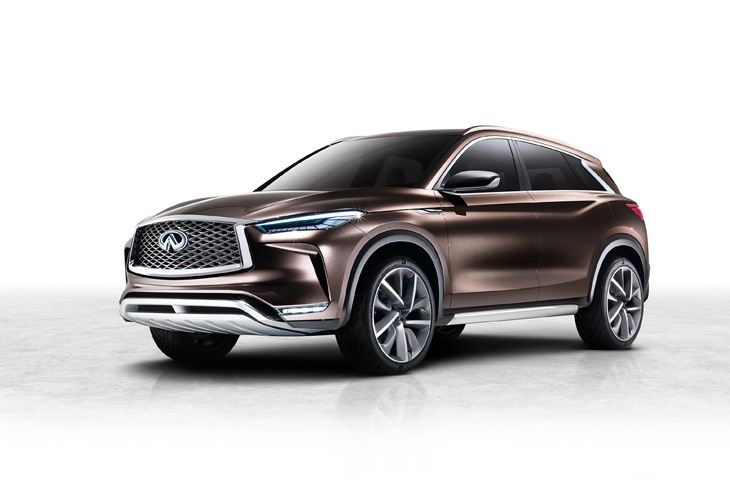 Infiniti are well-known (and revered) for their business cars, so the arrival of their next-generation mid-size premium SUV QX50 Concept at this year's North American International Auto Show in Detroit in January will have set a few alarm bells ringing for car manufacturers aiming at the same market.
Taking the 2016 QX Sport Inspiration as its (cough) inspiration, the QX50 Concept shows how it could be adapted into an SUV with confidence in Infiniti's 'Powerful Elegance' design statement.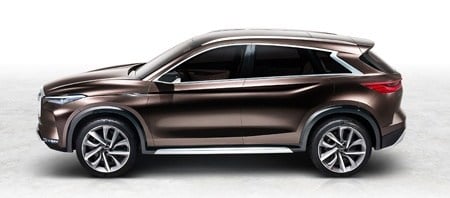 "With the unveiling of the QX Sport Inspiration at the 2016 Beijing Auto Show, we showed the future of INFINITI QX models. The new QX50 Concept evolves this concept further and shows how INFINITI could develop its future presence in what is the fastest-growing vehicle segment globally."
Roland Krueger, President of INFINITI
The SUV market is the one of the fastest-growing in the car industry, and getting all that power and space into a car leaves very little time for design elegance...until now. With the QX50 Concept , Infiniti are looking to driver emotion as a design palette to bring some sort of elegance and artistry alongside the required practicality and space as well as offering an insight into future car development of existing models like the Q30, Q60 and the QX30.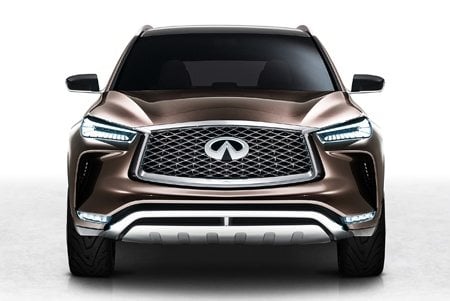 With 'Powerful Elegance' on the QX50 concept comes a wide, muscular stance with taut lines and flowing, heavily profiled surfaces. There's a clamshell hood leading down to the double-arch grille, immediately conveying a sense of power and purpose, and a newly-created Forged Bronze paint finish, with three times the amount of metal flake compared with standard production paint finishes, offers road presence aplenty.
Inside the cabin, in the place of usual high-gloss woods and soft-touch plastics, the QX50 Concept features premium wood, leather and stitching to ensure a handmade feel, that in itself "creates an appearance and ambience throughout the cabin greater than the sum of its parts."
Differing leathers offer a rich variety of textures and visual depth, and a choice of interior finishes for customers to choose from will ensure an interior to be proud of, and, with ergonomic seats and distinct driver and passenger zones, a comfortable drive whatever the use.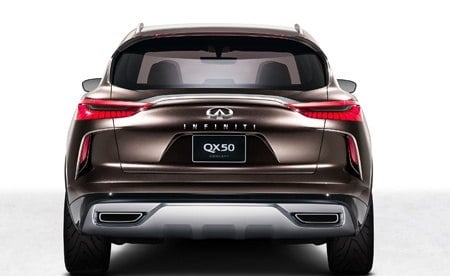 And there is plenty of space for passengers and cargo for all to enjoy the ride.
The centre of the dashboard in the QX50 Concept features a wide touchscreen HMI to display navigation and infotainment features, as well as the status of car technologies in operation - and this includes how the VC-Turbo variable compression ratio engine is operating and the status of the vehicle's various Infiniti autonomous drive support technologies.
These autonomous drive support technologies work as a 'co-pilot' to drivers rather than taking over, with drivers retaining ultimate control over their vehicle. It's a step away from full autonomy, and takes over tasks like stop-start traffic driving and looking out for nearby hazards like other cars. It uses a network of laser scanners, radar and cameras to read the road ahead and monitor the vehicle's surroundings, and allow the car to react accordingly.
Underneath the bonnet, the QX50 Concept is likely to find a use for Infiniti's VC-Turbo – the world's first production-ready variable compression ratio engine, with Infiniti engineers targeting a 27% improvement in fuel efficiency compared to V6 gasoline engines
The 2.0-litre VC-Turbo power unit was revealed by Infiniti in 2016, and the smaller engine space in the QX50 would be perfect for the new engine as it needs something to power its front-biased intelligent all-wheel drive system. And the 2.0-litre VC-Turbo engine certainly boasts an impressive specific power output – higher than many competing four-cylinder turbocharged gasoline engines, and close to the performance of some V6 gasoline powertrains.
We will certainly need to keep an eye on what Infiniti are doing with this. It looks like an immediate winner.