Alain Descat, UK Managing Director of DS Automobiles, talks to Nationwide Vehicle Contracts about the brand's plans to join the Germans at the top of the premium car market

Mention premium car manufacturers and who do you think of? Audi? BMW? Mercedes-Benz? How about DS Automobiles? The French manufacturer may not instantly spring to mind but the brand has big ambitions to join the Germans at the top of the premium car market.
Inspired by the original 1955 Citroën DS, DS Automobile is a French premium manufacturer born in Paris. Initially launched as a premium sub-brand of Citroën in 2009, the manufacturer has been a standalone automobile marque since 2015 with a view to becoming the first French premium car manufacturer.
"We are the only French premium brand and that makes us unique" explains Alain Descat, UK Managing Director of DS Automobiles, in an exclusive interview with Donna Kelly from Nationwide Vehicle Contracts.
"If you look at the luxury goods market, you'll see that it has grown very fast. You'll also see a lot of French brands in there. A third of the profit comes from the premium market, so Yves Bonnefont [CEO of DS Automobiles] saw a massive opportunity there which we were not addressing in the right way"

So address it they did, breaking from Citroen as a sub-brand in 2015 to become a standalone manufacturer with big ambitions.
"The first insight for us was French luxury" says Descat. "We are unique because we are the only ones to embody French luxury know-how into a car. We're French, we're from Paris and we can do it better than anyone. This is where the DS proposition came from."
Aiming to build the brand consistently in Europe and China over the next five to 10 years, DS Automobiles plan to release one vehicle per year to build a range of up to six models. But, as anyone who has tried to break into the prestigious premium car market before will tell you, they have a tough journey ahead.
So how exactly do DS Automobiles plan to stand out from the crowd? Descat believes the experience starts at the dealership.
"The dealer who you buy the car from needs to be trusted, which for us, is very important" explains Descat.
"We trust our brand partners to deliver that customer experience. It's not only about the cars - which I think are strong - but also the service, which is the most important thing. When you've made the choice to go to a new brand, which you don't really know, you need to deliver above and beyond expectations. The customer experience needs to be right otherwise this will kill everything you've done before."
"The most difficult thing is to give a consistent experience. Today, touchpoints are much more complicated. In the past, customers used to visit a showroom or saw advertising in a newspaper or magazine. Now its videos on YouTube, external reviews, your own website, plus the websites of big players like Auto Trader and CarWow, which are advertising platforms in themselves. We want to control whatever is on all these platforms to ensure they give the right understanding of the brand, because, especially when you're new like we are, you need to explain everything from scratch and it's very fragile."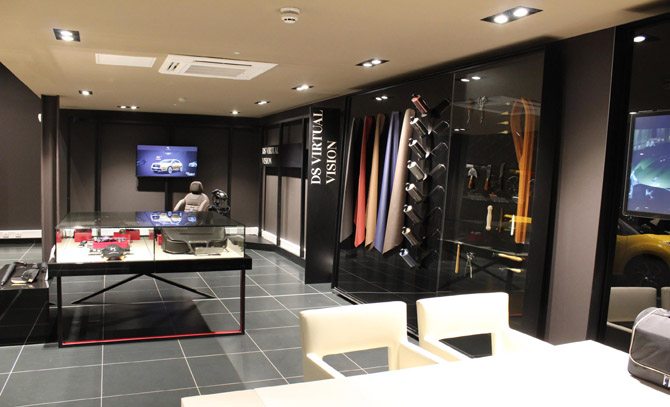 To deliver that consistent brand experience, DS Automobiles has complete revamped their dealerships, investing in cream sofas, Nespresso machines, bespoke trims and upholstering to offer a truly premium customer experience.
"You need to get the experience in the showroom top notch" says Descat.
"When we designed the showrooms, we wanted to immediately give the feeling of French luxury, so we have the leather pieces, the tools and the expresso machine to create that environment. Immediately you feel that this is something premium, of quality and comfortable, which is consistent with what I've seen online."
Technology also plays its part, with DS investing in cutting-edge virtual reality headsets at their showrooms to enable customers to 'step' into their configured car and inspect the materials and craftmanship in pin-sharp detail.
"DS Virtual Vision is the most advanced 3D technology in the car market today" explains Descat.
"It's developed by Dassault Systèmes who do 3D designs for planes. The idea is while you having your coffee and searching for your car online, you can save it, come here and see it in 3D in Paris in the Place de la Concorde. You can even heard the birds - which never happens in Paris – but it's sunny and it's nice. Again, we chose Paris because we want to convey to our customer our heritage, as well as offer the capacity to pick your trims, your colour, change the configuration if you want to. It's a digital experience but one where we try to connect the dots."
But all these changes come at a cost. In the UK alone, DS sales have fallen by 40% two years running as the manufacturer opts for a per-unit profit model over a volume model.
"We've accepted that we have to let go of the volume in order to create a set of partners who believe in the brand and who are in the right location" explains Descat.
"One thing we did was cancel all the Citroen dealers. We gave them two years notice and said that in two years' time, we will renew you as a Citroen dealer but you won't be able to distribute DS anymore. You will need a specific DS contract for DS. We went from 150 Citroen dealers distributing DS 3, 4 and 5 to just 25 and the volumes went boom."
And boom they did. In 2013, the Citroën DS3 was the best-selling premium subcompact car with 40% of the market share in Europe but since DS became a standalone manufacturer, volumes has plummeted. Yet the drop in sales doesn't seem to concern Descat.
"We could have sold a lot more DS3s. We sold 1600 in March in last year. This year if I sell 200 I'd be a happy man. We could sell these numbers now with the full network but we couldn't build the brand in the way we want. In Europe, you'll see the volumes are down but the DS 7 Crossback is month on month growing. Its slow volumes but its finding its market because the awareness is starting to grow."
So what exactly does future hold for the DS brand?
"We are now at a turn point where we can really take off the brand" says Descat. "For DS, one day our dream will come true but it's probably not for tomorrow."
"We have a triangle of KPIs which are very key to us. The first is brand profit, which is profit per unit. The move to premium is to make more money, simple as that. The second is pricing power. We benchmarks against players like Audi, who are quite steady in their pricing, and we want to be roughly at the same level. The third one is brand values which we measure by residual value. For me, it's absolutely key that most of the decisions are based on that."
The new DS 3 and DS 7 Crossback is available to lease from Nationwide Vehicle Contracts.