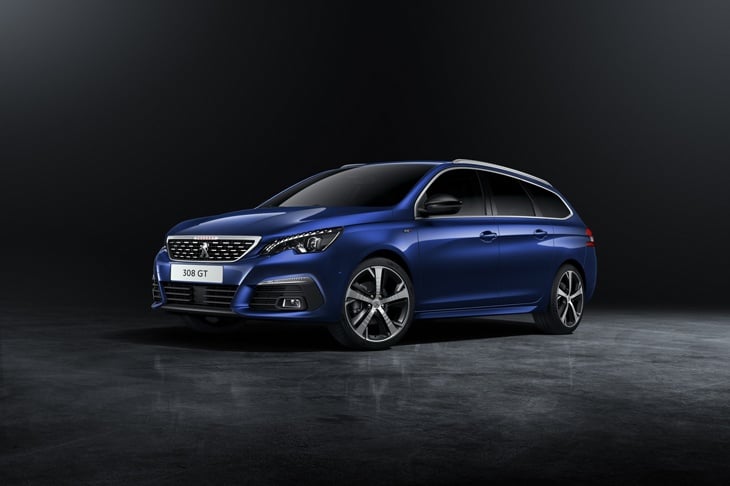 The New Peugeot 308 will very soon be available to order before it hits the UK's roads in September, and is "the most connected and safest yet with a range of technology and styling enhancements". With the current Peugeot 308 available to lease with some great offers from Nationwide Vehicle Contracts, now is the time to look at what Peugeot have on offer right now as well as looking to what the new Peugeot 308 brings to the road in September.
Connectivity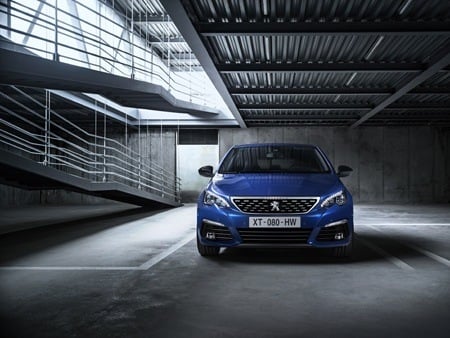 Connectivity is reported to be one of the main drivers when it comes to choosing a car in the class inhabited by the likes of the Peugeot 308, the Toyota Auris and the Audi A3, so the French car manufacturer has made sure that new 308 customers get advances in technology such as a 9.7" capacitive touchscreen, dual zone climate control and 3D Connected Navigation with TomTom Live updates.
There is also a new infotainment system that incorporates Mirror Screen®, made up of Mirrolink®, Apple CarPlay™ and Android Auto functionality, all making sure that smartphone functions link seamlessly with the car.
Driving aids
With the aim of making the New Peugeot 308 one of the safest cars in its class, the new Peugeot takes on all the driving assistance features of the new and upcoming Peugeot 3008 SUV including Intelligent Speed Limit Recognition, Adaptive Cruise Control with stop functionality, Active Blind Spot Monitoring System, and City Park.
New Euro 6 compliant petrol and diesel engines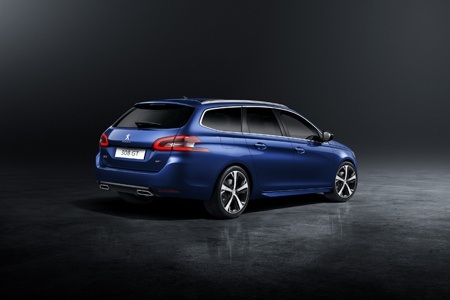 The new range of engines available on the new Peugeot 308 are all compliant with strict Euro 6 regulations, and include an upgraded award-winning three-cylinder PureTech petrol engine coupled with a new six-speed manual gearbox, high-precision injection control on the 1.2L PureTech 130 Stop&Start engine for enhanced combustion efficiency, and a catalytic convertor coupled with a passive-regeneration particle filter to control and dilute exhaust gases.
The New 308 is the first to adopt the new 1.5L BlueHDi 130 S&S diesel engine, a four-cylinder unit that implements at-source and at-exhaust emission control, and also adds an SCR (Selective Catalytic Reduction) pollution control system.
To complete the new engine range, we find the new eight-speed automatic transmission coupled with the 2.0L BlueHDi 180 Stop&Start, and a 270 PS THP Stop&Start unit, enabling 0-62mph in just 6.0 seconds with CO2 emissions of just 139g/km, in the Peugeot 308 GTi version.
Design and style
On the outside, it's still a Peugeot - but a sharp-looking Peugeot, complete with the now standard 'Claw Effect' lights and re-shaped front and rear bumpers and headlights.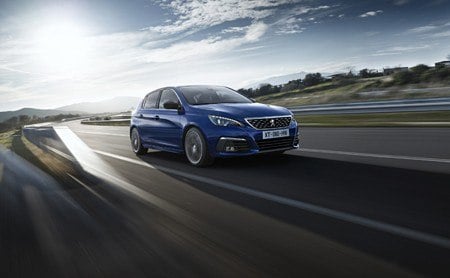 And to make a real statement, drivers will be able to specify the Peugeot 308 GTi by Peugeot Sport in two-tone Coupe Franche in Magnetic Blue and Black Perla Nera.
Inside there are new seat fabrics available in both Active and Allure trims, and a panoramic fixed cielo glass roof on Allure, GT Line and GT versions, with all New 308 models benefitting from the PEUGEOT i-Cockpit® layout with its trademark compact steering wheel.
David Peel, Managing Director at PEUGEOT UK commented: "The New PEUGEOT 308 is now more competitive than ever. The new car adds to an already impressive technology offering, while new styling and interior options bolster the car's kerbside appeal and bring it in line with the new PEUGEOT SUV family".
"PEUGEOT's commitment to developing class-leading engine technology is also highlighted by the presence of the new versions of the award-winning PureTech and BlueHDi engines. The blend of performance and economy finishes a unique package for the keen driver."
Both the New Peugeot 308 and 308 SW will be available to order this summer to lease with Nationwide Vehicle Contracts, with the first deliveries in September. Contact one of our Customer Service Representatives now to register your interest.