A recent report in the Daily Telegraph suggests that the "Stealth" grey speed cameras are facing the scrapheap with the newly elected government planning their demise - despite the fact that money raised via motorway speeding fines increased by 25% in 2014.
This means a lot of money going into the coffers of the Treasury - Police and local councils actually make no money at all from speeding fines; only being allowed to cover administration and running costs - so it's a toss-up between making money and fairness to drivers when it comes to Government policy.
Most of the fines were handed out to drivers caught on the UK's biggest motorways (the M1, M4, M5 and M25) - roads that feature "smart motorways" in part using digital cameras to change and vary speed limits depending on time of day and traffic.
And the grey colour of the Hadecs (the real name for them - even though drivers call them something else!) meant that the 112,000 drivers trapped in 2014 were often unaware of their 'misdemeanour' until they got their penalty notice or date of court appearance; despite often driving under the 'normal' National Speed Limit. This is courtesy of these speed-changing digital cameras with Hadecs often positioned just after a 'change'.
The grey cameras can, unlike conventional cameras, scan and track dozens of cars across four lanes in the heaviest of traffic. They are attached to the motorway gangway with front and rear-facing cameras positioned and utilised to verify the speed of a car, picturing the number plate of any offender and matching it up with the national vehicle registration database.
With the number of motorway miles covered by 'smart' lanes looking to be extended from the current levels of around 200 miles to 800 miles over the next ten years, the number of drivers being fined for breaking speed limits is set to rise even more.
Planned smart motorway sections
M1 Junctions 39-42, 28-31
M25 Junctions 23-27, 5-6/7
M3 2-4a
M6 10a-13
M60 Junction 8-20
But the end is seemingly nigh for these 'stealth cameras'
It was reported in the Daily Telegraph that the new Government is ready to scrap the controversial cameras. But this is all dependent on a previously commissioned review that is being undertaken by Highways England being in favour of their removal. Roads Minister John Hayes had ordered the review as he was "concerned about 'stealth cameras'" and suggested that it was "important" that drivers could see them rather than realise that they had been encountered too late.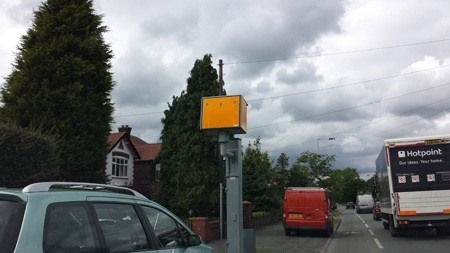 This is why it seems to be the plan to revert to the use of yellow painted cameras rather than the less visible grey, with supporters of the use of cameras per se saying it is important that drivers are aware when they are under the all-seeing eye of cameras but that is also important that they keep to the speed limit.
It should be noted though that, according to a spokesperson from Highways England: "It has always been up to individual police forces whether to use cameras on the motorway network to enforce the national speed limit."
You will be aware of the highways rules for speed, but it doesn't hurt to have a little refreshing of the memory. Take a look at Nationwide Vehicle Contracts' Motorway Driving Guide to see just how much you DO remember.
Not just motorways
Cameras are in use on all roads, and AA President Edmund King, quoted in the Daily Mail Online, was particularly critical of grey ones; but added that "motorists were far more likely to be involved in an accident on a rural road but that speed cameras and traffic were rarely deployed in such areas."
The actual total of 112,654 motorists that fell victim to some sort of speeding penalty in 2014 according to the newspaper report - an increase from 88,857 in 2013 and 54,720 in 2010 - refers to all roads; not just motorways. And although speeding in inner-city areas and on rural roads tends to be at lower speeds, it is speeding nonetheless, and law enforcement officers are duty bound to act.
Quite when these law enforcement officers act is down to interpretation of the Association of Chief Police Officers (ACPO) Speed Enforcement Policy Guidelines for UK Police Forces that you can view here.
This details the tolerances that the law believes that is acceptable when it comes to speed limits, and the acceptable punishments (from warnings and speed awareness courses to when a summons should be issued.)
But overall all this seems to be delivering the message: Be aware of the speed limit where you are driving and DON'T SPEED.
Have you fallen victim to the stealth cameras? Are you pleased to see them possibly go? Or are you of the opinion that speeding is speeding whenever and wherever it happens and that they are a necessary evil? Comment below and let us know your opinion.