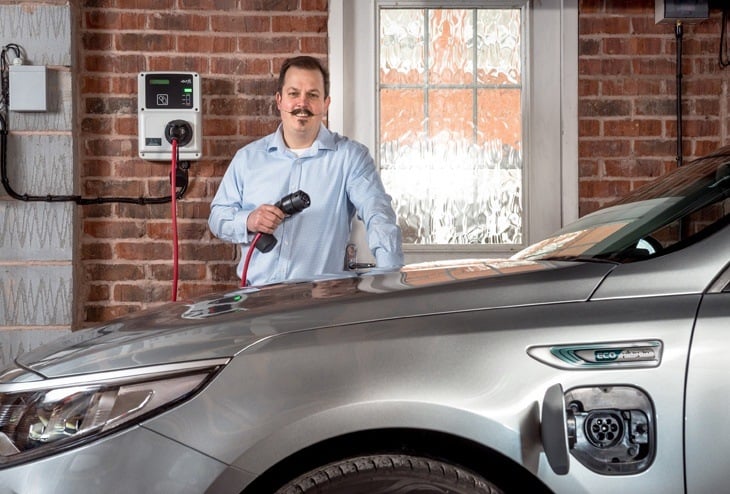 It may be slow getting here, but it seems the Electric Car revolution is still on its way, if the number of new electric vehicles with larger battery capacities offering greater driving ranges, from a range of manufacturers, at the Geneva Motor Show is anything to go by.
But here in the UK, there is the question of whether or not there will be enough electric capability to allow motorists to charge their new EV cars and vans especially at peak times.
According to Electric Nation, a Western Power Distribution (WPD) and Network Innovation Allowance funded project created in collaboration with EA Technology, DriveElectric, Lucy Electric GridKey and TRL, recent research "suggests that some of the UK's local electricity networks will need intervention to enable motorists to charge EVs at home at peak times."
In fact, they highlighted data that "shows that across Britain at least 32% of electricity supply cables (312,000 in all) will require intervention when 40% – 70% of customers have electric vehicles."
Which is why they are trialling a smart charging solution, rather than digging up the roads to install new cables, in an attempt to avoid an estimated cost of upgrading of more than £2.2 billion by 2050.
The trial, initiated by Electric Nation, involves a required 500-700 people getting a free* smart charger installed (*Free subject to eligibility and conditions). These people will have either bought or be leasing new electric vehicles - and that includes pure electric and plug-in hybrid vehicles.
According to motorist (and Electric Nation member) Matt Tupper, who has had a free smart charger installed at his house near Nottingham: "The Electric Nation trial provides new electric car owners with a free smart charger, and in return the project will be able to access charging data to help electricity distribution companies better manage electric vehicle charging."
Initially taking place in the WPD network areas in the Midlands, South West and South Wales, the trial invites any motorists buying or leasing a new electric vehicle to become part of the Electric Nation community, so visit the Electric Nation website for more details, and to find out if you are eligible to participate.
EA Technology's Director of Smart Interventions, Dave A Roberts, is heavily involved in the trials, and explains here just how important they could be: "Increasing awareness about the impact that many vehicles have on our air quality is one of the key issues that is resulting in car manufacturers bringing more electric vehicles to market, as seen at the 2017 Geneva Motor Show. However many local electricity networks serving our homes were never designed to cope with the demand from large numbers of high capacity electric vehicles. To avoid costly and disruptive upgrading work to cables and substations, a smart solution, as being trialled by Electric Nation, could provide a much cheaper option to ensure we can charge our EVs."
With this in mind, the Electric Nation trial aims to:
Expand current understanding of the impact on electricity distribution networks of charging a diverse range of plug-in electric vehicles at home.
Build a better understanding of how vehicle usage affects charging behaviour given diversity of charging rate and battery size.
Evaluate the reliability and acceptability to owners of EVs of demand control services and the influence these have on charging behaviour