It takes a lot to freshen up the pick-up world, but with the special edition, exclusive-to-the-UK Isuzu D-Max Blade, Isuzu UK has somehow managed to bring the rugged appeal of a pick-up to the attention of new prospective customers who may not have even considered a pick-up before.
Available from April this year, the new special edition has been specially adapted with a whole host of unique style enhancements and upgrades to technology to make it that much more attractive. And it's no surprise that the D-Max Blade has been originally based on the top dog in Isuzu's D-Max range - the clue is in the name – taking many of the D-Max attributes with it along with upgrades to help it stand out more in a crowd than it already does.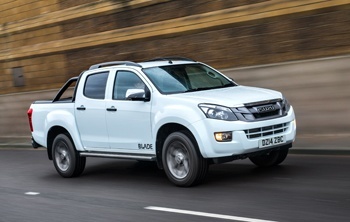 Available in 6-speed manual or five-speed auto, the attraction of the D-Max Blade starts on the outside when you spot the 18-inch, six-spoke 'Shadow' alloy wheels surrounded by 255/60 R18 Pirelli Scorpion Zero tyres. As your eyes travel around the exterior they will take in the 'Shadow' grey front grille, privacy glass windows, black door and tailgate handles, black roof bars and rear bumper, and heavy-duty side steps; all topped off in the car's choice of two body colours - solid 'Splash White' or mica 'Cosmic Black'.
For added practicality the Isuzu D-Max Blade has an under-rail bed liner as standard while drivers can choose between an Aeroklas hard top complete with internal light or a 'unique to the Blade' Mountain Top Black Roller Top Cover to finish off the look.
Inside the high value and quality continues with automatic climate control and premium black leather seats – with the front ones heated – as well as a DAB digital radio courtesy of a state-of-the-art Pioneer AVIC-F950 6.1-inch touchscreen navigation system that itself comes with an integrated rear safety camera.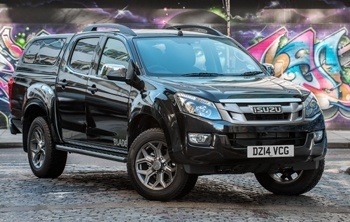 William Brown, General Manager at Isuzu UK, said: "The new Isuzu D-Max Blade is a high-value, high-quality proposition that we hope will widen the appeal of the D-Max further and take us into new market segments. It's been designed to appeal to urban tradespeople as well as recreational lifestyle users looking for a pick-up that stands out from the crowd. The Blade meets the growing demand for a stylish pick-up that doubles up as an everyday workhorse for those who need it."
With this all in mind, let's take a look at what's under the bonnet powering this razor-sharp addition to the motoring world. Basically it is a powerful-yet-efficient 2.5-litre twin-turbo diesel engine that produces 163 PS and 400 Nm of torque, has a towing capacity of 3.5 tonnes and a 1 tonne payload – and still has a segment best fuel economy of 38.2 mpg (combined).
Maybe the Isuzu D-Max Blade is the pick-up that can cut the mustard in a non-pickup world?