Gone are the days when Jaguar were seen as an "old-man's car". Forget the oversized executive saloons, the retro designs and John "two-Jags" Prescott, and instead think of sleek, sporty coupes, glorious GT's and of course, full bloodied sports cars! An iconic British brand with a new, modern touch.
One of those full bloodied sports cars is the stunning new Jaguar F-TYPE which hits UK showrooms next month. Jaguar's all-aluminium two-seater, convertible may have been a long time in the making but it's certainly set to make its mark in the sports car sector when it's released this summer.
But with the Porsche 911 celebrating its 50th Birthday this year, can the Jaguar F-TYPE really take its place as the new, quintessential sports car? Jaguar certainly thinks so, and it's not hard to see why.
At an exclusive F-TYPE preview event at Jaguar's factory in Castle Bromwich, Nationwide Vehicle Contracts' web editor Donna Kelly had the opportunity to get up close and personal with Jaguar's new two-seater convertible to discover the brains behind the F-TYPE's beauty… and what a beauty she is!
Design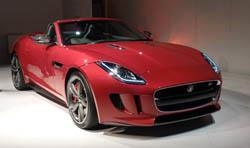 The all-new Jaguar F-TYPE represents a new sports car design language for Jaguar, with its shark-like gills, bold angular grille and muscular clamshell bonnet, inspired by the C-X16 concept unveiled in 2011. It's rigid and lightweight aluminum structure has been cleverly designed to deliver ideal weight distribution, with Jaguar engineers shaving 2 kilos from the windscreen, 5 kilos from the engine and bumper mounts and 24 kilos from the seats, to deliver a weight of just 1597kg for the V6 model.
To the rear, Jaguar has reinterpreted classic cues from the past to create a new sports car signature, with full LED rear lamps wrapping around the edge of the rear wheel arch to emphasise the F-TYPE's powerful stance.The electronically operated soft-top roof takes just 12 seconds to open and can be operated at speeds of up to 30mph, while the active rear spoiler can also be deployed at speed to reduce lift by up to 120kg.
The car on display at Jaguar's HQ was the F-TYPE V8 S model, wrapped in stunning Italian Racing Red, one of 13 colours available on the all-new model, which also includes Satellite Grey, Polaris White and Firesand.
Interior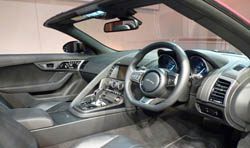 Inside, the F-TYPE boasts a driver-focused cabin with plenty of innovative features including an advanced ventilation system which disappears into the centre console and deployable door handles which flush smoothly into the bodywork to maintain design purity.
All of the F-TYPE's controls are grouped by function, with a joystick-shaped SportShift selector - inspired by the cockpits of fighter airplanes - controlling the eight-speed transmission. A wide range of options packages are also available including a Performance Pack which adds a sporty three-spoke steering wheel and TFT LCD screen for enhanced driver information.
Power & Performance
Three models are available at launch - the F-TYPE, F-TYPE S and the F-TYPE V8 S – all offering a different power output.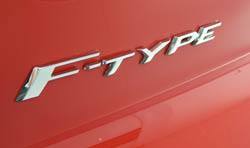 The entry level F-TYPE is powered by Jaguar's new 3.0-litre V6 supercharged petrol engine, delivering an impressive 340PS and an electronically limited top speed of 161mph. 0-60mph is achieved in 5.1 seconds with CO2 emissions of 209g/km.
The highly tuned F-TYPE S delivers 380PS from its 3.0-litre V6 engine and can sprint from 0-60mph in 4.8 seconds. Top speed is limited to 171mph and CO2 emissions are 213g/km.
But the star of the show is undoubtedly the F-TYPE V8 S, which when fired up, produces a spine tingling 495PS and an incredible sound that's not dissimilar to that of the Lancaster bomber that was once produced at Jaguar's factory. Producing a whopping 625Nm of torque, the F-TYPE V8 S model has an astonishing torque-to-weight ratio of 375Nm/tonne – that's more than the Porsche 911 Turbo – and can accelerate from 0-60mph in just 4.2 seconds. Top speed is limited to 186mph with CO2 emissions at 259g/km.
The transmission in the F-TYPE has been specifically tuned by Jaguar to prioritise acceleration, with a set of eight closely-spaced, sporting ratios delivering greater driver control. The V6-powered S model also includes a Dynamic Launch feature, which optimises acceleration from rest, whilst an active exhaust system is standard on S and V8 S models.
The all-new Jaguar F-TYPE arrives in UK showrooms next month with prices starting from £58,500.