A new car from Jaguar is a real event; and the unveiling of the Jaguar XFR-S Sportbrake - part of the 2015 Model Year XF range – is no different as it makes its appearance at the Geneva Motor Show 2014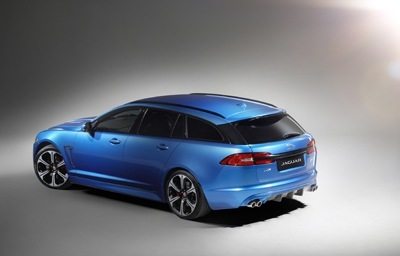 The new car is Jaguar's first high-performance R-S branded sports estate car, complete with 550PS and 680Nm of torque, along with 1675 litres of rear load space (when rear seats are folded down) courtesy of the Jaguar XFR-S saloon upon which the Jaguar XFR-S Sportbrake is based – even down to the same power figures and levels of agility.
As Dean Murden, Jaguar's Vehicle Programme Director, says: "Combining real-world versatility with electrifying performance, the XFR-S Sportbrake brings Jaguar's sporting character to life in a truly engaging car that will satisfy the most demanding of drivers while fitting into the most active of lifestyles."
The XFR-S Sportbrake is the third model in Jaguar's ultra-high performance R-S range, and also takes on board engineering features from both the XKR-S and the all-new F-TYPE two-seater sports car to give any driver the best of all worlds; after all it is a Jaguar.
DESIGN
There is a lot of potential with the XFR-S Sportbrake, and the design of this particular model reflects that.
Starting off with the standard Jaguar Sportbrake combination of a flowing rear window graphic, rising waist and estate roofline, the XFR-S Sportbrake extends that roofline to give rear-seat passengers more headroom and more space once the 60:40 split seats are folded down.
There's a new, deeper front bumper with a front splitter at the lower edge to aid the aerodynamics at very high speeds, extended side sills and aeroblade mouldings behind the front wheels, deeper side mouldings behind the rear wheels and an extended rear bumper that also incorporates a central, carbon fibre diffuser to reduce lift.
Wide six-spoke 20-inch lightweight Varuna forged alloy wheels as standard give the XFR-S Sportbrake that look of a car with a purpose, perfectly contrasting with the car's overall ceramic polish outer and the inner gloss black areas; depending on the wheel finish option chosen between full gloss black and technical grey finishes.
COLOUR
The XFR-S Sportbrake is available in a choice of five exterior colours - Ultra Blue, Ultimate Black, Stratus Grey, Polaris White and Italian Racing Red – with complimentary colours inside. Warm Charcoal leather trim on seats embossed with the R-S logo and carbon effect leather on the doors pretty much shout for themselves, and the subtle stitching in red, blue or ivory doors only adds to the feeling of luxury that driving a Jaguar gives you.
PERFORMANCE
Speed isn't a problem as the Jaguar XFR-S Sportbrake has an electronically limited 186mph top speed and acceleration details from 0-62mph in 4.6 seconds using the eight-speed transmission with 'Quickshift' functionality that allows optimal acceleration throughout the speed and rev ranges. The all-aluminium quad-cam engine using spray-guided direct injection (SGDI) and dual independent variable cam timing (DIVCT) makes sure of that!
And courtesy of its affinity (and doppelganging) with both the XKR-S and the F-TYPE, the  Jaguar XFR-S Sportbrake has undergone immense engineering research both on computer screen and in practice over miles and hours at Jaguar's testing centre at the legendary Nürburgring, the high-speed bowl at Nardo in Italy and the engineers' favourite roads around the Gaydon Research and Development centre and in north Wales.
All-in-all you are left with an agile and top-performing car that can rock and not roll with the best of them.