MILTON JONES 'ON THE ROAD'
One of the finest comedians in the country and semi-regular on "Mock The Week" Milton Jones is on the last leg of his gruelling six month UK tour; but at least he is doing it in style as he travels in a new Jeep Grand Cherokee.
The Time Out and Sony Award-winning quickfire comic has got more than 20 venues still to visit in his stand-up tour, and with the clocks going back and the winter weather already biting hard, Milton was delighted to take recently of the Jeep Grand Cherokee 3.0 V6 CRD Overland 4x4 car as part of his support deal with Jeep, and he is chuffed to tiny little bits with it; especially as he is able to work on board as he travels.
"This is a big tour, and we have been zig-zagging across the country for months. If I'd put together a shortlist of cars I would love to tour in, the Grand Cherokee would have been top of it," he said. "It's got a comfortable, warm rear seat, we can plug our computers into the on-board USB ports, and, most importantly, it can take all my equipment – including a projector screen and two projectors – in its large boot."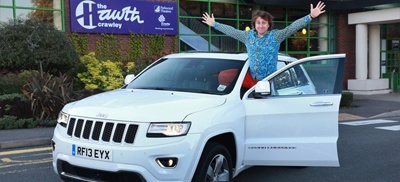 The appropriately-named 'On The Road' tour finishes on 23 November, and the Jeep Grand Cherokee will be taking him the length and breadth of the country in fair weather and (most likely) fowl as he visits Liverpool, Leeds, Swindon, Bournemouth, Aberystwyth, Llandudno, Chesterfield, Canterbury and Scunthorpe (amongst other far-flung places) before finishing with a sold-out (near-enough hometown) gig in Croydon.
The towns themselves should be meat and drink to the Cherokee, as should the many A Roads and Motorways that Milton Jones has to travel on between gigs. "It's good knowing that Jeep is among the best when the going gets rough," said Milton. "We were travelling in heavy wind and rain recently, but the car felt steady and sure-footed on the road."
No surprises there really with 247bhp and 570 Nm of torque backed by the 2987cc V6 turbo diesel engine of the new Grand Cherokee, designed by Jeep to not only be a competitor on the normal on-road platform but to also give off-roaders a great run for their money when it comes torque-on-demand off-road capability.
Milton also gets green points for the Jeep's lower emissions than the previous Jeep Grand Cherokee and a relatively (in comparison to previous models) acceptable fuel consumption of up to 37.7 mpg (combined).
For me, anything that gets one of the UK's funniest men from A-Z in time and in one piece is there to be applauded.