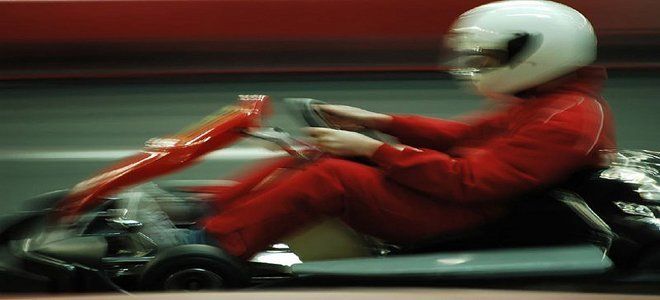 In many ways, we see drivers like Jenson Button, Lewis Hamilton and Nico Rosberg racing around the streets of Monte Carlo in 750bhp V8-powered prototypical one of a kind single seaters in the world of Formula One, wowing the crowds with their skills around corners like Sainte Devote, the Lowes hairpin and the Nouvelle Chicane.
But when they all started their careers in racing, karting was their first taste of true competition against rivals on the track, who would also become friends later on in life, no matter where they went racing. This is particularly true in the case of Button and the late Dan Wheldon, who raced together, before Jenson headed straight for F1, with Dan moving stateside to the US racing scene. Drivers like Jenson, Dan and Lewis cut their teeth in karting during their formative racing years, learning about apex speed, cornering, braking, overtaking and much more when they put their visors down as young racers
The late Ayrton Senna said that coming over to the UK to compete with the likes of Terry Fullerton in 1978 and 1979 was just an experience of "pure driving," as he explained in the 2011 "Senna" documentary, produced by Manesh Pandey and directed by Asif Kapadia.
This arena of gladiatorial combat between the future stars of the sport is just as competitive as ever, with categories including Honda cadet and Minimax being amongst those that are the fiercest, when it comes to on-track action. For the last 18 months, I've been following the progress of a young Didcot-based racer, Elliot Harvey, who has won several titles in the Honda cadet category in 2011 and 2012, before making the jump to Minimax this season.
It is a family affair, as Elliot's mother, Julie and father, Andy, do what they can to help their son realize his dream, as the current economic crisis has even affected the likes of Elliot that are struggling in the lower classes of racing, where money now talks a lot more than just talent.
He has been given a lifeline thanks to OK1 team owner and former world karting champion, Benji Russell, with a chance to compete on track, but with a limited budget, it has been about racing in local meetings, as well as being able to have track time to hone his skills.
Drivers such as Karun Chandhok find karting to be a great way of getting out on track in a kart to keep the reflexes sharp. When it comes to remembering the simple things that make all the difference, karting is a tool that can be used to great effect, as it always means that the same level of thought when it comes to feeling the grip and how the kart reacts is just one of the skills the young racers of today learn very early, as they set their sights high…
Header image via Flickr user: Thomas Faivre-Duboz