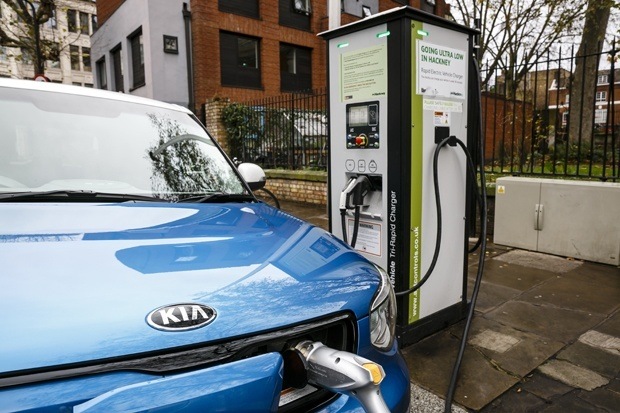 The campaign to promote Low Emission Vehicles led by the UK government and auto industry-backed campaign for ultra low emission vehicles Go Ultra Low has had a boost with the addition of Korean car manufacturer Kia Motors to the roll call of campaigners.
All this at a time when the influx of more plug-in models to the car market has allowed more than 26,000 motorists to make the switch to making the leap to efficient, economical and low-emission vehicles in 2015, more than doubling the size of the market in a single year.
Figures earlier in the year from GoUltraLow had already highlighted the increase in the uptake with year-on-year electric vehicle registrations by June 2015 of 14,586 already shooting past the overall total of 2014.
Now Kia, manufacturers of the all-electric Kia Soul EV has now added its weight to the campaign.
Paul Philpott, President and CEO of Kia Motors UK and Ireland, said: "Kia Motors recently set out its roadmap for low emission cars so joining the Go Ultra Low campaign was an easy decision for us. The electric and plug-in hybrid vehicle market will grow rapidly in the coming years and we are committed to meeting the increased demand. In addition to our Soul EV, we will be introducing a range of advanced new products and technologies to add to the growing selection of plug-in cars already available within the Go Ultra Low consortium."
Go Ultra Low
The Go Ultra Low campaign was set up to highlight the benefits of using a plug-in vehicle and to encourage consumers and businesses to make the switch to electric vehicles. And it is backed by the Government whose spokesperson, Transport Minister, Andrew Jones MP, was also glad to see Kia enter the Go Ultra Low fold: "The UK has one of the fastest growing ultra low emission vehicle markets in the world and I warmly welcome Kia to the Go Ultra Low campaign. It is another example of leading car and van manufacturers sharing our ambitions for this exciting and increasingly popular technology.
"British drivers have a wider choice of cleaner, greener cars than ever before and we have increased our support for plug-in vehicles to £600 million over the course of this parliament to cut emissions, create jobs and support our cutting-edge industries."
Go Ultra Low exists purely to help motorists understand the benefits, cost savings and capabilities of the raft of ultra low emission vehicles on the market, many of which are available to lease from Nationwide Vehicle Contracts. The collaborative campaign is the actually the first of its kind, bringing together a consortium of vehicle manufacturers (now obviously including Kia), Government and the Society of Motor Manufacturers and Traders (SMMT).
It is an important campaign, especially taking into consideration the rise of pure electric and plug-in hybrid cars since their mainstream commercial availability back in 2010. Today, there are 30 different ultra low emission vehicles on sale offering a wide variety of model sizes and performance attributes, from family cars and vans to SUVs and sports cars. These include cars from many different car manufacturers such as the Peugeot iOn, the Toyota Yaris 1.5 VVT-i Hybrid Icon 5dr CVT Auto, and the ever-popular Nissan Leaf.
Poppy Welch, Head of Go Ultra Low, is obviously please to welcome Kia to the ranks of car manufacturers putting their name to the campaign: "Kia is a great addition to the Go Ultra Low campaign, and its Kia Soul EV fits well alongside the wide variety of adaptable and practical plug-in vehicles we represent. The addition of Kia will boost our goal to raise awareness of ultra low emission vehicles, and their cost-effective benefits, in addition to broadening choice for motorists. Their inclusion in the campaign shows there really is a plug-in car for everyone."
Ultra-Low Electric Vehicles have now started to become the norm for car buyers alongside conventionally powered vehicles with diesel and petrol engines, and in these harsh economic times it is no wonder.
Electric cars can be driven for as little as 2p per mile in comparison to around 10-12p for a conventionally powered car, a potential saving of around £800 each year. So, with a larger and larger choice available - from city runarounds and family hatchbacks to SUVs and sports cars - an extensive charging network growing by the day, and an increasing range of plug-in hybrids boasting extensive ranges of up to 700 miles on a single charge, an electric or hybrid car is growing in popularity when it comes to the motorists choice for their new car.
If you are thinking about getting an electric car for your next vehicle, take a look at our blog "Are Green Cars For Everyone?", maybe a glance at our blog where we take a look at what we feel are the "Best Green Cars Around" and then contact one of our representatives to discuss your options.