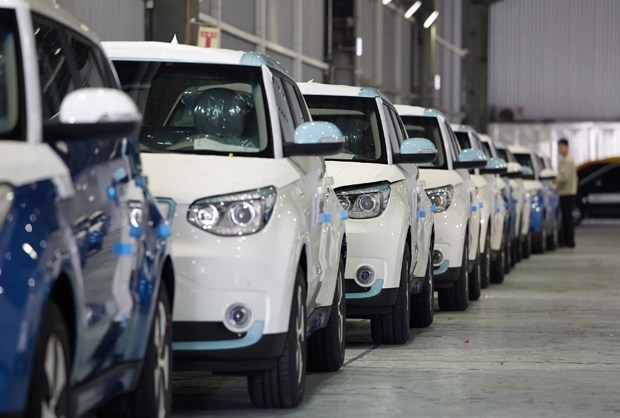 Kia Motors has begun production of its new all-electric zero-emissions Kia Soul EV as they prepare to launch the first Kia electric vehicle outside of their Korean base.

These cars are getting ready to set sail from Kia's Gwangju facility in Korea to select European countries in preparation for forecourts in the second half of 2014, and Kia are looking forward to some favourable sales across Europe for their silent and emission-free Souls EV. Executive Vice President and COO of Kia Motors, Thomas Oh, explains why: "Now that production of export models has begun, the new Soul EV is truly at the forefront of Kia's 'Clean Mobility' program, providing environmentally-friendly transport to our customers around the world. Although it is Kia's first globally-sold all-electric vehicle, the Soul EV is our second-generation battery electric vehicle and benefits significantly from our in-depth experience gained from development of the Ray EV and proven daily operations of the Ray EV fleet in Korea for the past three years."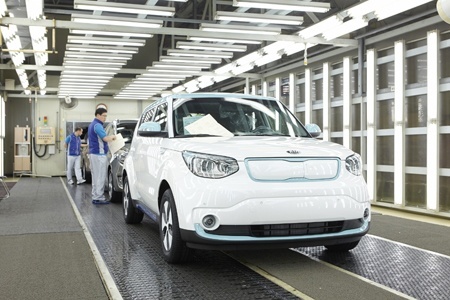 Here in the UK we are no stranger to the Kia Soul, the car having been launched here in April, but the EV version is a "uniquely designed battery electric vehicle perfectly suited for city commuters" down to the space in the cabin, the large cargo area and, of course, its class-leading drive range.

The polymer battery pack is a high-capacity 192-cell 27 kWh lithium-ion one and it provides a drive range of 212 km for the Soul EV, certified for Europe; and that's just the beginning of the state-of-the-art technological innovation under the bonnet (and under the floor.)

Helping to provide the Soul EV's outstanding drive range are industry-leading 200 Wh/kg cell energy density, the new heat pump, smart air intake control system and a new individual ventilation system that all combine to ensure that the maximum driving range is achieved with no loss of energy for heating, ventilation and air-conditioning (HVAC), whilst the Soul EV also make great use of the regenerative braking to capture and recycle into the battery the kinetic energy that is generated while the car is coasting and braking.

Making use of that battery is an 81.4 kW (110 ps) electric motor that produces 285 Nm (29 kg/m) of torque in an instant, allows acceleration to 62mph from stop in just 11.2 seconds up to a top speed of around 90mph, and of course produces zero emissions.

Helping with speed is the fact that the battery pack is mounted beneath the cabin (ensuring a low centre of gravity) and the Soul EV is charged via any standard household electricity supply with a full charge taking up to 5 hours and a partial (80 %) charge 25 minutes (using a 100w charger) or 33 minutes with a 50 kW DC one.

Proving that the Kia Soul EV is totally green, the car has managed to achieve the world automotive industry's first UL Environment Validation because it contains 23,942 grams of bio-based plastic and is made of 10% bio-based organic carbon content including Bio Plastic, Bio Foam, Bio Fabric and Bio PET Felt, together with low volatile organic compounds and newly developed antibacterial materials and paint.

You can't get much greener than that with a car!