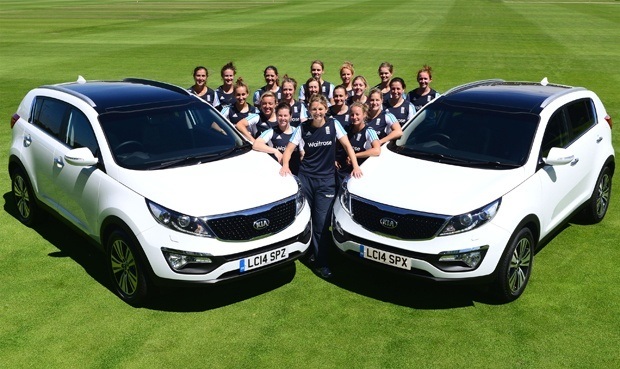 Whether it is a sign of the increasing popularity of women's cricket, or of the motor industry's sponsorship net being cat further and further afield, the news that Kia Motors (UK) Limited has announced a major new sponsorship deal as the first ever standalone official partner of the England women's cricket team is to be welcomed from all angles.

The partnership, signed for two years, sees Kia becoming the official car of England women's cricket with the South Korean car company providing for use by the players as they prepare this year for the visit of the Indian Women's team, but more importantly (perhaps) the Women's Ashes Test against Australia next summer.

It is the first ever exclusively standalone commercial arrangement for the England women's team, allowing Kia a range of sponsorship and marketing rights around the England women's team, including the opportunity to get themselves in and around the grounds at women's international matches in England.

Paul Philpott, President and CEO of Kia Motors (UK) Ltd said of the deal: "We are delighted to be a major partner of England Women's cricket. Kia's affinity with cricket is well known as we have been the lead sponsor of the iconic Oval and Surrey County Cricket Club since 2011. Supporting the hugely successful England Women's team is the next evolution for Kia in cricket. We wish the team massive success in this summer's matches and know the team will love driving their Kia Sportages."

It is a great leap forward for women's cricket in this country which has undergone resurgence with England Women current holders of the Ashes having retained the trophy in Australia in January 2014. More than 600 clubs nationwide now offering cricket to women and girls and Clare Connor, ECB's Head of Women's Cricket, is understandably delighted by the Kia news: "This is a historic step for England women's cricket and I am thrilled to be embarking on this new partnership with Kia. Major global brands want to be associated with winners, and it is fantastic that the team's outstanding performances on the field and growing media profile have enabled the England women's cricket team to earn their first-ever standalone commercial deal. This is a significant breakthrough for both women's cricket and women's sport as a whole, and I'm sure our commercial team will be working closely with Kia to help them achieve maximum exposure for their brand."

The Government even got into the act with a quote from Minister for Sport, Helen Grant, just as Prime Minister David Cameron welcomed more women into his cabinet: "This is a significant stride forward for England women's cricket. Sustained success on the field of play has translated in to an increase in media coverage and commercial value for the sport. I applaud the England players who are fantastic role models and the commercial team at ECB for securing this ground-breaking partnership with Kia."

And no doubt Kia are expecting more and more Kia Sportage on the school run!