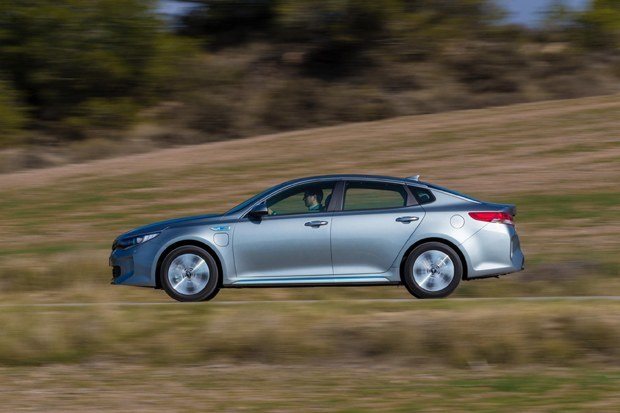 At this month's Geneva Motor Show, Kia premiered its all-new Optima Plug-in Hybrid, their first ever plug-in hybrid electric vehicle, ahead of its forecourt debut this Winter.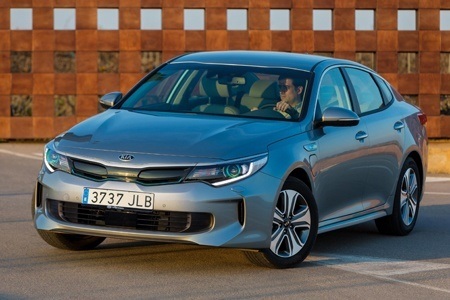 Following on from the launch of the new Kia Optima, with leasing models arriving in May, the innovative new plug-in hybrid powertrain is part of the Optima line-up as well as adding to Kia's ever-growing list of low-emission vehicles, offering greater battery capacity and pure electric range than previous Optima Hybrid models, and lower combined CO2 emissions, and Michael Cole, Chief Operating Officer, Kia Motors Europe, is a happy man: "Hybrid sales have more than doubled in Europe over the last five years, and are estimated to account for around 700,000 new car sales in Europe by 2020. The Optima Plug-in Hybrid will allow Kia to address the growing demand for low-emissions vehicles, and support us in our mission to hit our global 2020 target: to improve average fleet fuel efficiency by 25% over 2014 levels."
"Our advanced new Plug-in Hybrid powertrain makes the Optima an incredibly compelling proposition for private and fleet customers. It combines attractive design, a great driving experience, low running costs and minimal environmental impact."
With the last-generation Kia Optima being credited with kicking-off Kia's new design-led transformation, the all-new Optima marks the next stage in this transformation, with a series of visual enhancements helping to differentiate the model from other Optimas, and also coming with a series of intuitive driver assistance technologies that help to ensure greater safety as well as more engine efficiency.
The Power
With the Optima Plug-in Hybrid being Kia's first ever plug-in hybrid electric vehicle, let's take a look first at what we can expect under the bonnet (and integrated into the car.)
In pure-electric mode, the car is powered by a next-generation 9.8 kWh lithium-polymer battery pack that is paired with a 50 kW electric motor, which allows it to travel for up to 33 miles at speeds as high as 120 kph, allowing the Optima Plug-in Hybrid to find itself right up there amongst the list of pure-electric range cars.
While in Hybrid mode, the new Optima makes very good use of Kia's efficient 2.0-litre 'Nu' four-cylinder GDI engine, generating 156PS and 189Nm, with a total power output of 205PS at 6,000 rpm. Adding in the electric power available, the Plug-in Hybrid's total torque output is a high 375Nm (276lb ft) from just 2,300 rpm, all generated via a smooth-shifting six-speed automatic gearbox.
The Optima Plug-in Hybrid offers a seamless blend of highly-efficient electric and internal combustion power, and a consistently high level of performance, with acceleration from 0-62mph achievable in just 9.4 seconds, 0.6 seconds faster than the previous-generation parallel hybrid, the Optima Hybrid, and combined, New European Driving Cycle CO2 emissions of just 37g/km.
The new battery pack is hidden away behind the rear seat and in the tyre well, allowing a 307-litre (VDA) cargo capacity, and the fuel tank is smaller too, thanks to the addition of the plug-in powertrain.
The Look
There may have been changes to the new Optima Plug-in Hybrid, but it is still instantly recognisable as a Kia and still distinguishable as an Optima.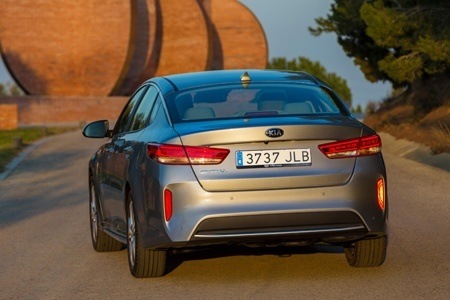 But you will find that some of the changes that have been made have been done to not only look good on the eye, but also help to further improve aerodynamic efficiency. With the car's all-new active air flap grille activated, drag coefficient is reduced to just 0.25 Cd, and re-profiled front and rear bumpers allow more efficient air-flow over the body of the car.
The rear bumper features special chrome trim with a clean metallic blue finish, a finish that is also continued on to the grille surround and wheel arches, and there is also special 'EcoPlugin' badging, with the charging port integrated into the driver-side front wing.
Inside the Optima Plug-in Hybrid you will find a whole raft of enhancements that you would expect from such an innovative car, many of which you will find displayed on the new driver instrument cluster where key information such as the battery's state of charge and driving style are readable.
The Technology
Being a Hybrid, the all-new Optima Plug-in Hybrid relies a lot on the efficiency of its battery pack, so comes with a series of innovations to enhance it, along with advanced energy harvesting systems and driver assistive technologies.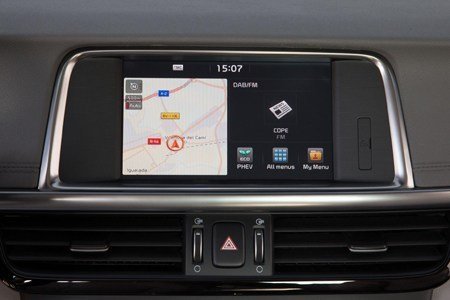 There are two key technologies used to save and regenerate battery power – regenerative braking and a new Coasting Guide Control (CGC) function - along with an advanced heating, ventilation and air conditioning (HVAC) system that uses a driver-only ventilation function to conserve energy, completely shutting off heating and ventilation to other areas of the car - especially useful when driving solo.
Kia's regenerative braking system, which allows the car to harvest kinetic energy while coasting or braking, has been updated and improved from its earlier incarnation, and now is able to regenerate 11% more energy as it recharges the Plug-in Hybrid's battery when possible to reduce emissions and improve hybrid driveability.
To help the driver, the Optima Plug-in Hybrid comes with a wide range of optional active hazard-avoidance technologies that includes:
Advanced Smart Cruise Control
Autonomous Emergency Braking, which uses a unique long-range radar to detect potential collisions as well as a short-range 'City' radar for urban conditions
Lane Keeping Assist System
High Beam Assist
Speed Limit Information Function (SLIF),
Blind Spot Detection
Rear Cross Traffic Alert
The Optima Plug-in Hybrid's AEB system is unique in its segment in Europe for offering not just a short-range radar, but also a longer-range radar unit which is able to identify cars and pedestrians further away and at higher speeds than many competitors.
The Optima Plug-in Hybrid is equipped with Kia's latest audio-visual navigation (AVN) functionality, with an 8" touchscreen infotainment system, complete with DAB digital radio, Android Auto™, and Apple CarPlay™ for iPhone 5 or newer. Both systems feature voice control and allow the driver to keep their hands on the wheel and eyes on the road ahead at all times while using the many functions on offer.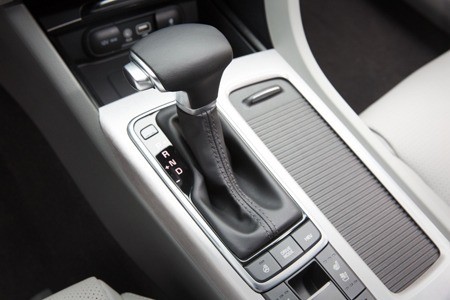 The AVN system offers a full Kia Connected Services package, with up-to-date, driver-oriented information courtesy of TomTom, and is paired with a six-speaker audio system as standard, with a powerful 590-watt Harman Kardon QuantumLogic™ Premium Sound Audio System, with 10 speakers, an external amplifier, Clari-Fi MP3 restoration technology and Harman Kardon's advanced QuantumLogic surround sound technology all available as optional extras.
There is even a new wireless charger for mobile devices at the base of the central console that allows users to charge their phone on the move, even warning them that it is there when they leave the car.
Safety
Besides the obvious safety technology, the lightweight, high-strength body of the new Optima Plug-in Hybrid has already ensured the maximum possible five-star Euro NCAP safety rating, making full use of Advanced High-Strength Steel (AHSS), which makes up 51% of the body, reinforcing the car's A and B-pillars, side sills, roof, floor pan and front wheel arches.
Inside the strong bodyshell, you find driver, driver knee, passenger, two front side and two curtain airbags all fitted as standard, along with the aforementioned suite of active safety technologies and Kia's Vehicle Stability Management (VSM) fitted as standard.
The all-new four-door, five-seater Kia Optima Plug-in Hybrid will go on sale across Europe in Winter 2016. To register your interest, contact one of our Customer Representatives, or to check out what else is on offer with some great deals across the Kia range, click here.