Without a crystal ball it is difficult enough to see into the future, but with Land Rover revealing its Discovery Vision Concept SUV in New York last week we are getting a look at the vision of Land Rover's future family of Discovery vehicles, the first model of which is due in 2015.
Appropriately the Discovery Vision Concept was unveiled alongside a scale model of the equally futuristic Virgin Galactic spacecraft at a spectacular event aboard the USS Intrepid – a sea, air and space experience centre – in Manhattan, as the pioneering and first-born of Land Rover's future Discovery geneology.
As Land Rover aim to redefine the leisure SUV category, the Discovery Vision Concept will grow from a single car to a whole family, offering an exciting preview of Land Rover's vision for the range, and the modern, premium design language of future models.
Phil Popham, Group Marketing Director, Jaguar Land Rover, said: "We announced at the Geneva Motor Show in March that the Discovery family is set to evolve. And it is apt that in the 25th anniversary year of the original Discovery that we preview how this evolution will take us forward into a daring new era. The Discovery Vision Concept gives us the first stunning glimpse into this hugely exciting future."
Designed for the future
With the Discovery Vision Concept, far more attention has been given to versatility in the design from front to back (via the stepped roof), inside and out, with Gerry McGovern, Design Director and Chief Creative Officer, Land Rover, explaining Land Rover's radical and sharply focused approach: "The Discovery Concept vehicle represents a Vision of our future family of leisure SUVs. Its modern, relevant and compelling design is a significant shift from Discovery as we know it, while well considered practicality, configurability and Land Rover's capability seamlessly blend to create a highly desirable vehicle that connects on an emotional level."
Nowhere is this design statement greater exemplified than in the interior of the new Land Rover Discovery Vision Concept.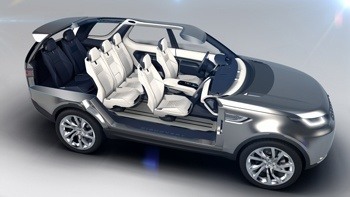 A great example of both space and versatility, it's not just the stack of innovative feature that the car contains that impresses; there's also the highly reconfigurable seating that can convert the car from a standard seven-seater to a six, five or even four-seater with ease – the latter giving the occupants the limousine mode that can be desirable at times. And by saying 'with ease' it really is that easy as the seats gets folded flat or slid forward or back via a touchscreen menu, with accessories stored and integrated into the seatbacks for the convenience of passengers.
Speaking of space, getting whatever in and out of the car is made easier by use of the evolved tailgate that incorporates a powered, single-piece design with a deployable rear sill step and a folding bench seat in the loading area to create a flexible event platform for whatever purpose.
In fact, the versatility even reaches to the materials used in the Discovery Vision Concept interior. Cleanliness is next to Goldliness, so Land Rover have made sure that there are two innovative types of washable and water- and oil-repellent Foglizzo premium leather in the cabin that can be cleaned in seconds, framed by wood veneer on the floors and instrument panel and bespoke accessories lined in Harris Tweed to create a feeling of luxury, warmth and style  in a warm, uniquely British feeling of quality and craftsmanship.
Pushing the boundaries through technology
Jaguar Land Rover have many research projects well under way that they have introduced into the Discovery Vision Concept to illustrate how future Land Rovers could evolve; all with the customers past, present and future in mind.
Dr Wolfgang Epple, Director of Research and Technology, Jaguar Land Rover, said: "The Discovery Vision Concept demonstrates where Jaguar Land Rover's pioneering technology and great, modern design could take the SUV in the future. It showcases the innovative approach that continues our leadership of the off-road segment. Smarter, more connected, more desirable and more capable – the Land Rovers of tomorrow will be fully and perfectly integrated into everyday life."
These new pieces of technology include: Next-generation Human-Machine Interface (HMI) technology to create a truly immersive multimedia experience for all occupants of the Discovery Vision Concept from driver to passenger that includes video calls between passengers through the seatback infotainment screens, Smart Glass bringing the power of augmented reality to the entire glasshouse, and various functions, including the doors, indicators, headlamps and seatback screens, operated by Gesture Control; Remote Control Drive so that the driver can control the car at very low speed while not actually being sat inside it; Laser headlamps with intelligent object tracking and beam-dipping to give daylight vision at night time; and Laser Referencing which helps navigate tight gaps by using visible lasers to project markings, symbols and imagery onto ground surfaces.
And that's not all
Dr Wolfgang Epple, says: "As a true pioneer, Land Rover is committed to constantly pushing the boundaries to redefine what SUV capability and versatility is all about. The Discovery Vision Concept shows the breadth of innovative, intelligent technologies being developed in order to offer our future customers unprecedented capability across any kind of terrain."
There's also the Terrain Response System which offers a whole range of advanced technology so that a driver can navigate almost any terrain that they would wish to.
An innovative 'Transparent' Bonnet head-up display system offers an unimpeded view of the ground immediately ahead via cameras under the grille that show images on the windscreen, greatly enhancing driver ability and confidence; Laser Terrain Scanning uses infrared lasers emitted from the front fog-lamps to continuously scan the terrain being crossed before transmitting information to a contour map on the high-definition instrument cluster display – a map that can be paired with the All-Terrain Coach guidance system to chart out a path and assist the driver in navigating it; a Wade Aid sensory system that uses lasers to see how deep water is before you try and cross it; and finally the All-Terrain Progress Control that enables semi-autonomous off-road driving at a steady speed across varying terrain.
As Land Rover say: "Altogether, these technologies ensure that the Discovery Vision Concept not only honours Land Rover's ethos of all-terrain capability, but takes it to a whole new dimension."