Worth every second of the time it takes to say its name.
Since its launch in 2011, the Range Rover Evoque has won an incredible total of 157 international awards and has sold more than 270,000 worldwide, making it the fastest-selling Land Rover of all time; so adding to the acclaimed Range Rover Evoque line-up with a more powerful and agile car is probably one of the better ideas that they have had.
Welcome in the Range Rover Evoque Autobiography Dynamic.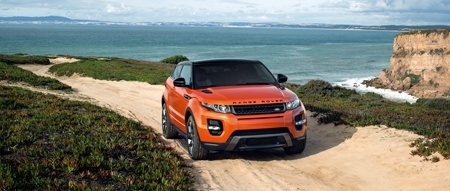 Taking a bow at the Geneva Motor Show, the Autobiography Dynamic is available in coupé or 5-door body styles and is the most performance-focussed Range Rover Evoque ever produced, moving the Evoque on with enhanced dynamic body styling, 20" forged alloy wheels, a new and striking premium metallic body colour called Phoenix Orange that is exclusive to the model, a Santorini black contrast roof as standard and premium leather interior details – and that's just the look of the car!
When it comes to the business end of the Autobiography Dynamic, there are changes there too with optimisation of the chassis which makes for even sharper handling (making use of the upgraded 350mm front brake discs), and an upgrading of the top-of-the-range 2.0-litre turbocharged petrol engine to produce 285PS and 400Nm – which is a pretty damn impressive 45PS and 60Nm increase on the existing Range Rover Evoque.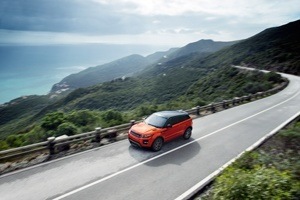 There's a retuned 9-speed ZF automatic transmission with adaptive shift programme steering-wheel-mounted CommandShift™ gear-selector paddles and active driveline (which improves fuel efficiency by engaging four-wheel drive seamlessly and automatically when required) as standard, as well as torque vectoring by braking (TVB) which operates on all four wheels to reduce understeer.
You would expect the technology inside a Range Rover Evoque to be top-notch (and it is) so Land Rover has decided to make it even better with Land Rover InControlTM Apps making a first appearance not only here in the Autobiography Dynamic but right across the Evoque range. InControl Apps enables vehicle-optimised smartphone apps to be displayed and controlled as they look themselves on screen on the car's touchscreen, making learning what to do with the screen images a simple matter of knowing what your smartphone already. All drivers (or passengers) have to do is connect their smartphone directly to the Range Rover Evoque through a dedicated USB port and Hey Presto!: compatible iPhone or Android apps to function.
"InControl Apps puts us at the cutting edge of in-car connectivity. The Range Rover Evoque's central touchscreen is now an extension of an owner's iPhone or Android smartphone with the latest content always available," said Jaguar Land Rover Group Engineering Director, Dr Wolfgang Ziebart. "Crucially, Land Rover InControlTM Apps allows other drivers of the vehicle to access their own smartphone content safely and effectively on the vehicle's touchscreen. An in-car app experience with familiar app DNA."
THE FINAL WORD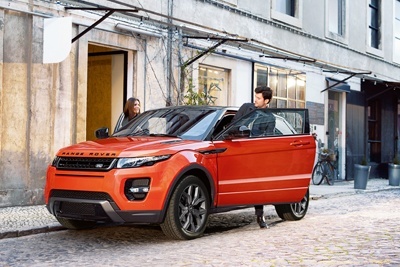 Land Rover are pretty pleased with themselves when it comes to the Range Rover Evoque Autobiography Dynamic, as Murray Dietsch, Director of Land Rover Programmes, said as he spoke ahead of the official world premiere for the car at the Geneva Motor Show: "When the Range Rover Evoque was launched, it brought a unique blend of innovative exterior and interior design and exceptional on- and off-road capability to the market. It created the premium compact SUV.
"The introduction of the new range-topping Autobiography Dynamic together with Land Rover InControlTM Apps, take the Range Rover Evoque's core strengths a step further, bringing increased levels of dynamic ability, desirability, luxury and connectivity to the already successful line-up."
The Range Rover Evoque Autobiography Dynamic may well be a bit of a mouthful to say, but simply by saying that you drive one will be worth its weight in gold.