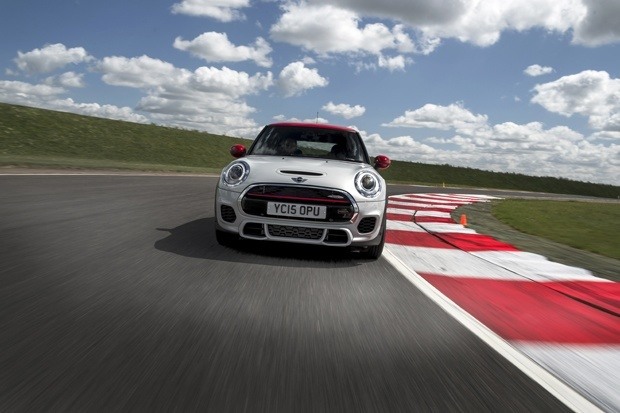 The thrill of being out on the open road in a MINI is undoubted, but just how much, and what effect it has on your body and your physical, psychological and physiological well-being, has been revealed by some tests conducted by the University of Portsmouth as part of their Science of Speed project.
And it revealed that "driving a powerful car can provoke a more dramatic physical response than enjoying a rollercoaster ride or jumping out of a plane."
The Tests
Using MINI's new John Cooper Works Hatch, scientists from the University of Portsmouth's Sport and Exercise Science department ran a series of physical, psychological and physiological tests at the iconic Goodwood Motor Circuit with a variety of drivers that included Rush and Mission Impossible 5 stunt driver, Niki Faulkner, to measure the effect that the car had on them.
And the results were pretty incredible, and rose when in direct correlation to the speed that drivers were doing.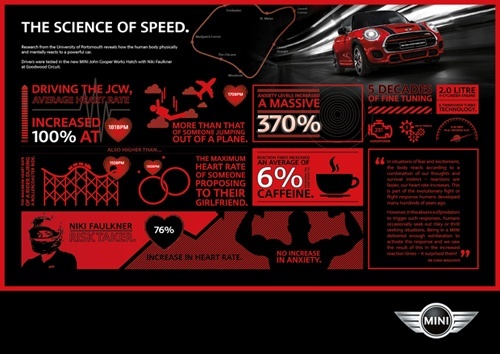 For example, the drivers' self-recorded anxiety levels increased a massive 370% from rest, whilst the average heart rate increased 100% to 181 beats per minute. Putting this into context it is nearly four times that reported when watching horror films such as The Shining, and more than riding a rollercoaster (155bpm) or even jumping out of a plane, which has been recorded at 170 beats per minute.
Even as a passenger in the car, the average heart rate increased by 80% to 153pm with anxiety increasing by 288%.
In fact, the scientists also discovered that "driving the new MINI John Cooper Works Hatch could even provoke a greater response than that of someone proposing to their girlfriend or even running a marathon." (The maximum heart rate of someone proposing to their girlfriend is said to be around 130 beats per minute.)
And it seems that driving at speed and producing adrenalin makes us a bit sharper with the test drivers' reaction times improving by an average of 6% post-drive - the same effect as having a shot of caffeine.
Dr Chris Wagstaff of the University of Portsmouth's Sport and Exercise Science department explains: "In situations of fear and excitement, the body reacts according to a combination of our thoughts and survival instinct – reactions are faster, our heart rate increases.
"This is part of the evolutionary fight or flight response humans developed many hundreds of years ago. However, in the absence of natural predators to trigger such responses, humans occasionally seek out risks or thrills. Being in a MINI delivered enough exhilaration to activate this response."
The New MINI John Cooper Works Hatch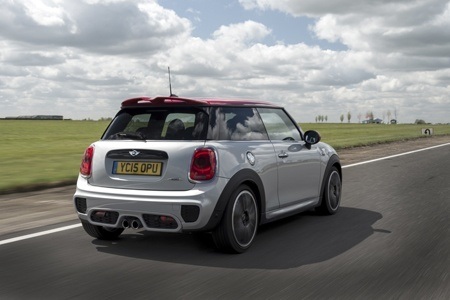 It's certainly a fast car. With a 2.0 litre 4-cylinder engine and TwinPower Turbo Technology, the new MINI John Cooper Works Hatch achieves top speeds of 153mph, has 231 horsepower and reaches 62mph in 6.3 seconds; and Niki Faulkner was impressed: "This is a little car that packs a big punch. I am used to driving fast cars but the MINI's acceleration, power and handling definitely impressed me and this is certainly portrayed in the participant's responses! I definitely felt more comfortable driving than being on the side line."
And you can see more of the car in the video below.
Nationwide Vehicle Contracts have some great offers on all sorts of MINIs, which you can find here. From the New Model Mini Clubman and the Mini Countryman to the Mini Paceman. But it's the MINI Hatch that's attracting a lot of interest.
The MINI Hatchback
Nationwide Vehicle Contracts offer some great deals on the MINI Hatchback, both in its 3-Door and 5-Door versions, both of which have been recently revitalised, with every detail painstakingly reworked over an intensive seven year period. But don't worry. It's still the small car that promises big fun, but it's now more powerful, more stylish and more connected than ever.
The entry level MINI Hatch Cooper is fitted with an all-new 1.5 litre 3-cylinder MINI TwinPower Turbo petrol engine. Capable of achieving 0-62mph in just 7.9 seconds with a top speed of 130mph, it's one of the best performing compact city cars available. But in managing 62.8mpg on a combined cycle, it's also one of the most efficient, with CO2 emissions as low as 105g.km.
The MINI Hatch Cooper S packs an even bigger punch with its 4-cylinder MINI TwinPower Turbo petrol engine. Producing 192hp, it has a top speed of 146mph and can achieve 0-62mph in as little as 6.7 seconds.
But for the best combination of power and efficiency, look no further than the MINI Hatch Cooper D. Fitted with a 1.5 litre 3-cylinder MINI TwinPower Turbo diesel engine, it produces 116hp and has a top speed of 127mph. But through achieving an incredible 80.7mpg on a combined cycle with CO2 emissions as low as 92g/km, this MINI Hatch model is the gift that keeps giving.
All models and engines are available with either automatic or manual transmission.
And when it comes to keeping you connected, for the first time ever, the new MINI Hatch allows you to link a smartphone and stay connected to the world beyond the bonnet. The central MINI Connected LED display is available in either 6.5" or an immense 8.8", giving you control of all major infotainment systems and access to numerous innovative apps.
When linked to a smartphone, MINI Connected lets you keep up to date with such social media applications as Facebook, Twitter and Foursquare. You can stream music from radio stations all over the world, search online for destinations and keep tabs on your RSS news feeds. With optional voice control, your MINI will even read things out for you, allowing you to keep your hands on the wheel and your eyes on the road.
The all new MINI Hatch is loaded with such technological innovations as simply wouldn't be found in any other car.
There's the Excitement Analyser, which assesses how safely you can accelerate and steer the car.
Then there's the MINIMALISM Analyser, which helps you to drive in a more environmentally efficient way through recording your driver data.
Finally, Mission Control lets you interact directly with your car with a fun host of situation-dependent messages.
The new MINI Hatch has character and personality like never before, so contact one of our representatives to talk about leasing a new MINI from Nationwide Vehicle Contracts.