Lexus launch the Lexus GS F V8 Saloon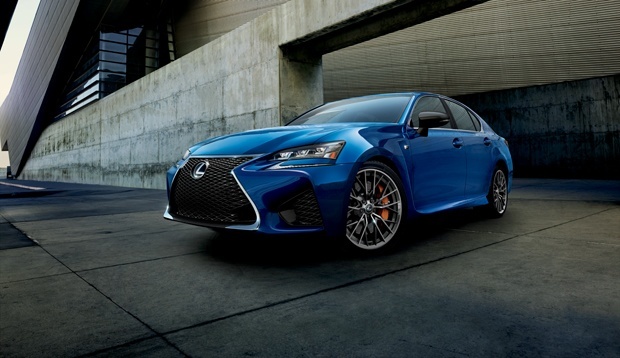 As the latest addition to its stable of F-designated high performance models, Lexus has unveiled the new GS F at the Detroit motor show. Keeping itself real and true to the principles that produced the LFA supercar and the RC F coupe, the 470bhp V8-powered GS F is undoubtedly a sports car in both performance and handling, wrapped up in a luxury saloon car package, yet breaking new ground as the largest car yet to bear the Lexus F badge.

Yukihiko Yaguchi, chief engineer, explained: "Our cars with the F designation are meant to generate a very positive feeling when you're behind the steering wheel, and are designed to be fun to drive, no matter who's driving, or where. With the GS F we wanted to make a special car that would not only exceed the expectations of the most discerning enthusiast, but which could also be enjoyed by all drivers. In this spirit, it embraces the virtues of sound, response and power – the cornerstones of the Lexus F brand."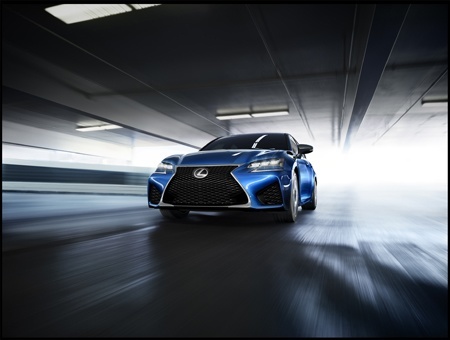 The power comes via a V8 engine and eight-speed transmission

The GS F is powered by Lexus's formidable normally aspirated 5.0-litre V8 engine which is capable of producing 470bhp, offers up peak torque in excess of 530Nm and, as the unit is mated to a lightning quick eight-speed automatic transmission with manual shift capability, the GS F has four driver-selectable operating modes: Normal, Eco, Sport S and, designed specifically for race track driving, Sport S+.

The engine powers the 1,830kg-wieghted car, and the rear-wheel drive saloon promises rapid acceleration and a top speed (to be announced at a later date) that will be capable of giving some race cars a run for their money.

But power isn't everything, because the 32-valve DOHC engine is fuel efficient, engineered to operate on the Atkinson cycle in everyday running and to switch seamlessly to the Otto cycle for performance driving and cruising at speed.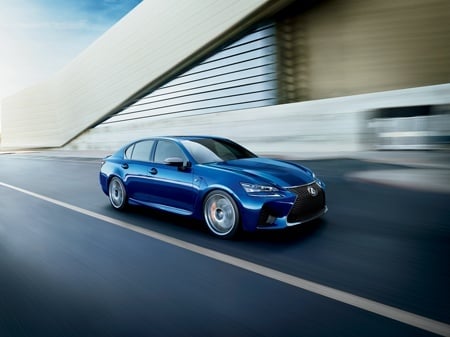 A racing car in all but name

The GS F is, as we have already said, a sports car in performance and handling; and this is nowhere more highlighted than in the structural reinforcements and exclusive suspension design that have been produced to make good use of the potential offered by the high-power engine. Just to make sure that the sports side of the GS F is used to its full potential, tests have been completed in both Japan and at the famous Nürburgring Nordschleife in Germany, taking the taut suspension, larger tyres (255/35R19 at the front, 275/35R19 at the rear) and uprated braking system to its very limit to ensure that the car can provide exceptional high-speed stability and sports car agility.

The new GS F features Lexus's innovative Torque Vectoring Differential, which made its debut in the RC F and has three operating modes: Standard (as the default mode), giving a balance of agility and firmness; Slalom, for nimble steering response and agility; and Track, which enhances stability for high-speed circuit driving.

Looking at the car also gives you the impression of speed along with the saloon spatial awareness with the larger, more pronounced spindle grille with its dedicated F-model mesh pattern and large air vents integrated cleanly into the front bumper section at the front along with the slim, angled headlights and signature L-motif daytime running lights.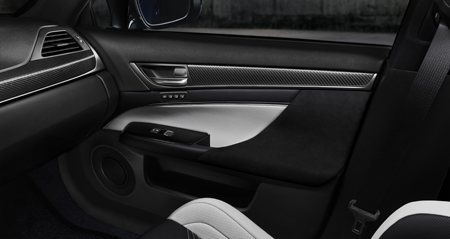 The fact that the car sits lower than other GS models merely adds to that sporty feeling (and look) which is amplified by the front air vents and 19-inch alloy wheels and further enhanced at the rear by a subtle carbon fibre spoiler and chrome-finished exhaust tailpipes.

Yoshiharu Nakajima, project chief designer, said: "Fun to drive – it's what characterises all the cars wearing the F badge, and it was our intention that the GS F should be true to that quality.

"The style philosophy is 'form following function'. For example, the GS F's spindle grille was designed to further improve the car's aerodynamics and internal cooling, while the air outlets in the front wings, first seen on the IS F and more recently on the RC F, have been adopted because of their efficiency. The styling direction promotes Lexus's commitment to 'progressive luxury' and I feel this car conveys that brand message perfectly."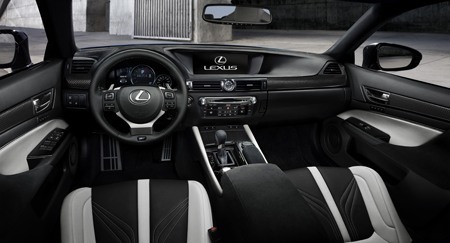 Interior proof

All the features inside have been especially designed to be sports-themed too, yet in a simple and economical way to ensure that functionality is also a keyword.

There is an electronic instrument display that automatically adjusts content and appearance according to the selected drive mode, custom-designed (and comfortable) front and rear seats, high-grade Alcantara on the door trims, centre console and upper instrument panel, an analogue clock, a remote-controlled video monitor, and a 17-speaker Mark Levinson premium hifi system along with an Active Sound Control system when the car is driven in Sport S or Sport S+ mode.

Safety is of prime concern too with the GS F the beneficiary of a multi-functional safety package that includes Lexus's Pre-Crash Safety system to provide alerts, braking assistance and automatic braking to help avoid a collision, or mitigate the consequences of an impact, Lane Departure Alert and an Adaptive High Beam System for better night-time vision amongst many other features.

Details of the model specifications and launch for us over here in the UK will be announced later in 2015, so for now all we can do is sit, wait and dream.