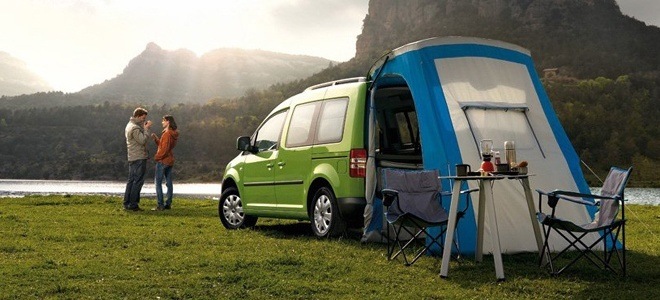 LOOK TO THE SUMMER WITH THE NEW VOLKSWAGEN CADDY MAXI CAMPER
Once all this snow and ice and cold windy weather has departed (probably around July, just before Autumn!) the annual exodus of heavily backpacked walkers dragging reluctant teenagers, excited primary schoolers and over-friendly dogs will begin.
Yes! With the recession still hitting, it is estimated that the number of people going camping in the UK this year will rise dramatically, with companies such as Go Camping reporting increased footfall and traffic in their shops. And that means cars packed to the limit ready to burst with tents and rucksacks and clothes and loads of things that you take but will never use (but you'll forget stuff that you need) fitted into spaces in between people and animals squashed in the back seat with their feet on stuff will be tootling along motorways and then rural roads at a speed that annoys tractor drivers as they watch front seat passengers struggle with a road map because the Sat Nav can't get a signal.
How much better for all concerned would a new Caddy Maxi Camper from Volkswagen be?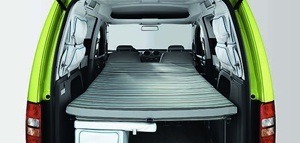 Compact and affordable, the Caddy Maxi Camper has got 5 seats, a fold-out double bed, two deck chairs, portable table, electric cool box and awning; all as part of the standard specifications of this practical camping car that can be used in place of a tent, or just as a base camp for a camping holiday or outdoor pursuit like surfing, fell running or paragliding, for example.
It's 4.8 metres long and 1.8 metres high, and is the most compact and affordable model available in Volkswagen's camper range, which also includes the California Beach and SE models, and the Caravelle (with 'sleep pack').
By folding the rear seats down, and tipping the front seats forward, the double bed can be unfolded, and the awning (2.3 m x 2.0 m) easily attaches to tailgate clips so that you can have more outdoor living space with the table, chairs and awning fitting into existing storage spaces in the rear when on the move.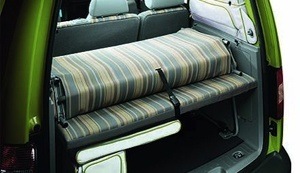 If camping isn't your bag, the fold-out bed (that is stored neatly behind the rear seats) can be taken out to give a generous 1.6m3 of space for bikes or other equipment, or with the rear seats are folded forward, there is up to 3.2 m3 or a 1.8 m long loadspace – and that doesn't even mention the roof rails that allow for a roof box or bike rack.
For the driver, sitting amidst the 'Takato' upholstery and using the leather steering wheel, you can ignore all moans as you enjoy the climatic air conditioning, electric front windows, electrically adjustable and heated door mirrors, front fog lamps, height adjustable front seats, trip computer, and cruise control - all as standard – as the Caddy Maxi Camper's engines power the vehicle along.
Of these, you have a choice between two clean and frugal BlueMotion Technology rail diesel engines: the 1.6-litre TDI with 102 PS that can give you 54.3 mpg and the 2.0-litre TDI with 140 PS delivering 49.6 mpg, both with DSG automatic transmission available.
Volkswagen's Caddy Maxi Camper: putting the 'ping' back into camping.