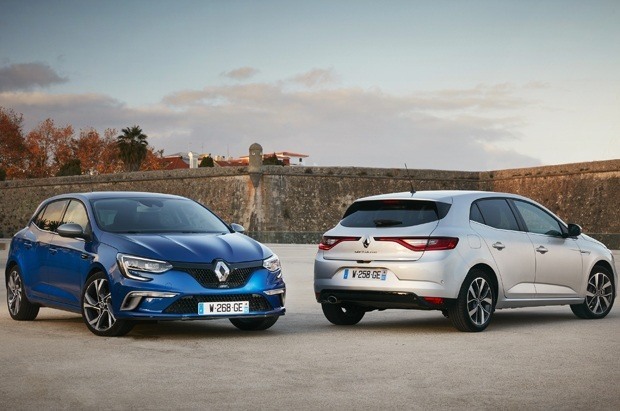 Following its global debut at the 2015 Frankfurt Motor Show, the all-new Renault Mégane will be appearing on British forecourts (and, of course, our website) this Summer.
Although the full UK specification details and engine line-up are to be confirmed, we have enough details about the all-new Megane to start to get excited.
What We Know About The New Renault Megane So Far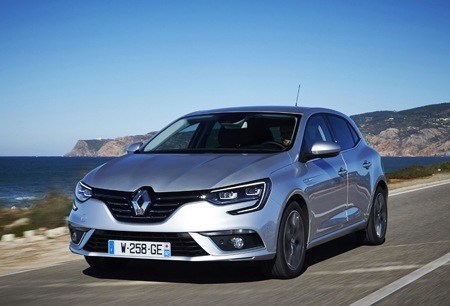 The all-new Mégane is the fifth Renault to be built under the planning and design auspices of the Renault-Nissan Alliance's new Common Module Family (CMF) vehicle architecture, a highly flexible method of building cars with great efficiency, high levels of automation and exceptional quality.
Following in the considerable footsteps of the Renault Espace, Kadjar, Talisman Saloon and Talisman Estate, it allows sharing of technologies a lot easier, especially when it comes to less expensive models benefiting from upper-segment cars.
Under this 'remit', the new Megane gets some unique-in-class features such as:
- A colour head-up display
- A configurable 7-inch Thin Film Transistor (TFT) colour instrument display
- R-LINK 2 connectivity systems via either a 7-inch landscape or 8.7-inch portrait tablet
- Multi-Sense technology to personalise the driving experience
- 4Control four-wheel steeringon the GT version
Design
Recent model introductions like the Renault Clio, Captur, New Espace, Kadjar and Talisman have all been part of the design revolution which has been taking place at Renault and the new Renault Megane is no different.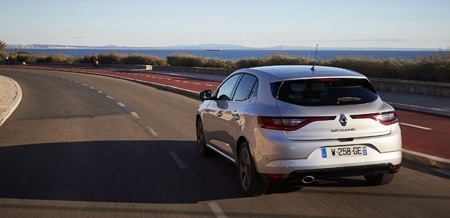 In comparison to what will become the outgoing model, the new Megane is longer and lower, has a longer wheelbase, and significantly wider front and rear track widths, giving the car a taut and precise appearance that looks both dynamic and balanced, enhanced with wheels of up to 18" in diameter.
When the engine is switched on, the all-new Mégane's distinctive front and rear lighting signatures are permanently lit, with the front C-shaped lights made up of 3D-effect LEDs. The full LED headlights use Renault's LED Pure Vision technology that allow automatic switching between main and dipped beam, while at the rear, the lights use Edge Light technology to create a horizontal 3D-effect which appears as brush strokes with a deep red glow.
Interior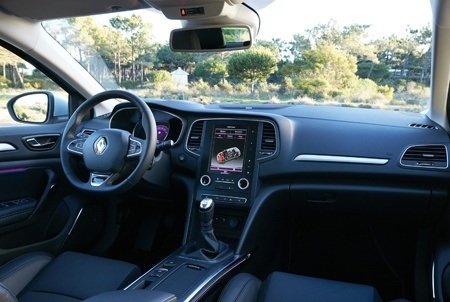 The all-new Mégane has a similar cabin ambience to the new Renault Espace and Talisman, something that is highlighted by the craftsmanship within: high-quality, soft-touch materials that includes full-grain Nappa leather steering wheel trim; chrome detailing and foam-backed dashboard; armrests; and door panel trims.
There are five different styles of upholstery available, all in black, all inspired by leather goods and stylish furnishings., and all featuring discreet top-stitching to underline the quality of the new models.
For the driver, besides benefitting from a heated seat and electrically adjustable lumbar support, there is the feel of a cockpit, thanks to the design of the centre console and instrument panel containing the multimedia tablet and 7" TFT display, and the sculpted, accommodating seats.
The GT-Line: An Even Sportier Look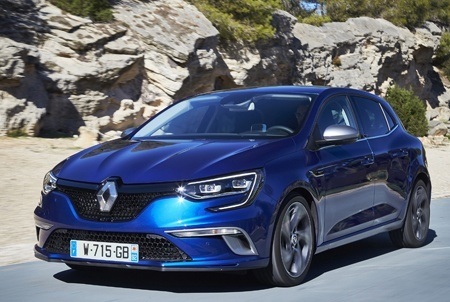 The sporty and dynamic appearance of all-new Mégane is even more evident on the ll-New Mégane GT-Line, distinguishable on the outside by visible exterior changes, and on the inside by interior enhancements.
At the front there is a wider lower air intake with a honeycomb-pattern mesh, and at the back an elliptical chrome exhaust tailpipe and a profiled diffuser. And along with dark metal 17" or 18" alloy wheels and door mirror housings, the model has a sporty outlook and appearance to the watching world.
Inside, the front seats (in three upholstery options) feature additional lateral support and integrated headrests, blue top stitching and a chequered logo, with hints of blue in all trim strips. The all-new Mégane GT-Line also offers a bespoke steering wheel and model badging on the dashboard.
The all-new Mégane GT also features the unique-in-class 4Control all-wheel steering system that has been designed and developed by Renaultsport engineers to increase the precision and responsiveness of the car while adding an extra layer of cornering stability. There are also specific settings in the GT-Line model for the car's suspension plus Launch Control and Multi-Change Down capability incorporated within the EDC transmission.
Advanced technologies
As stated previously, technologies from higher grade models are available in the new Megane, especially as it features a package of unique-in-class technologies from the new Renault Espace and Talisman.
Features such as:
- R-LINK 2 multimedia control centre with 8.7" portrait display with voice recognition for the navigation, telephone, apps and radio (standard on higher trim levels only)
- Arkamys sound system
- An optional Bose system (developed with Renault) with 9 speakers and a subwoofer
- Multi-Sense technology allowing personalisation of the accelerator pedal and engine response, engine sound, steering weight and interior lighting ambience
- Adaptive Cruise Control
- Active Emergency Braking
- Lane Departure, Blind Spot and Safe Distance warnings
- Overspeed Prevention with Traffic Sign Recognition
- Automatic High Low Beam
- Hands Free Parking
- 360 degree parking sensors
Powertrains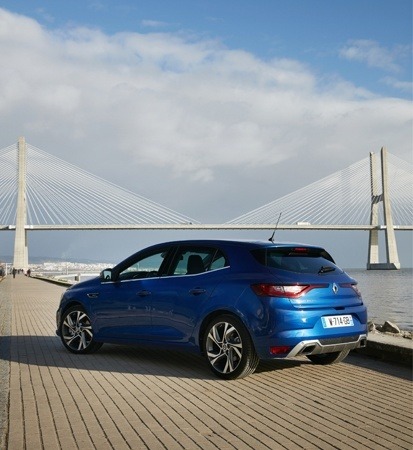 Although decisions have yet to be made on which powertrains will be available in the UK, the all-new Mégane will be available at European launch with 10 fuel-efficient, low-emission powertrains in line with Renault's downsizing strategy, with all but one turbocharged and two exclusively reserved for the GT.
Turbocharged petrol options are: 1.2 litres/100hp, 1.2 litres/130hp manual, 1.2 litres/130hp EDC, and 1.6 litres/205hp (GT only).
Turbodiesel alternatives are: 1.5-litre dCi 90, 1.5-litre 110hp manual transmission, 1.5-litre 110hp EDC transmission, 1.6-litre dCi 130hp and 1.6-litre dCi 165hp.
In 2017 a Hybrid Assist diesel-electric powertrain will be added to the range, based on the Energy dCi 110 unit.
To register interest in leasing the all-new Renault Megane when it arrives later this year, contact one of our representatives or take a look at the existing range of Renault models available to lease with some great deals here.