For lovers of Italian cars, the Italian Car Day is the one day of the year to be noted with a big red ring on the calendar – and has been for the past 28 years.
The only thing unsurprising about Italian Car Day every year is that there will be surprises – and that these will be spectacular and intriguing. Nowhere else will you find such obscure and exotic Italian machinery, even at the most exclusive (and expensive) static events, yet here at Brooklands the cars are moving at speed (either up a hill or on the adjacent Mercedes-Benz World test track with the opportunity for visitors to get closer to the action than at almost any event, anywhere in the world.
So what surprises can we expect at this year's event on Saturday 3rd May? Here's a taster...
First up, visitors to Italian Car Day will get the chance to see and hear an Isotta-Fraschini-engined monster in action, powered by a staggering 27-litre Isotta Fraschini V12 engine from a Caproni – an Italian heavy bomber. Known worldwide as 'il drago ruggente', this aero-engined leviathan – the Italian name translates as the roaring dragon - is built on a 1924 Delage chassis and will be travelling all the way from Sweden for Brooklands Italian car Day with its owner Glenn Billqvist, will be making the journey from Sweden for the Brooklands Italian Car Day.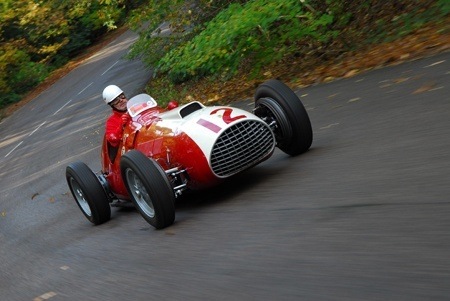 And then, just as a second taster on a completely different planet from 'il drago', visitors will also be Brooklands will also be cheering in the Ferrari 212 F1 raced by Dorino Serafini at the 1951 Syracuse Grand Prix in Sicily where it finished in second place. Back then it was a real rebel rouser and taste of the future because it featured a 2500cc V12 engine and De Dion rear end – an example of just how advanced Enzo Ferrari's Grand Prix plans were even back then.
The usual car clubs and registers will be there too amongst the countless displays and attractions with everything from Ferrari supercars to quirky little Fiats, plus Alfas, Maseratis, Lamborghinis and a vast range of more obscure marques, from Abarth, Bizzarrini and De Tomaso, to Innocenti, Moretti and Siata.
Arriving in an Italian car will make you part of the display, and prices range from £13 in advance for adults to £16 on the day, with reduced admission for Seniors and children – as well as family tickets available too.
Advanced ticket sales are available from www.brooklandsmuseum.com and allow entry into the always historically fascinating Brooklands Museum itself.
Ciao for now.