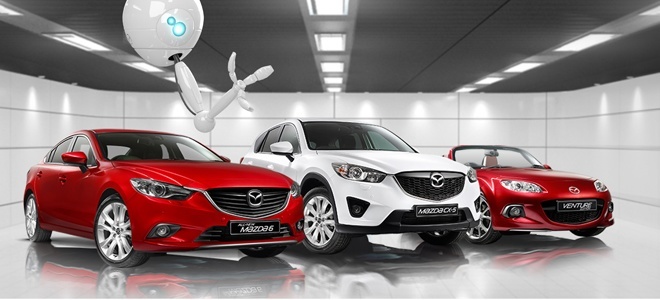 Mazda's advertising has a tagline of 'defy convention', and they are allowing some of their customers (and hopefully future customers) to do just that with a competition to win stunning test drives in three remarkable locations behind the wheel of Mazda's equally stunning models – the all-new Mazda6, Mazda CX-5 and Mazda MX-5.
Do you fancy a drive around the Fjords of Southern Norway and on the famous Atlantic Road? All that beautiful scenery could be in your view behind the wheel of Mazda's award-winning CX-5 as your prize is to drive there and along the well-known five mile long Atlantic Road which famously spans an archipelago with eight bridges.
How about a trip to Los Angeles behind the wheel of a stylish Mazda6 as you drive the dry river bed just like Tom Cruise in Days of Thunder and John Travolta in Grease? The five-day trip also includes a chance to eat at INK, just voted America's best new restaurant by GQ magazine.
Or maybe you would prefer to stay a little closer to home with a trip to Italy's famous Stelvio Pass, the second highest route through the Alps, climbing up to 2,757m.  You could be taking on its 60 hairpin bends in the world's best-selling two seater sports car, the Mazda MX-5, on a trip from Monza to Florence.
All these trips will take place in early autumn with flights, fuel, meals and hotels for two adults included.
"These really are unconventional," says Mazda UK Senior Marketing Manager James Crouch, "fitting perfectly with Mazda's idea of customers having fun and getting involved.  These routes really capture the Mazda brand values of insightful, spirited and stylish – not being an onlooker."
The prizes are part of the Surprising Drives campaign which started last week (15th July 2013), and you can find out more by visiting YouTube: .
How do you enter?
It's all down to Digital Skill on your part as Mazda uses its digital marketing knowledge to launch a game in which contestants use an arm to grab a ball, with different coloured balls to match which test drive to go for (Italy, Norway or USA). This game can be played on desktops and tablets and is being promoted through Mazda UK's own website and Facebook.
And that's not the only prizes on offer.
Every week 8 lucky winners who enter will have the chance to win a Mazda6, Mazda CX-5 or Mazda MX-5 for a week.
There are 140 other chances to win unconventional test drives in the all-new Mazda6, Mazda CX-5 and Mazda MX-5,this time in the UK, by taking a test drive at a local Mazda dealership throughout August. (We are talking drives involving some of Britain's finest venues and food in places from Sussex to Scotland, including the famous Gleneagles Hotel, The Kennels at Goodwood and Daylesford Organic in the Cotswolds.)
And finally there are test track days on offer at Croft, Donington, Silverstone and Castle Combe and Kirkistown lined up.
Our cars really do over deliver on what drivers might expect and these track tests will allow them to start to feel the performance and really explore the car's abilities," said James Crouch.