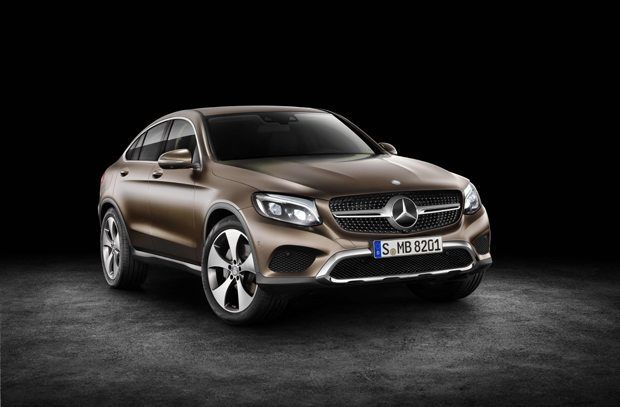 Back in 2015, the GLC Coupé concept from Mercedes-Benz found itself the centre of attention at its world premiere at the Shanghai Motor Show, combining and uniting a typical coupé style with the design of the most current SUV models.
And now, just one year on, reality strikes on the forecourts of the UK, as the new Mercedes-Benz GLC Coupé arrives; its distinctive basic structure and stretched greenhouse virtually unchanged into series production, joining the many exquisite models available in the Mercedes GLC range.
"The GLC Coupé reflects our iconic Mercedes-Benz coupé design while symbolising the bipolarity of our brand – it is 'hot and cool'," says Gorden Wagener, Head of Design at Daimler AG. "With its design idiom of sensual purity, it perfectly embodies our styling philosophy while at the same time representing contemporary luxury."
Striking features abound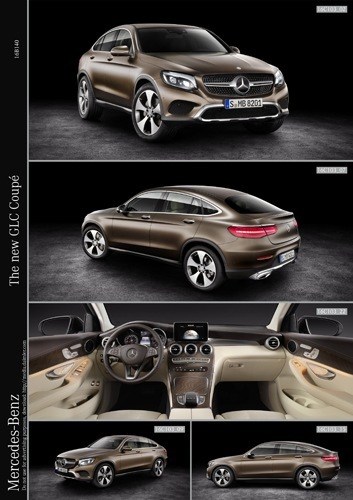 As you would expect from a car that combines the multifunctional ability of an SUV and the emotive appeal of a coupé, the new GLC Coupe constitutes a skilful fusion of emotion and intelligence. With an exterior length of 4.73 metres, a height of 1.60 metres and a wheelbase of 2.87 metres, the GLC Coupé not only looks dynamic and compact, but it is!
A typically coupé-esque, single-louvred diamond radiator grille stars at the front, with a restyled, dropping roofline creating a lower roof outline, with no need for a rear windscreen wiper due to the aerodynamics of the car preventing water settling there.
And an innovative headlamp concept, optionally in LED High Performance technology, helps create the now characteristic Mercedes-Benz light signature.
The perfection with which Mercedes has married the previously opposed design worlds of coupé and SUV is no more demonstrated better than when we see the new GLC Coupe in profile where the typical, stretched coupe roofline blends in perfectly with the high beltline and wide shoulders to create a dynamic look that is SUV'd up by optionally available side running boards, wide wheels up to a size of 50.8 centimetres (20"), and ample ground clearance.
At the back, the GLC Coupe's athleticism is emphasised by the designed pronounced shoulders, muscular bumper design with integral exhaust tips, underride guard in the form of a diffuser, narrow split tail lights, centrally positioned brand star and sharp spoiler lip - all combining to make following the new model in traffic a matter of jealousy.
Typical coupé flair and high-grade ambience inside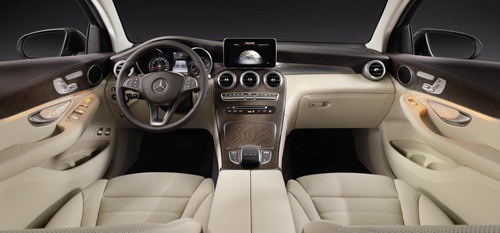 Looking as good as it does outside, you would expect the interior to follow the exterior design philosophy - and it does...in spades.
The interior welcomes the occupants with all the flair that you would expect from a coupé and adds in not only a high-grade ambience, but also sensual purity, dynamic sportiness and modern luxury.
The dashboard and the centre console are stylistically distinctive stylistic with a one-piece console panel flowing around, sweeping elegantly below the semi-integrated media display from the centre air vents to the armrest, adding to the spacial feel in the cabin.
And with the optionally available AMG Line Interior you can add in, amongst other items, sports seats with upholstery in ARTICO man-made leather/DINAMICA microfibre or sports seats with bi-colour look leather upholstery.
Eight model variants of the new Mecedes GLC Coupe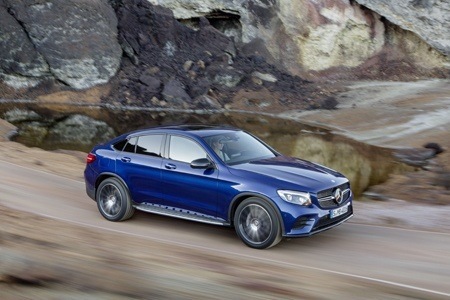 The new GLC Coupé is available with four diesel and four petrol engines, including a plug-in hybrid as well as a powerful Mercedes-AMG model.
Entry level
Launching in Autumn 2016, the initial 3 entry-level models are:
A four-cylinder diesel-engined GLC 220 d and GLC 250 d 4MATIC coupé with outputs ranging from 125 kW (170 hp) to 150 kW (204 hp).
And a four-cylinder petrol engined GLC 250 4MATIC coupé rated at 155 kW (211 hp).
5 Further models will follow at the end of 2016, and will include: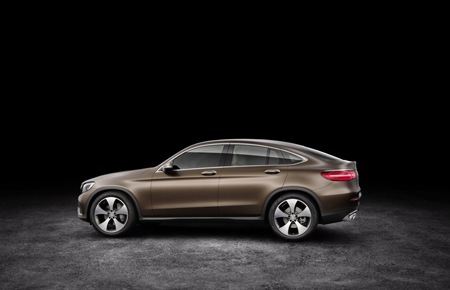 A GLC 350 e 4MATIC Coupé, along with a plug-in hybrid that is designed to combine agile all-wheel drive with extremely low fuel consumption and exhaust emissions. The 350 e 4MATIC Coupé will have a top speed of 235 km/h, emit just 59 64 g CO2/km and output 235 kW (320 hp), while the semi-electric vehicle will be able to travel up to over 30 km in zero-emission all-electric mode, and accelerate to 100 km/h in a projected 5.9 seconds.
For dynamically minded coupé fans, the Mercedes-AMG GLC 43 4MATIC Coupé, with its powerful top-of-the-line V6 biturbo engine putting out 270 kW (367 hp) and accelerating the coupé to 100 km/h in less than 5 seconds, promises perfect on-road performance, dynamic styling and an attractive equipment package.
All models, including those in the future, are characterised by high efficiency with EU6 emissions standard compliance, as well as sports suspension as standard with five transmission modes - ECO, COMFORT, SPORT, SPORT+ and INDIVIDUAL.
Space and Safety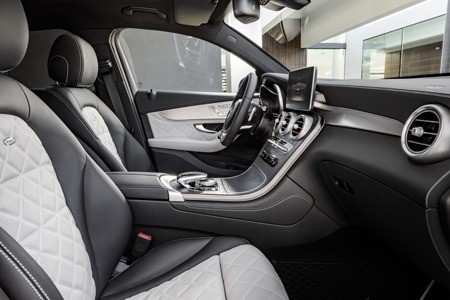 Besides being sporty and looking good (as well as making you look good when you are in it too), the dynamic GLC Coupé also is practical with lots of space for both passenger and driver, and a luggage capacity from 491 to 1205 litres.
And it almost goes without saying that safety is there in numbers. In keeping with the Mercedes-Benz tradition, the core body of the car forms the foundation for exemplary crash safety with high-tensile steel and aluminium creation, along with 3-point safety belts with pyrotechnical and reversible belt tensioning and belt-force limitation for driver, front passenger and those in the outer rear seats, combined thorax/pelvis sidebags for driver and front passenger and an optimised windowbag extending over both seat rows, optional sidebags for the outer rear seats and a driver kneebag.
GLC Coupé also available as especially exclusive EDITION 1
The GLC Coupé will also be available from launch as an EDITION 1 model. Combining a series of exclusive details, such as AMG Line Exterior, 20" AMG light-alloy wheels with mixed tyres, attractive designo paint finishes as well as Bi-Color look leather upholstery, this special model turns the SUV coupé into something eye-catching and very very special.
The new Mercedes Benz GLC Coupe takes a bow on UK forecourts in the Autumn, so register your interest with one of our Customer Service Representatives now. Or if you can't wait that long, take a look at what Nationwide Vehicle Contracts already have on offer when it comes to the Mercedes GLC.