ALL-ROUNDER WITH DRIVING PERFORMANCE
Fresh from the concept debut at last year's Los Angeles International Auto Show the new Mercedes GLA 45 AMG "makes a dynamic statement in the strongly growing segment of the compact SUV."
That's the bold comment from Mercedes-Benz about their distinctively-designed new motor.
Tobias Moers, Chairman of the Board of Management of Mercedes-AMG GmbH, has plenty to say on the subject of their new baby: "The response to the Concept GLA 45 AMG during the world première at the Los Angeles International Auto Show has reaffirmed our decision to launch this new AMG model. Currently there is no segment growing faster than that of compact SUVs. For Mercedes-AMG it is therefore a logical step to make a dynamic statement in this segment with the GLA 45 AMG.
"Our new high-performance-SUV not only offers the world's most powerful series-production four-cylinder engine, but also impressively low fuel consumption and emissions figures. Not least on account of the performance-oriented AMG 4MATIC all-wheel drive, the GLA 45 AMG is a true AMG when it comes to driving dynamics."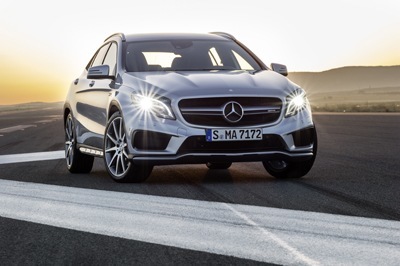 Aah! Low fuel consumption (that's 37.6 mpg) and low emission figures (NEDC combined; CO2: 175 g/km) that comply with EU 6 emissions standards; proof that high performance doesn't mean that the environment is going to be drastically damaged.
And that high performance? 0-62mph in 4.8 seconds and an electrically-limited top speed of 155mph courtesy of an AMG 4MATIC all-wheel-drive fitted as standard and the AMG SPEEDSHIFT DCT 7-speed sports transmission; suit you, sir?
It is obvious, taking into consideration the styling and dynamic nature of the GLA 45 AMG that the car is aimed at a young target group as these trend-oriented customers are obsessed with having the very best in styling, dynamics and independence – something that they will find not only in this new SUV from Mercedes but in the other four members of the Mercedes SUV family too (ML 63 AMG, GL 63 AMG, G 63 AMG and G 65 AMG). This is the widest range of SUVs among all high-performance premium brands.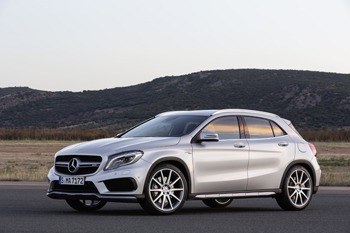 The customer would like a best in class engine? No problem,sir. The engine under the bonnet of the GLA 45 AMG is an hand-built AMG 2.0-litre turbo engine, the most powerful series-production four-cylinder turbo engine in the world, producing 360 hp of power, developing a peak torque of 450 Newton metres and a power density of 181 hp – something you normally only find in some of the world's most powerful super sports cars.
You'll be pleased to hear, sir, that this particular high-performance turbo engine is part of the BlueDIRECT family, meaning that it is fully aware of the effect of harmful emissions on the environment, as we have already pointed out to you. Hence the existence of the ECO start/stop function within, amongst other engine highlights.
The engine uses a twin-scroll turbocharger, maximum de-throttling of the exhaust system and an innovative injection strategy with the result that there is a faster build-up of torque at low engine speeds – which also cuts fuel consumption and those exhaust emissions. And let me also point out that the GLA 45 AMG features the AMG sports exhaust system too to make the car sound as good as it looks and works.
When it comes to the transmission, the GLA 45 AMG features three distinct transmission modes in its AMG SPEEDSHIFT DCT 7-speed sports transmission, a double-declutching function dependent on the transmission mode and a RACE START function for optimum acceleration.
Those modes (Manual [M], Sports [S] and Controlled Efficiency [C]) all operate independently of each other, with 'M' and 'S' as sporty as those of the SLS AMG GT super sports car, and the 'C' mode created to ensure smooth transmission to help the engine create the correct platform for the car to support a fuel-efficient and comfort-oriented driving style where the ECO start/stop function can be utilised.
And did we mention that the GLA 45 AMG comes with a performance-oriented AMG 4MATIC all-wheel drive as standard? We didn't? It does!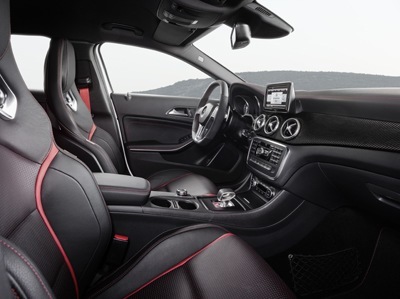 And ESP too (That's Electronic Stability Programme, not Extra-Sensory Perception – that WOULD be a bonus!) with three transmission modes: "ESP ON", "SPORT Handling Mode" and "ESP OFF" along with ESP® Curve Dynamic Assist to help during dynamic cornering, AMG sports suspension and an AMG high-performance braking system.
Inside, you will find the expected high-quality – not only in look but in materials with the sports seats covered in Artico man-made leather/Dinamica microfibre with red contrasting topstitching, the three-spoke multifunction sports steering wheel in nappa leather and perforated leather in the grip area.
On the instrument panel you'll find a two-tube design with a central colour display, AMG main menu and RACETIMER all there to provide the required information to the driver, who finds himself greeted by AMG start-up screen when entering the car. And you'll find even more available as optional extras!
The world premiere of the new Mercedes-Benz GLA 45 AMG is at the North American International Auto Show in Detroit, but if you can't wait for then, check out Mercedes' web special here.