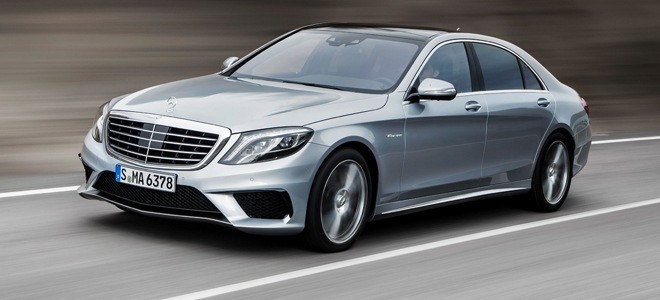 "DRIVING PERFORMANCE IN THE LUXURY SEGMENT"
Ola Källenius, CEO of Mercedes-AMG GmbH: "Following the successful launch of the A 45 AMG and the CLA 45 AMG, the new S 63 AMG highlights our expertise in the automotive high-end segment. Lightweight construction and absolute performance are among the key strengths of the new flagship model from Mercedes-AMG."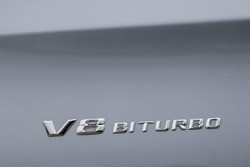 It's all to do with a car that Mercedes have launched into the luxury segment of the car market with power, high performance and a press release that suggests that it "sets new standards in terms of driving dynamics, lightweight construction and efficiency."
Sporting an AMG 5.5-litre V8 biturbo engine – the most powerful member of the BlueDIRECT engine family, with an output of 585 hp and torque of 900 Nm – the S 63 AMG is around 100 kilograms lighter than the model that preceded it, meaning that, for a luxury car, the fuel consumption offers figures of 27.4 – 27.9 mpg (with 237 to 242 g/km CO2 emissions).
Tobias Moers, Head of Overall Vehicle Development and Board Member of Mercedes-AMG GmbH said: "We have unquestionably achieved our aim of making the new S 63 AMG more powerful, lightweight and efficient than its predecessor. In terms of driving dynamics as well, the S 63 AMG has made giant leaps forward."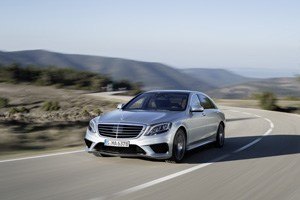 Thanks to the use of AMG forged light-alloy wheels, a lightweight lithium-ion battery and a weight-optimised AMG high-performance composite brake system, along with a production of the car's outer in aluminium, the loss of weight adds to performance, especially in the power-to-weight ratio, allowing an model-dependant acceleration from 0-62mph from 4 to 4.4 seconds with electrically limited top speed of 155mph.
Like many cars in its class, the S 63 AMG has a sports exhaust system with "C" (Controlled Efficiency), "S" (Sport) and "M" (Manual) modes to allow the driver to ally their mood to their driving style – and the exhaust flap reactions mean that the hallmark AMG sound is always there.
Add in a lithium-ion battery instead of the conventional starter battery, AMG SPEEDSHIFT MCT seven-speed sports transmission, an ECO start/stop function, ESP® Curve Dynamic Assist, rear-wheel drive with AMG sports suspension based on Magic Body Control, Road Surface Scan, and Electromechanical AMG speed-sensitive sports steering with variable steering ratio all under the bonnet and you know that you are going to get as near as possible a perfect ride; Especially when you consider the AMG forged light-alloy wheels based on systematic lightweight construction and exclusive to the S 63 AMG!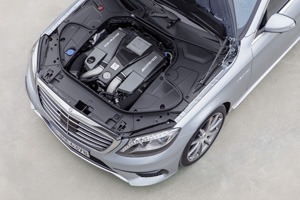 You know that it is going to look good.
After all, it's a Mercedes-Benz, but the new S 63 AMG has some sort of je ne sais quoi about it – an X Factor for our readers who did Spanish or German at school rather than French. Do I really need to blather on about classic architecture, sleek silhouette, classic features and special status when you can look at the pictures that accompany this article? No? Thank You! There's only so many times you can write about style, exclusivity and power without is becoming a bit too gushing and unbelievable. A picture paints a thousand words etc.
And you also know that inside it will be as luxurious as you would expect. (In the words of a Mercedes spokesman: "beguiling design and quality.")
And, to be fair to Mr Mercedes, it is! They've made the interior dimensions bigger, there's new little ergonomic touches to the control logic, sports seats, memory functions and seat heating, more nappa leather than you can shake a stick at, AMG badges in the front and rear seat backrests, an embossed emblem on the armrest of the front centre console and a high-quality analogue clock in IWC design, which for the first time features three-dimensional, milled metal hands and metal appliqués on the dial.
The perforated leather AMG sports steering wheel allows perfect control thanks to its aluminium shift paddles, a high-resolution TFT colour display with two animated round dials that the driver controls via their own configuration and a whole host of other standard pieces of equipment that I could spend all day writing and you all day reading – and I don't have the inclination to bore you with the details. Needless to say it is a Mercedes-Benz: you expect the best, and that's what you get.
Don't rush yet though! It makes its debut in September!