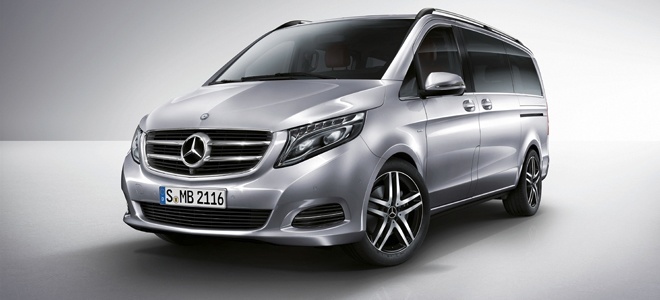 Anticipation is a wonderful thing, wetting the appetite and giving us that little tingle of 'what are we going to be getting?'
So it is with the Mercedes V Class that they have announced will be arriving next year, with the V Class Mercedes-Benz redefining the MPV.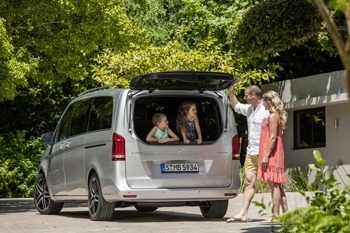 "With the new V-Class we are expanding the Mercedes-Benz premium passenger car range with a saloon for up to eight people," says Dr Dieter Zetsche, Chairman of the Board of Management Daimler AG and Head of Mercedes-Benz Cars Division. "Functionality is a must for an MPV. Comfort and style are the icing on the cake. The new V-Class combines both in a way no other vehicle in this segment can offer."
The new V Class will be coming to the UK in early 2015, complete with room for up to eight people and everything that you need to love about Mercedes from the functionality and comfort to the style, driving pleasure and safety, and ready for almost anything; from a shopping spree or day out with all the family (dependent on family size; obviously) to an adventure holiday with friends (and even driving your son or daughter to the prom red carpet).
That's pretty much every angle covered by the new Mercedes V Class as it shows off its flexibility in both areas of interior and exterior by being suitable for the family driver and the corporate driver – both driving a car with VIP appeal!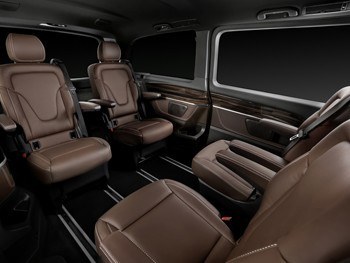 "The new V-Class demonstrates that an elegant and dynamic appearance is also possible in size XXL", says Volker Mornhinweg, Head of Mercedes-Benz Vans. "The V-Class is a versatile, multi-talented vehicle which offers value, efficiency and safety at the highest level. As a result we are addressing a completely new customer group – among them those who are in need of a generous amount of space but never wanted to drive an MPV because style, a sense of well-being and also ride comfort have so far been lacking in this segment."
(Translated that means that they want to target the Mercedes V Class at people who want a stylish looking MPV.)
And looking at what the V Class will look like, that's exactly what they will get. To paraphrase another car manufacturer's tagline, above all it's a Mercedes.
You can tell that at first glance with the powerful upright radiator grille with the three-dimensional central Mercedes flanked by progressively designed headlamps and the sculptured V-shaped bonnet giving you no doubt what you are looking at. Just look at the pictures here because they speak a lot more than I can write.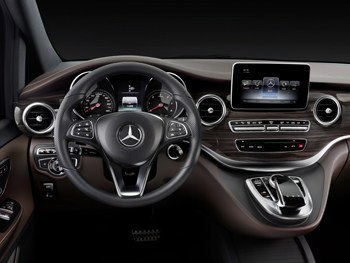 Inside you will find luxury, space, quality, design, harmony and intricate details – all rounded off by subtle ambient lighting in three colours.
One bit of detail that Mercedes seem to particularly happy with when it comes to the V Class is the dynamically styled two-part instrument panel with an upper and lower section designed to work in conjunction with a central three-dimensional trim element to make the cabin look and feel bigger than it already is – and it is big! The central display is freestanding, the multifunction steering wheel has 12 function keys and a DIRECT SELECT selector lever, there is a touchpad that controls many of the available functions as if the driver were using a smartphone (but not whilst driving), COMAND Online (if selected) to combine all the audio, telephone and navigation functions and an optional Burmester® surround sound system with 16 loudspeakers and a bass reflex.
We have yet to speak of comfort in the Mercedes V Class, but you can be sure that new standards will be set with the newest MPV to hit these shores the only vehicle in the segment to offer optional four-way lumbar support and active seat ventilation with reversing fans. There's also (as an optional extra) an enhanced THERMOTRONIC automatic climate control system to replace the standard-fit TEMPMATIC system which can give individual climate control.
It's comfortable for almost as many passengers as you want to carry safely with numerous configurations possible. The Mercedes V Class MPV has 4 individual luxury seats with armrests in two seat rows, all of which can be folded forwards to allow greater space in the rear – and there's even an optional folding table that can be installed between the individual seats in the first row.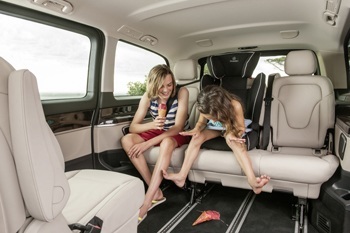 If you don't want individual seats, you can get a two-passenger bench seat with two-piece, individually folding backrest, or if that's not to your liking there's a three-passenger bench seat with two-piece seat cushion and three-piece backrest available for both rear rows. And within all these there is a number of folding up and down options too – all with very little effort.
Another first in this segment is the Mercedes V Class separately opening rear windscreen attached to the upper tailgate frame that can be opened and closed independently of the tailgate to allow easier and more convenient loading – especially in tight spaces where there is no space to open the large tailgate.
When it comes to driving technology, Mercedes haven't scrimped and saved; there are eleven innovative driver assistance systems based on modern radar, camera and ultrasound sensors, which were introduced in the new E-Class and S-Class under the name "Mercedes-Benz Intelligent Drive" and these include Crosswind Assist and Attention Assist (to keep you awake) as standard, with options of Active Park Assist, the 360-degree camera, DISTRONIC PLUS proximity control, COLLISION PREVENTION ASSIST, Traffic Sign Assist, Lane Keeping Assist, Blind Spot Assist, the LED Intelligent Light System and Adaptive Highbeam Assist.
There's also the PRE-SAFE® system to keep everyone safe in the event of a collision.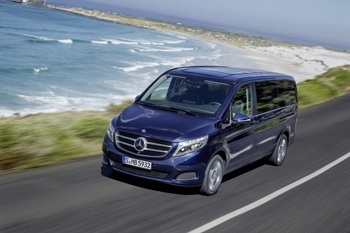 But I bet you now want to know about what is underneath the bonnet.
When it launches the Mercedes V Class will be coming to the market with a state-of-the-art 2.1-litre four-cylinder turbodiesel engine with two-stage turbocharging - an engine that has been enhanced from the A and S Class models already out there – and available in two power output levels: The V 220 CDI and the top-of-the-line V 250 BlueTEC.
The V 220 CDI mobilises 163 hp and 380 Newton metres, has a fuel economy of 49.6mpg and CO2 emissions of 149 g/km, while V 250 BlueTEC has a power output of 190 hp and powerful peak torque of 440 Newton metres, and complies with the Euro 6 emissions standard. The V 250 BlueTEC also comes (as standard) with the 7G-TRONIC PLUS transmission with DIRECT SELECT lever and DIRECT SELECT shift paddles.
And it's useful to know that. When driving, that four driving modes are available - economical, comfortable, sporty and manual.
Although the full UK specification to yet to be confirmed, don't tell me that you aren't already salivating at the thought of the Mercedes V Class MPV already.