At the New York Motor Show, MINI took the opportunity to show off their new version of the MINI Countryman as they continue to explore new markets for their cars, this time with the first ever MINI to have four doors, five seats and optional all-wheel-drive.
And if you can find space in your hearts (and garage) for a MINI with space for you, improved fuel consumption and emissions, updated design and innovative equipment, then the new MINI Countryman can fill it.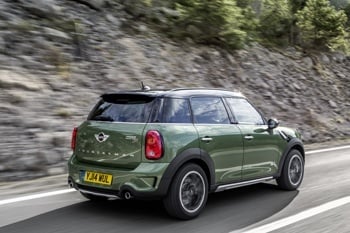 Exterior – sophisticated and rugged.
At first glance you wonder what MINI have done with a its own car, but the MINI Countryman, although it has its own distinctive appearance, is most definitely a MINI – but a MINI with four doors, large tailgate and unique roof shape all rolled up in the MINI's hallmark proportions and design.
But then there are subtle distinctions.
There's a newly designed hexagonal radiator grill with a horizontal radiator grille rib finished in chrome and a red curved 'S' on the new MINI Cooper S and MINI Cooper SD Countryman that give the car a sporty feel, while the MINI One and MINI One D Countryman models get a radiator grille subdivided by two ribs finished in matt black, and a matt silver one on the MINI Cooper and the MINI Cooper D Countryman models.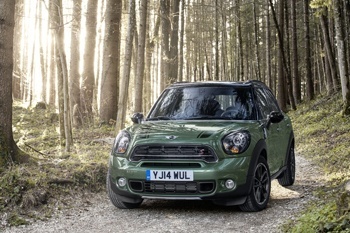 Underride guard elements for the front and rear apron (as well as for the side sills) that show off the ground clearance of the MINI Countryman are now included as standard, as is the MINI ALL4 all-wheel-drive system,
For the first time ever on a MINI the new Piano Black Exterior trim is available, adding to the look of the car with its headlamps and rear lights surrounds finished in chrome as standard.
And the range of exterior paint finishes has also been increased and updated with Starlight Blue metallic paint being available on the MINI Countryman for the first time, and Jungle Green metallic and Midnight Grey metallic being added to an already long list of colours. For most of the models a contrasting paint finish for the roof and wing mirror caps in black or white is available for no extra cost, and on the new MINI John Cooper Works Countryman you can have a contrasting red paint finish.
It gets better.
Both the MINI Cooper and MINI Cooper D Countryman now come with 16-inch light alloy wheels in 5-Star 'Air Spoke' Design as standard, and the MINI Cooper S and MINI Cooper SD Countryman come with 17-inch light alloy wheels in the new 5-Star 'Triangle Spoke' Design that help save weight in comparison to the previous MINI Countryman – and both versions are also available in an optional MINIMALISM version, that includes tyres with reduced rolling resistance for further reductions in fuel consumption and exhaust emissions.
The MINI Cooper, MINI Cooper D, MINI Cooper S, MINI Cooper SD and MINI John Cooper Works Countryman also find themselves fitted with LED fog lights with LED daytime driving lights for the first time, giving an intense, bright white light with a much higher level of energy efficiency than conventional lamps as well as making the front view of the new MINI Countryman striking and instantly recognisable.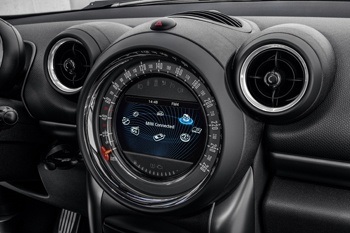 Is there more? Let's have an insider's view.
The interior of the new MINI Countryman is a lot more versatile than you would expect from a MINI, especially as the inside looks as you would expect a MINI to look; but with Countryman changes.
There are five seats as standard along with the MINI Centre Rail attachment system fitted between the driver and front passenger seat, and all of the displays and controls in the new MINI Countryman have been redesigned so as to give the impression and feel of a sporty nature.
And the tachometer and speedometer dials are anthracite-coloured with chrome finishes on the ventilation controls just to give it that extra sports style that a driver really wants inside a MINI.
The equipment inside the MINI Countryman that comes as standard is equally as desirable; air conditioning, the aforementioned MINI Centre Rail between the front seats; and a high-end radio system made up of a CD player with MP3 capability, AUX-in socket, DAB radio, Bluetooth, five speakers and rear Park Distance Control.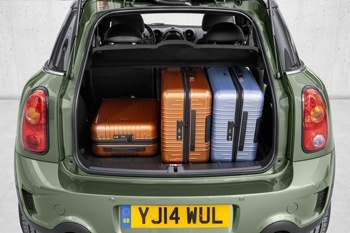 For additions, a customer can also add in as options Bi-Xenon headlamps and adaptive turning light, comfort access, panoramic glass roof, automatic air conditioning, removable tow bar on some models capable of towing loads of up to 1,200kg, MINI Navigation System, multifunction steering wheel with cruise control, Harman Kardon hi-fi speaker system, model-specific John Cooper Works accessories and the ever-popular MINI Connected – available with the MINI Visual Boost Radio or as part of the Media Pack.)
What about ecology and economy?
Needless to say, all petrol and diesel engines that are available for the new MINI Countryman all meet the EU6 exhaust emissions regulations with CO2 emissions ranging from 111 g/km on the MINI Countryman One D and Cooper D to 139 g/km on the MINI Countryman Cooper S. Fuel consumption has also improved with a range from 67.13 mpg on the One D and Cooper D to 47.1 mpg on the Cooper S.
There's no shortage of power behind the car either as the four-cylinder spark ignition engine used in the MINI Cooper S Countryman, with twin-scroll turbocharger, direct injection and variable valve control, helps out put increase to 190 hp, resulting in a 0-62mph acceleration time of 7.5 secs.
All engines come with a six-speed manual transmission as standard with an optional six-gear automatic transmission available for all models except the MINI One D Countryman which includes shift paddles as standard on MINI Cooper S, Cooper SD and John Cooper Works Countryman.  There's also a Sport Button as standard on the MINI Cooper S, Cooper SD and John Cooper Works Countryman, and the MINI ALL4 all-wheel-drive system available as an option on MINI Cooper, MINI Cooper S, MINI Cooper D and MINI Cooper SD Countryman models.
Safe as houses?
The MINI Countryman passed the Euro NCAP crash test with flying five star colours with features such as a daytime driving light and tyre pressure control as standard helping to achieve that milestone.
The MINI Countryman:  A better Countryman by a country mile.