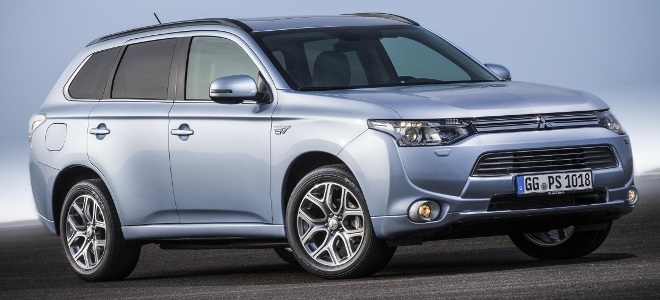 Hybrid Superiority!
Mitsubishi have plans. Big plans. By 2020, they aim for 20% of their total production line to comprise of electric, hybrid and plug-in hybrid vehicles. Ambitious, surely, but doable. And on October 21 2013, phase one of The Plan was instigated with the European launch of the hybrid version of the Mitsubishi Outlander.
Specifically, deliveries of the Mitsubishi Outlander Plug-in Hybrid Electric Vehicle (PHEV) were made to the Netherlands as the designated launch country in Europe. Production commenced late August at the Mitsubishi Okazaki plant near Nagoya, and 10,000 orders have already been made across Europe since December 2012.
Mitsubishi Outlander PHEV Specifications
One of the best things about the European version of the Mitsubishi Outlander PHEV is that, as a result of strict EU regulations, it might actually prove to be better value for money than its Japanese counterpart.
On a full charge, the permanent electric Twin Motor 4WD Mitsubishi Outlander PHEV has a maximum driving range of 550 miles and is capable of 32 miles of zero emission fully-electric driving.
But even when operating as a hybrid, the Mitsubishi Outlander PHEV is supremely efficient. CO2 emissions are as low as 44g/km, and is capable of up to 148.7mpg with a full battery charge. When the battery's low the 2.0 litre petrol engine kicks in, at which point the Outlander PHEV produces 135g/km CO2 and is capable of 48.7mpg, still hugely impressive for a car of this size and capability.
Totally Green
Beyond even its performance, the Mitsubishi Outlander PHEV speaks volumes of MMC's commitment to green motoring. Throughout you'll find green plastics made using the oils extracted from waste cashew nuts. This ingenious manufacturing process can reduce CO2 emissions by up to 12% compared to a conventional plastic.
Sugar cane molasses has been used in the production of floor mats, a process which again reduces CO2 emissions by up to 15% compared to conventional production techniques.
MMC stress that the Mitsubishi Outlander PHEV is not to be considered an adaptation of an existing conventional model. Nor is it to be thought of as a dedicated PHEV technological showcase. Rather, the car is simply a further variant of the New Outlander, a unique entry that's to be judged on its own terms. That it's exempt from the Congestion Charge and Road Tax should do a lot to ensure a very favourable reception.
The Mitsubishi Outlander PHEV will reach the UK in January 2014.