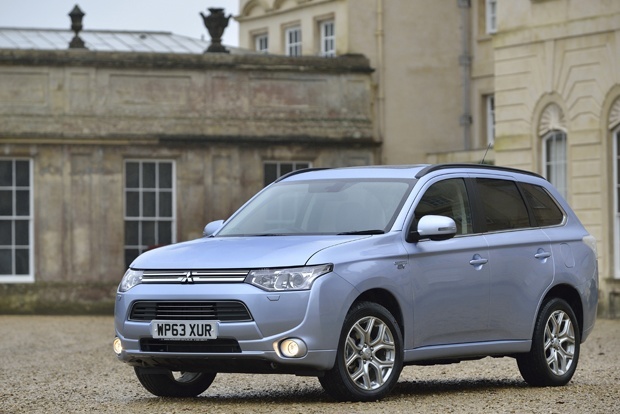 Mitsubishi have proudly announced that their new Mitsubishi Outlander PHEV is now the country's best selling plug-in hybrid vehicle (according to figures from The Society of Motor Manufacturers and Traders (SMMT).

And it's not taken that long to achieve, as Lance Bradley, Managing Director of Mitsubishi Motors in the UK, points out: "The new Outlander PHEV has quickly established its credentials. We have reached a defining moment in vehicle drivetrain technology which challenges conventional wisdom. Few would have predicted that a family-sized 4 x 4 sports utility vehicle could become the UK's best-selling plug-in hybrid based on economy, on and off road performance and practicality".

We gave you the details of the Mitsubishi Outlander Plug-in Hybrid Electric Vehicle back in October last year, but for those of you who may have missed it – or don't fancy clicking back to see the piece we published – here are some highlights of the UK's new best selling plug-in hybrid vehicle.

As a hybrid, the Outlander PHEV uses both electric and petrol power, but UNLIKE non plug-in hybrid vehicles, the Outlander PHEV is able to achieve more miles per battery power (32.5) than other its competitors – substantially more in fact. Indeed it is more than enough to accommodate most daily average journey distances.

Because of this electric capability, visits to the petrol pump will become less frequent, meaning that less money will be forked out for fuel and more money available for some of the finer things in life.

The Outlander PHEV manages to hold up its environmental credentials proudly for the world to see too thanks to its electric range, including just 44g/km of CO2 and an official combined fuel consumption figure of an impressive 148mpg.

And when it comes down to the financial side of things – as most things do these days – the Outlander PHEV is exempt from road tax and the London Congestion Charge, qualifies for the Government's £5,000 Plug-in Car Grant, attracts just 5% taxable benefit in kind for company car drivers, saving £8,216 over three years compared to a similar size 4x4 SUV.

And, of course, the Mitsubishi Outlander PHEV is available as a lease option here from Nationwide Vehicle Contracts; making the car even more financially viable.