That was the question asked in a poll run by the Future Drive Motor Show taking place at ExCeL London from May 5th- 12th 2013, showcasing a wide range of new vehicles on display and available for test drives.
And whether or not the answers that were given were down to personal choice or patriotic fervour, the results gave a great big thumbs-up to British brands.
Because, in the Top 10 were 4 British made brands in the shape of Aston Martin, Bentley, Jaguar and McLaren.
Actually sitting at the top of the pile, possibly due to a major appearance in what many people consider the best film of 2012 – Skyfall - was James Bond's favourite brand, the Aston Martin. Dramatic and desirable in equal measures.
Giles Brown, Future Drive Motor Show's managing director said: "It's such great news that cars built here in the UK are so desirable and top of the shopping list if money was no object.  Here's hoping that the increase in the price of a lottery ticket does not decrease the number of winners who would more than likely buy one of these iconic brands.
"The glamour and desirability of our iconic brands seems to grow, ingrained in our minds are the 'Bentley Boys', the 'James Bond Aston Martins',  the reputed most desirable car in the world – the 'Jaguar E-Type' and the new boy on the block, McLaren, needs no introduction."
Good to see that he managed to mention all four British brands in one statement there.
Of the other brands mentioned 3 were Italian – and no surprises to read that these were Lamborghini, Ferrari and Maserati - and 3 were German – again no surprises with Mercedes-Benz, Porsche and Audi appearing on the list..
So, what is the Future Drive Motor Show all about?
A spin-off from last year's EcoVelocity, the event which gathered tens of thousands of green motorists in its first year, visitors are able to see what the automobile industry are offering in the way of future technology, future electric supercars and future garages as well as a motorbike and scooter test drive area and a kiddies driving area. Tickets are priced from £12 in advance and children under 15 are free.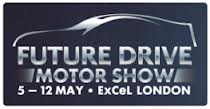 Giles Brown again: "The automotive sector has developed some amazing and jaw dropping technology that the public would love to see …. Gadgets that 'Q' would have developed for James Bond are now a reality - cars that drive themselves, park themselves, stop motorists having accidents, cars that run on electricity and even hydrogen as well as traditional looking but silent electric motorbikes."
"According to our research visitors are looking for a show where they can see new vehicles, take a test drive, talk to the experts and arm themselves with knowledge that will help them in their buying decision process.  Motorists are faced with an ever more complex range of technology to consider when they look to buy their new mode of transport – whether it is a car or a bike, Future Drive will deliver all this and more," he added.