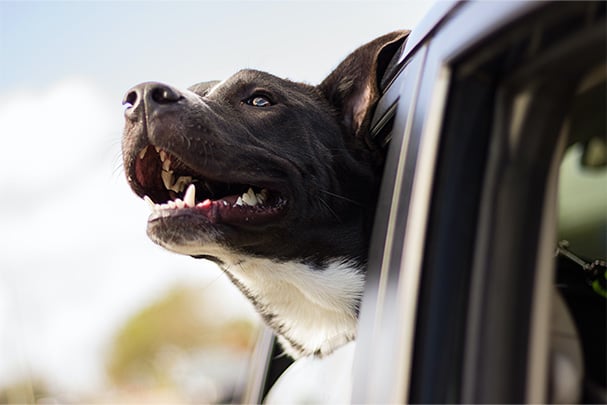 Nationwide Vehicle Contracts has put together this handy blog with our top tips to help make your pet's journeys as stress-free as possible.
National Pet Day is a special occasion that is celebrated annually on April 11th. It is an opportunity to celebrate our furry friends and the joy they bring to our lives. For many pet owners, their pet is an important member of the family, and they want to include them in all aspects of their life, including car journeys. However, transporting pets in a car can be dangerous if not done correctly. In this blog, we will discuss how to transport your pet safely in your car, including securing your pet, preparing your car for pet transport, and legal considerations for pet transport in the UK.
How to Secure Your Pet in the Car
One of the most important aspects of transporting your pet in a car is to ensure they are restrained. This is important for the safety of both the pet and the passengers in the car. In the event of an accident, an unrestrained pet can become a projectile, causing serious injury to themselves and others in the car.
There are several ways to secure pets in the car, including pet seat belts, harnesses, and carriers. Pet seat belts and harnesses are designed to attach to your car's existing seat belts, providing a secure anchor point for your pet. Pet carriers provide a secure and comfortable space for your pet to travel in, reducing the risk of injury.
To install a pet seat belt, simply attach the seat belt clip to the harness or collar on your pet. Pet harnesses are designed to fit securely around your pet's chest and should be adjusted to fit snugly. Pet carriers should be secured with a seat belt or placed on a non-slip surface in the car.
Preparing Your Car for Pet Transport
Preparing your car for pet transport is just as important as securing your pet. Here are some tips for pet-proofing your car:
Keep windows locked: Ensure all windows are locked to prevent your pet from jumping out or accidentally falling out of the car.
Put away dangerous objects: Remove any loose objects in the car that could harm your pet in the event of sudden braking or an accident.
Use a seat cover: If your pet is prone to shedding or has accidents in the car, use a seat cover to protect your car's interior.
Plan breaks: Plan regular breaks to allow your pet to stretch their legs, have a drink of water, and use the toilet.
Provide comfort: Bring your pet's favourite blanket or toy to make them feel more comfortable during the journey.
Legal Considerations for Pet Transport in the UK
In the UK, there are legal requirements for transporting pets in a car. The Highway Code states that pets should be suitably restrained so that they cannot distract the driver or cause injury in the event of an accident. Failure to comply with this requirement could result in a fine and penalty points on your driving license.
If you are planning to take your pet abroad, there are additional requirements to consider. You will need to ensure that your pet is microchipped and vaccinated against rabies. You may also need to obtain a pet passport and comply with the entry requirements of the country you are visiting.
Conclusion
Transporting your pet in a car requires careful planning and consideration to ensure their safety and comfort. Securing your pet with a suitable restraint, pet-proofing your car, and complying with legal requirements are all essential steps to take when travelling with your furry friend. By following these tips, you can ensure that your pet enjoys a safe and happy journey with you. Happy National Pet Day!
For more information about travelling with your pets, why not check out our How To Travel Safely With Your Dog On Board blog or our Best Dog-Friendly Cars guide? We also produce a range of weekly blogs on various topics, which can be found in the blog section of our website.
Nationwide Vehicle Contracts are one of the UK's leading car leasing brokers and offer a range of leasing deals to suit every need. To find out more, check out our comprehensive car leasing guides or call one of our experts on 0345 811 9595.