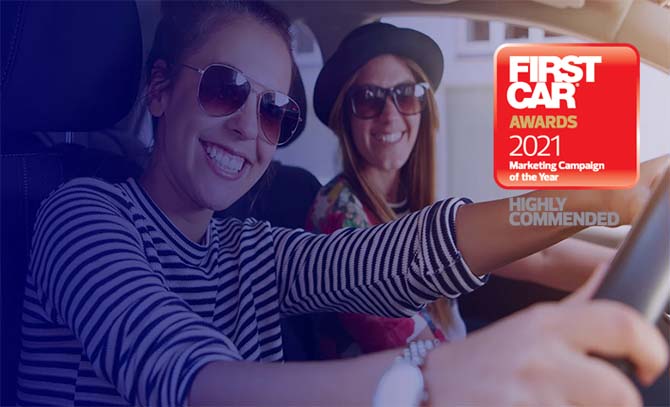 FirstCar has Highly Commended our Help2Lease Scheme for helping young drivers get on the road
Nationwide Vehicle Contracts' Help2Lease scheme has been Highly Commended by the team at FirstCar as part of this years' FirstCar Award.
The FirstCar Awards, in association with Quotezone, reward the very best products and services within the new driver sector. Due to the ongoing Covid-19 pandemic, this year's FirstCar Awards took place as a digital-only event, with new drivers voting for winners in eight categories, including Marketing Campaign of the Year.
Whilst Nationwide Vehicle Contracts missed out on the top award, the FirstCar judging panel Highly Commended our innovative Help2Lease scheme, which helps young drivers get on the road.
Inspired by the Government's Help to Buy scheme, our unique Help2Lease service allows 18-24-year olds to get on the 'leasing ladder' without breaking the bank and is unique in the market. 
Exclusively available to new customers in this age group, the Help2Lease scheme offers a range of benefits specifically designed to suit young driver needs and budgets, including: 
Lease deals from under £200 per month 
Our lowest initial rental 
£200 cashback to help with their first payment 
David Johnson, Director at Nationwide Vehicle Contracts, said: "Passing your driving test is a hugely exciting milestone but getting a new car can be a daunting and expensive venture. Here at Nationwide Vehicle Contracts, our Help2Lease scheme is designed to support young drivers acquire their first new car without breaking the bank".
"To be Highly Commended by the team at FirstCar is a great honour and demonstrates our commitment to helping young drivers get behind the wheel and start their leasing journey."
For over a decade, FirstCar has been an authoritative voice in the new driver market, gaining trust with its audience. Formed in a sixth form common room back in 2001, FirstCar started as a single magazine but now has grown into market-leading, award-winning publishing company. The FirstCar Awards recognise and reward those companies leading the way for new drivers.

Thinking of leasing your first car? If you're aged between 18 and 24, there has never been a better time to consider leasing with Nationwide Vehicle Contracts Help2Lease scheme. We have a great range of brand-new vehicles ideal for young and first-time drivers, with many available for under £200 a month.