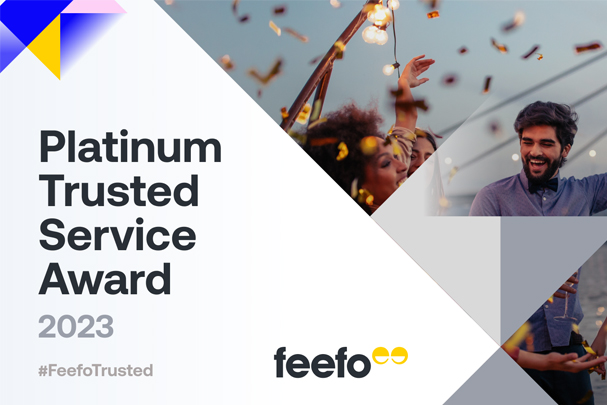 Nationwide Vehicle Contracts win the 2023 Feefo Platinum Trusted Service Award for the second year running.
Nationwide Vehicle Contracts is pleased to announce that we've won the 2023 Feefo Platinum Trusted Service Award for the second consecutive year.
The award is based on customer reviews and demonstrates the company's dedication to delivering outstanding customer service and going the extra mile to help our customers.
Feefo is the world's largest provider of verified reviews, working with over 6,000 brands to help them understand their customers by analysing verified reviews and providing insights into trends, needs, and habits.
With this year being especially tough on consumer confidence due to rising inflation and supply issues in the automotive industry, it's rewarding to be recognised for all the hard work that gets done at Nationwide Vehicle Contracts.
Keith Hawes, Director of Nationwide Vehicle Contracts, said: "It's a huge honour to receive a Platinum Trusted Service Award from Feefo for the second year running.
"We take huge pride in how we treat our customers, so the fact that this award is based on feedback from real customers gives us confidence moving into 2023 and beyond.
"The award also recognises how hard all our staff have worked in the last year, tackling rising inflation and the cost-of-living crisis head-on whilst keeping our customers happy."
Congratulating Nationwide Vehicle Contracts, Tony Wheble, CEO at Feefo, said: "The Trusted Service Awards have always been about recognising companies that go way beyond the norm in customer service and in turn, receive great feedback from delighted customers.
"A particular congratulations to Nationwide Vehicle Contracts for winning a Platinum Trusted Service Award by providing great customer service consistently over several years."