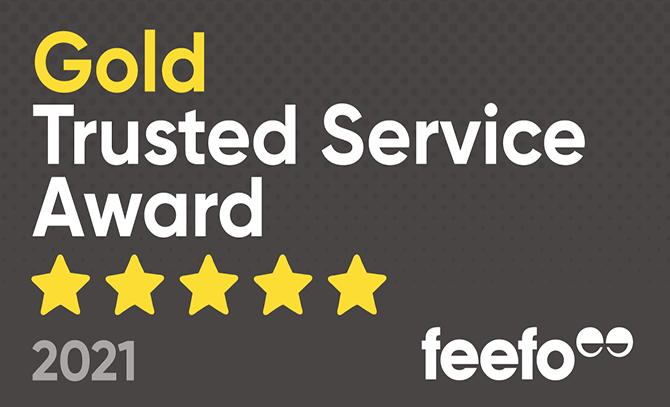 The Gold Trusted Service is based on genuine customer reviews and is awarded to businesses who deliver exceptional customer service
Nationwide Vehicle Contracts is proud to have been awarded a Feefo Gold Trusted Service award for delivering exceptional customer service for a second year running.
Created by Feefo, the Gold Trusted Service is awarded to businesses whose experience is highly rated by their customers. Companies must have collected over 50 reviews between 1 January and 31 December 2020 and achieved a Feefo service rating of 4.5 and above to be eligible for the award.
The highly valued badge of approval is unique as it is based purely on interactions with real customers. Unlike other review companies, Feefo only collects ratings and reviews from verified customers, meaning they are always genuine and are a true reflection of a business's commitment to outstanding service.
Keith Hawes, Director at Nationwide Vehicle Contracts, commented: "It is a huge honour for Nationwide Vehicle Contracts to win such a renowned and respected award from Feefo for the second year running.
"We chose Feefo as our reviews partner because it is based on real customers' feedback, who are the most important judges of all. This award is particularly important to us because it recognises how hard we have worked to give all of our customers the best possible experience, even in a year as tough as 2020."
Congratulating Nationwide Vehicle Contracts on winning this year's award, Steph Heasman, Director of Customer Success at Feefo, said: "The Trusted Service award has always been about recognising companies that go way beyond the norm in customer experience and generate great feedback from happy customers.
"This year, despite the incredible challenges of a global pandemic, so many companies using Feefo have continued to provide remarkably high levels of service, and they deserve a huge amount of credit for what they have achieved."
The Feefo Gold Trusted Service award is a recognised as a symbol of trust, reassuring both new and existing customers that they are dealing with a reputable company that does what they say they will and always puts the customer first.
"Everyone at Nationwide Vehicle Contracts is fully committed to the highest quality of service and it's important for us to listen, understand and respond to all our customers" explains Hawes.
"Every business knows how hard it is to stand out, especially online, and genuine reviews and awards can be a real differentiator, no matter what industry you're in. We want to say a huge thank you to all of our customers for sharing their ratings and reviews over the past year".