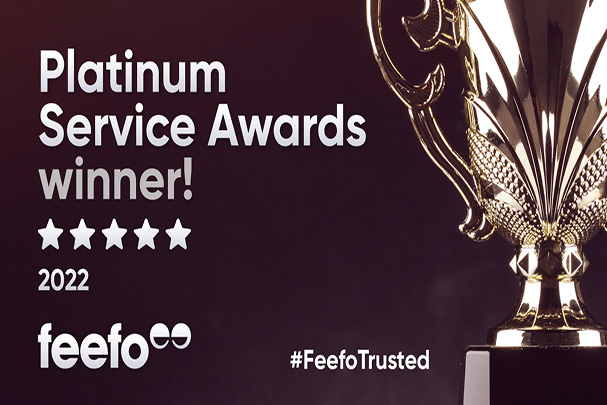 Based on genuine customer reviews, the Feefo Platinum Trusted Service demonstrates the company's commitment to delivering outstanding customer service
Nationwide Vehicle Contracts is proud to have won the Feefo Platinum Trusted Service Award for 2022, demonstrating our commitment to delivering outstanding customer service.
Created by Feefo, the Platinum Trusted Service is awarded to businesses whose experience is highly rated by their customers and who go above and beyond delivering an outstanding service. To earn a Platinum Trusted Service Award, companies must have earned a Gold Trusted Service Award for three consecutive years.
The Platinum Trusted Service Award is a certified seal of approval that shows customers the value of their feedback through ratings and reviews. Unlike other review sites, Feefo collects feedback and reviews solely from verified consumers, ensuring that they are always legitimate and truly reflect a company's commitment to providing excellent service.
David Johnson, Director at Nationwide Vehicle Contracts, stated: "Winning such a respected and renowned award from Feefo is a huge honour for Nationwide Vehicle Contracts."
"We chose to partner with Feefo because their reviews are based on real consumer feedback, which is vital to our company as they are the most important judges of a business. This honour is especially meaningful to us because 2021 has been a challenging year for everyone, so this award recognises how hard our staff have worked to deliver the highest quality of service to all our customers."
The Feefo Platinum Trusted Service award is widely recognised as a symbol of trust, ensuring that both new and existing customers are working with a respectable company that always puts the customer first.
"Everyone at Nationwide Vehicle Contracts is dedicated to providing the highest level of service, and it is critical that we listen to, understand, and answer to all of our customers," explains Johnson.
"No matter what industry you're in, every business knows how hard it is to stand out, especially online. Genuine reviews and awards like the Feefo Platinum Trusted Service can be a real differentiator. We want to say a huge thank you to all our customers who have taken the time to leave a review and shared their ratings on Feefo with us over the past year."