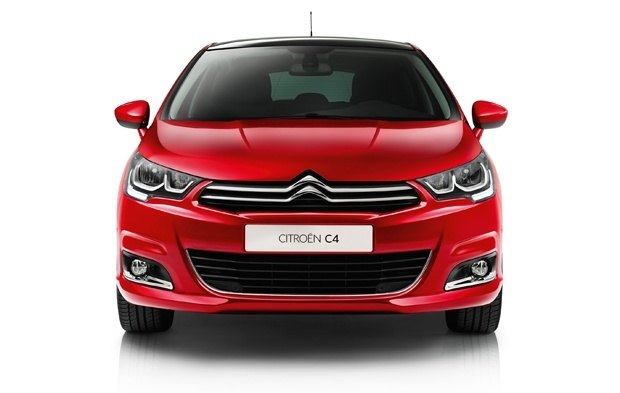 From its launch in 2010, the Citroën C4 has sold over 450,000 vehicles; and now in 2015 has been updated to provide a second-generation Citroën C4, complete with new generation engines, a new look and more technology – and will be available in Spring.

And this means that "the Citroën C4 is a compact hatchback delivering an elegant design, all-round comfort, and outstanding driveability" – proof, if proof were needed, of Citroën's creativity and technological know-how.


IN A NUTSHELL
The new Citroën C4 brings us:
A more expressive front end with LED running lights, and a more dynamic rear with 3D-effect tail lights
An interior upholstered in new material and furnished with a simpler dashboard that includes a new centrally located 7" Touch Screen, standard-setting acoustic features, an optional massaging front seat, and a panoramic glass roof that has an electric blind.
More space thanks to an increased (2.61m) wheelbase, with a boot volume of 408 litres utilising the split foldback rear seats.
Technology that is useful with the introduction of the hands-free keyless entry and start, and the aforementioned new 7-inch Touch Screen that brings together all the media and navigation functions; not to mention Hill Start Assist, Intelligent Traction Control and a Blind Spot Monitoring system that are there to make driving easier.
The very latest-generation engines such as the 3-cylinder PureTech petrol engines and BlueHDi Diesels that enhance driveability and reduce fuel consumption – all meeting Euro 6 standards
OUTSIDE THE NUTSHELL
Not quite meat on the bones – because nuts don't have bones (or meat) – but let's have a look in more detail at what the new Citroën C4 brings to us in the Spring.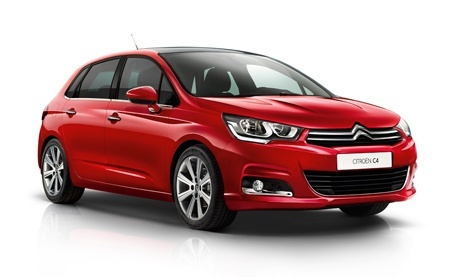 DESIGN
The Citroën C4 is immediately identifiable front-on thanks to the chrome chevrons that connect the headlights and the ribbed bonnet that curves into the sides; headlights that give the Citroën C4 New Range a different look thanks to the two 3D chrome-finish modules on a gloss black background with LEDs that help to create a unique light signature with the slender lights stretching out to the wings.
There is a sleek wide tailgate to add to the premium appearance of the new C4 with 17" Miami alloy wheels and little chrome touches on the front and rear bumpers and weather strips enhancing it all.
And there are also two new colours added to the C4 New Range - Platinum Grey and Spirit Grey – giving a total pallet range of nine colours.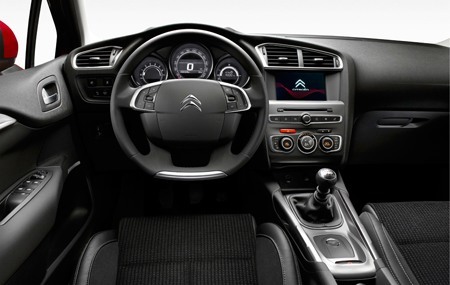 MODERN INTERIOR
For a start, the inside of the Citroën C4 is bigger, meaning that the car is more versatile and convenient thanks to the 2.61m wheelbase and split foldback rear seats with ample elbowroom of 1.45m, that allow an increase in boot volume from its (largest-in-category) 408 litres – all of which is useable.
Interior space is added to with a huge glove box, front door panels with space for a 1.5 litre bottle, drawers under the front seats, storage space on the dashboard and under the front armrest, the 2/3-1/3 split folding seats, and a ski trap to carry long, cumbersome objects.
All of which means that the Citroën C4 New Range "is designed to offer the driver and passengers comfort, peace of mind, and a unique motoring experience."
The interior of the Citroën C4 is pretty plush, thanks to the fact that Citroën have used the finest materials in the segment all the way through the car; from the soft leather on the dashboard and jersey on the roof to the gentle touches of chrome on the steering wheel controls, air vents and gear lever. The seats aren't forgotten in all this either with comfort a priority using new upholstery choices including the Black/Grey Rayados cloth and the Grey Liberal cloth.
The seats offer firm support for a comfortable ride and are available with new upholstery choices including the Black/Grey Rayados cloth and the Grey Liberal cloth.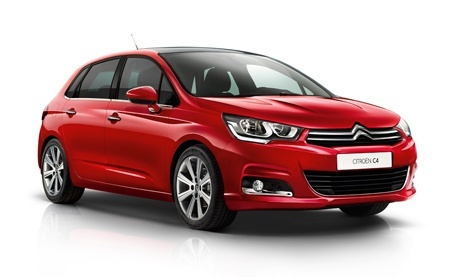 All of this, naturally, means that the driver can enjoy a stimulating driving experience with contributions from the optional massaging seat with electric lumbar adjustment for the driver; the windscreen with an angle of 27° visibility at the top; the optional large panoramic sunroof measuring 1.3m², with electric blind; excellent acoustics thanks to soundproofing film in the windscreen, absorbers in the engine compartment, and sealing barriers on the bodyshell and doors; an available high-performance audio system using sound spatialisation technology and the DENON hi-fi system with digital amplifier, rear tweeters and subwoofers; and a driving position with all controls within easy reach, a 230V socket and a flashlight in the boot.
Driving is made easy with McPherson-type front suspension, flexible transverse beam, and electro-hydraulic steering adding to the Citroën C4's superb road handling, precision steering, excellent body roll control, and rapid response when it comes to evasive or emergency manoeuvres; aided and abetted by technology such as Electronic Brakeforce Distribution, Emergency Braking Assistance and intelligent traction control coupled with ESP.
And that's not all the technology that there is either.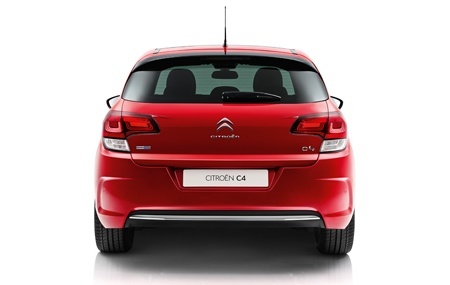 There's plenty of smart technology designed to make driving easier, safer and trouble-free including Keyless entry and start so that the car can be unlocked and started while the electronic key remains in the driver's pocket; Intelligent Traction Control (ITC) that detects conditions that make it difficult to start up and move forward, transferring the drive force to the wheel with the best grip to maximise traction and keep the car moving in the right direction in slippery conditions especially; Hill Start Assist; Front fog lamps with static cornering lighting that shines an additional beam on the inside of corners; Lane Departure Warning System (LDWS); and an ultrasonic Blind Spot Monitoring System.
Add in the modern, uncluttered dashboard with a new 7" Touch Screen that controls (and displays) a Screen navigation system with maps and speed limits as well as taking account of traffic conditions and suggesting the most fuel-efficient route; full media (including radio, audio streaming, and portable-device connectivity); telephone controls (hands-free functionality via Bluetooth, directory access, and double-call management) and all vehicle settings.
NEW ENGINES
The Citroën C4 New Range features two new Euro 6-compliant PureTech petrol engines and two BlueHDi Diesel engines that combine fuel efficiency with high standards of performance.
The PureTech 110 manual and PureTech 130 S&S manual petrol engines
PureTech engines are a new family of 3-cylinder petrol engines that have been designed and manufactured in France that incorporate innovative technologies to deliver up to 25% lower fuel consumption, and these are the engines that the Citroën C4 New Range are proud to be displaying, with the PureTech 110 manual gearbox added to the PureTech 130 S&S 6-speed manual turbocharged unit that was originally introduced in March last year. Both engines are based on the 3-cylinder architecture of the naturally aspirated engines in the PureTech family, and these turbocharged versions are equipped with an advanced, high-performance turbo compressor (240,000rpm) and a central high-pressure direct injection system (200bars) to give the ultimate performance to drivers of the new range.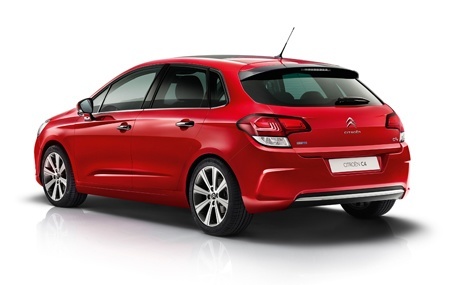 Changes have been made to many parts of the engine such as the crankshaft, valves and aluminium engine block to help withstand the additional stress borne by turbocharged engines, and this PureTech 110 manual gearbox engine delivers maximum power of 81kW (110hp EEC) at 5,500rpm and torque of 205 Nm at 1,750rpm,with a 60.1 mpg combined cycle and 110g of CO2 per km when used in conjunction with ultra-low rolling resistance tyres.
The BlueHDi 100 Diesel with a manual gearbox, and the BlueHDi 120 S&S with a 6-speed manual gearbox
Back at the end of 2013, Citroën rolled out a new generation of diesel engines called BlueHDi that helped to drastically reduce nitrogen oxide (NOx) emissions and CO2 emissions by up to 4% to comply with the more stringent Euro 6 regulations; so the BlueHDi 100 manual gearbox and the BlueHDi 120 S&S six-speed manual gearbox, with a capacity of 1,560cm3 find themselves quite happily part of this family, delivering maximum power of, respectively, 73kW (99hp EEC) at 3,750rpm and 88kW (120hp EEC) at 3,500rpm.
Stop & Start technology with an upgraded starter is made use of with the BlueHDi 120 engine to help to lower both fuel consumption and greenhouse gas emissions, with the BlueHDi 120 S&S with a six-speed manual gearbox delivering combined cycle consumption of 78.5mpg and CO2 emissions of 95g/km with ultra-low rolling resistance tyres.
Perhaps introducing yourself to the Citroën C4 New Range could be one of your New Year Resolutions?