At a special event held at the Centro Sperimentale di Balocco (Balocco Proving Ground) in northern Italy, the all-new Alfa Romeo Giulia range was launched, embodying all of the things that we know and love about the Alfa Romeo brand: distinctive Italian design; innovative powertrains, perfect weight distribution, unique technical solutions and the best weight-to-power ratio.
Design of the Alfa Romeo Giulia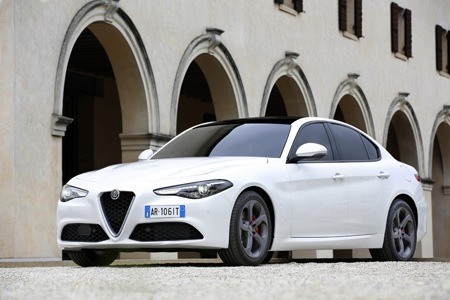 The all-new rear-wheel drive Giulia features short overhangs, a long bonnet, muscular haunches and the longest wheelbase in its segment, and also features perfect 50/50 weight distribution across its axles, a sophisticated four-arm Alfa™ Link rear suspension (with an Alfa Romeo-patented solution for toe adjustment), new double-wishbone front set up and, for the very first time on the Giulia, a new semi-virtual steering axis which "optimises the filtering effect and guarantees rapid, accurate steering by keeping a constant caster trail in corners."
The new Alfa Romeo Giulia is also lighter than ever before, the dry weight of the 180hp 2.2-litre turbo diesel version coming in at just 1,374kg, thanks to use of an array of high-strength and ultra-lightweight materials such as carbon fibre for the driveshaft, aluminium composite and plastic for the rear crossmember and aluminium for the doors, wings, engines (petrol and diesel), brakes and suspensions - including the front suspension domes and front and rear subframes.
Powering the Alfa Romeo Giulia
A full range of all-new, advanced all-aluminium engines power the Alfa Romeo Giulia saloon, all manufactured in Italy, and all top of their segment for performance and efficiency.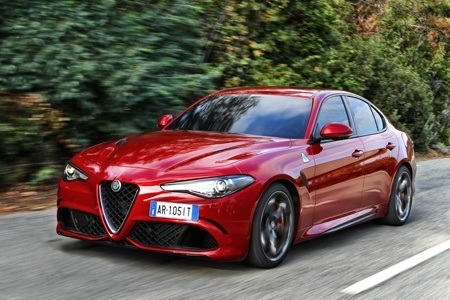 The 2.2-litre Turbo Diesel Engine is the first all-aluminium diesel unit in Alfa Romeo's history, using the latest-generation MultiJet II injection system with Injection Rate Shaping (IRS). Two versions will be available of this not-so-little gem, one producing 150hp at 4,000rpm and 380Nm at 1,500rpm, the other 180hp at 3,750rpm and 450Nm at 1,750rpm, with both making good use of Alfa Romeo's advanced eight-speed automatic transmission as standard.
The 510hp 2.9-litre BiTurbo Petrol Engine is exclusive to the Quadrifoglio version. It is constructed entirely of low-weight aluminium and is inspired by Ferrari engines. The V6 BiTurbo petrol engine delivers 510hp and 600Nm of torque, a top speed of 190mph and a 0-62mph time of only 3.9 seconds. Thanks in part to its electronically-controlled cylinder disabling system, it achieves best-in-class in terms of emission levels, and will be available in the UK with an advanced eight-speed automatic transmission, with paddle shifters and performance calibration as standard.
Driving the Alfa Romeo Giulia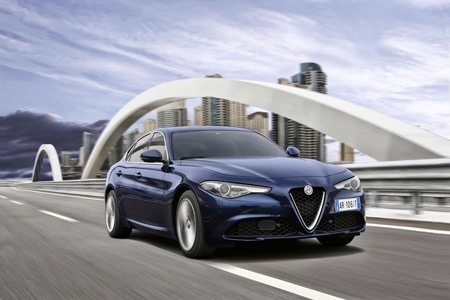 The new Alfa Romeo Giulia features a whole new range of technological advances to make sure that the driving experience is an Alfa Romeo driving experience.
Alfa™ Torque Vectoring (on the Giulia Quadrifoglio only) - an advanced Torque Vectoring double-clutch rear differential system to improve traction in low grip conditions
Integrated Brake System (IBS) - first time on the Giulia, an innovative new electromechanical braking system to improve brake responsiveness, and make record-breaking stopping distances possible such as 62mph to a standstill in just 38.5m with standard discs or an astonishing 32m for the Giulia Quadrifoglio.
Forward Collision Warning (FCW) and Autonomous Emergency Brake (AEB) with pedestrian detection - standard on all versions, this system automatically slows or brakes the car to avoid an imminent crash, using radar sensors and a camera to first warn then automatically brake if obstructions (including pedestrians) are detected in its path.
Alfa™ DNA and Alfa™ DNA Pro (on the Giulia Quadrifoglio only) - the new Alfa DNA selector modifies the car's dynamic behaviour according to the driver's selection with a multitude of selections available within the choices of Dynamic, Natural, Advanced Efficiency and Race. The range and breadth of adjustments vary depending on the engine and trim of the vehicle.
Eight-Speed Automatic Transmission
Alfa™ Active Aero Splitter - to manage downforce for higher performance and improved grip at high speed.
Alfa™ Chassis Domain Control (on the Giulia Quadrifoglio only) - this coordinates all the onboard systems to optimise performance, safety and driving pleasure by automatically adapting the settings of various elements in the car including the powertrain, suspension, and braking system amongst others.
Advanced suspensions with Alfa™Link
Inside the Alfa Romeo Giulia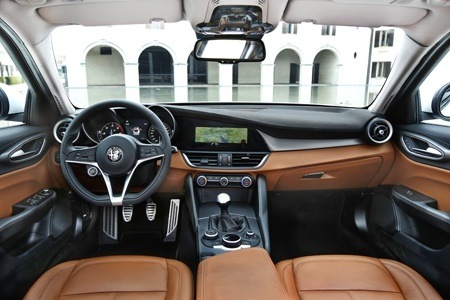 As you would imagine, the interior of the new Alfa Romeo Giulia is every bit as designed and full of quality as everything else involved in the new car and, crucially, it is centred around the driver. The main controls are all grouped together on the small steering wheel for easy access, and the human-machine interface (HMI) consists of two simple, user-friendly knobs for adjusting the Alfa DNA selector and the infotainment system.
All around the cabin, Alfa Romeo have used high-quality materials, including carbon fibre and real wood, to make it look beautiful and pleasing to both the eye and touch, and depending on the level of trim chosen,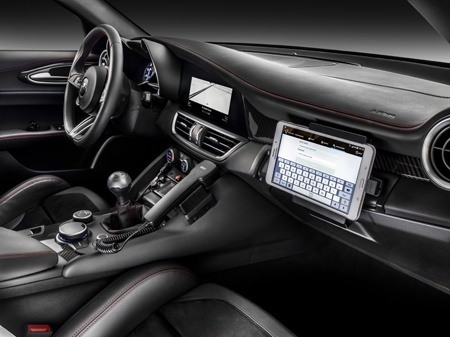 Depending on trim level, all the essential information about the car is shown on either a a 3.5" or 7" colour instrument organised in four screenshots.
There is a new 8.8" Connect Nav 3D system as standard on the Alfa Romeo Giulia, controlled via the rotary pad, and equipped with advanced voice recognition for complete connectivity with all mobile devices (Apple iOS and Android). It also features Bluetooth, music streaming, DAB digital radio and Hi-Fi digital audio.
Sound within the car is exquisite thanks to the debut in the Alfa Romeo Giulia of a sophisticated 900W Sound Theatre by Harman Kardon system with 12-channel Class D amplifier, Logic 7® technology, and 5.1 surround sound via 14 high-quality speakers.
Safety in the Alfa Romeo Giulia
Again; no surprises here with the new Alfa Romeo Giulia featuring some of the finest driving assistance aids on the market. These include:
Forward Collision Warning (FCW)
Autonomous Emergency Brake with pedestrian protection (AEB)
Lane Departure Warning
Adaptive Cruise Control (optional)
Blind-Spot Monitoring (optional)
AFS (Adaptive Front-lighting System)
Choosing your Alfa Romeo Giulia
The standard equipment on the entry-level Giulia trim level includes:
Eight-speed automatic transmission
16" alloy wheels
Daytime running lights
LED rear lamp clusters
Dual-zone climate control
Cruise control with speed limiter
Connect infotainment system and new Alfa™ DNA selector
Forward Collision Warning
Autonomous Emergency Brake with pedestrian detection
Integrated Braking System
Lane Departure Warning
Moving on up to the Giulia Super trim level we find the addition to standard of:
17" inch alloy wheels
Leather and fabric seats
Steering wheel paddle shifters
A special interior trim.
Engines available in the Giulia and Giulia Super include the 150hp 2.2-litre turbo diesel and 180hp 2.2-litre turbo diesel.
The top-of-the-range Giulia Quadrifoglio features the Ferrari-inspired 510hp 2.9-litre BiTurbo petrol engine and aerodynamic enhancements, along with:
19" alloy wheels
35W bi-Xenon headlights with AFS
Sports seats trimmed in leather and Alcantara
Sports steering wheel with red power button
Alfa™ DNA Pro selector with Race mode
Uprated brakes
Active Aero Splitter
Chassis Domain Control
Torque Vectoring technology
Ultra-light carbon seats (optional)
Carbon ceramic disc brakes (optional)
The comprehensive standard equipment on the Giulia can also be enhanced, on request, with the Luxury Pack and the Sport Pack.
The Luxury Pack features full-grain leather upholstery for the seats, power adjustable front seats with heaters, real wood interior detailing, chrome-effect exterior window trim and Xenon 35W headlights with AFS.
The Sports Pack, available on the Giulia Super model, includes a sports steering wheel, aluminium interior trim and Xenon headlights.
Available from September in the UK, full UK specifications will be announced soon for the new Alfa Romeo Giulia, so register your interest now with one of our Customer Service Representatives.