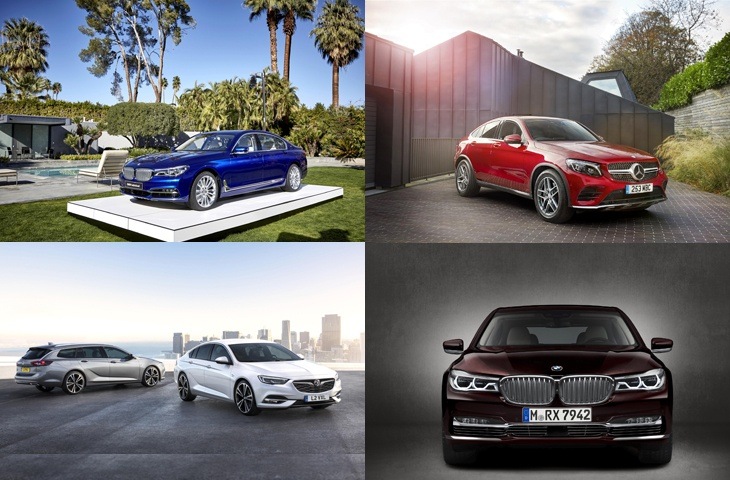 When choosing a car, the colour you want is an important choice, as is the finish you require, because both can affect re-sale price as well as the initial price. And unless you particularly want to stand out, you may want to stick with the colour of other cars on the road.
Popular Colours
The UK's most popular new car colour in 2016 for the fourth year in a row was WHITE, according to data published today by the Society of Motor Manufacturers and Traders (SMMT). In fact, although demand for White cars fell by 2.1%, more than half a million new car buyers chose the colour last year – and that figure is over a fifth of all registrations.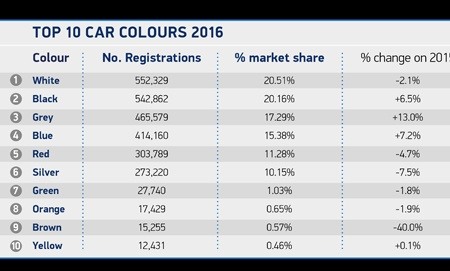 Next on the popular list, also with over half a million choosers, was BLACK with more than 20% market share too, with English drivers actually choosing black over white as the new car colour of choice.
Nationally, the third and fourth most popular colours were GREY and BLUE, both growing in popularity, with RED and Silver 5th and 6th respectively, but dropping in demand. GREEN, ORANGE and BROWN follow, with YELLOW making up the Top Ten with a first appearance since 2013 for the canary colour.
Other colours growing in popularity are PINK (by 82.7%), BRONZE (44%) and TURQUOISE (343%), while BROWN and BEIGE dropped dramatically.
But choosing your colour may cost you as an initial outlay, as an investigation by Parkers revealed, because "more than half of the most popular new models will cost consumers on average an extra £536 if they want to have a choice of more than one colour."
Many car manufacturers offer only one solid car palette colour for free, with "consumers charged on average an extra £292 for non-standard solid paints."
And then there is the choice of metallic and matt types of paint to take into consideration!

As we stated above, white was the most popular colour for new car sales in 2016, but of the 50 popular ranges of cars sampled by Parkers, only 26 were available with solid white as a 'free' colour. And only 14 had black as a no-cost option colour.
Take a look at some of the car manufacturer 'offers' when it comes to colour:
If you choose Britain's best-selling car in 2016, the Ford Fiesta, in entry-level Zetec specification, the sole standard paint is Race Red. To change it to Frozen White will cost you an extra £250, with other colours from Ford's Premium or Exclusive colour range costing between £495 and £725 more.
The Volkswagen Polo offers two free solid paints - Black and Urano Grey
Volkswagen Golf, Passat, Touran, Tiguan and Scirocco offer only one free solid paint – Urano Grey
Volvo V40 is available in three free solid paints, while the Volvo XC60 and XC90 SUV only offer one free solid paint – White
Range Rover Sport is a bit more giving with 18 free colours and 18 optional extra colours, but the Range Rover Discovery offers only one free solid paint – Fuji White
The standard 'free' colour on a MINI Hatch is a metallic: Moonwalk Grey. If you'd prefer solid paint in Chilli Red, Pepper White or Volcanic Orange, you'll pay an extra £475 premium with solid Lapisluxury Blue £750 extra.
With the Nissan Qashqai, if you decide on the least-expensive Visia DIG-T 115, the only standard shade is solid Flame Red, with all of the optional colours being metallic (£575 extra) or pearlescent (an additional £745).
In fact, of the other popular cars in the sample with only one standard shade, only the Kia Sportage's paint was metallic.
Overall, in 2017, Parkers discovered that 60% of Parkers' selection of 50 popular model ranges are available with only one paint colour - a big change from 10 years ago when it was 32%, and 20 years ago from 0%.
What finishes are available?
Deciding on a finish for the car could prove to be an expensive choice, so let's take a look, with the help of a CAR WOW Guide at what 'special' finishes are available.
Solid paint
Almost all cars – other than the most expensive ones – are available in a no-cost basic, solid colour, applied in a single coat, "followed by a lacquer coat (called a clear coat) above it to protect the paint from chips, scratches and the weather." Sometimes now, "manufacturers apply what is known as a "two-pack" paint, in which the acrylic paint is mixed with an isocyanate hardening agent to make a kind of coloured superglue", and this negates the need for a separate clear coat.
Solid paint colour application is inexpensive, and allows touch-ups to be applied easily should any small damage occur such as chips from stones. You can do this yourself, and solid colour paint also allows garages and repairs to be made with little fuss and cost to bigger scrapes too!
Metallic paint
If we take this down to basics, metallic paint is solid paint with a small quantity of powdered metal added, and although not that much more to produce, it allows manufacturers and other suppliers to charge around £250 extra for its application - with a need for multiple coats used to justify it.
A metallic paint coat gives a car a shinier appeal as light reflects off the particles (when clean), and allows any minor damage to be less obvious from a distance.
Problems arise with repairs as getting new paint to match exactly is nigh impossible with "even authorised body shops not guaranteeing a match."
Pearlescent paint
Certainly not cheap, but often worth it with the look given to more premium cars, are pearlescent paints . These "replace the metal particles with ceramic crystals (often called "mica") that don't just reflect light but refract it too, splitting it into different colours by allowing some light in and slowing it down as it passes through."
All this means is that the car sparkles rather than shines, the deep colour produced not only adding to its appeal but also varying in effect depending on the angle viewed at. A lot of Audi cars are available in pearlescent paint.
As we said, it's a pricey application, with even the cheapest costing over £50 to apply, but normally costing between £1,000 and £2,000. And imagine the difficulty in repairing and replacing it!
Matte finishes
Probably the least common of all finishes, and normally in grey or black, it's basically a regular solid paint application, topped with "either a high epoxy content primer coat, a high PVC content in the paint coat itself or a flattening agent in the clear lacquer coat to achieve the dull effect."
A lot trickier to apply than a regular paint, because you can't buff out any imperfections, matte finishes are really a niche market, especially when it comes to repairs and maintenance, so owners have to really take care of the car.
But boy does it look a bit special!
Special paints
Special paint finishes which change colour or seem even more lustrous are available, and often used on prestigious and sporty vehicles, and are usually created by layering paints on top of each other to create the effect. The Liquid Metal of the Porsche 918 costs £36,000 to apply.
Re-Sale value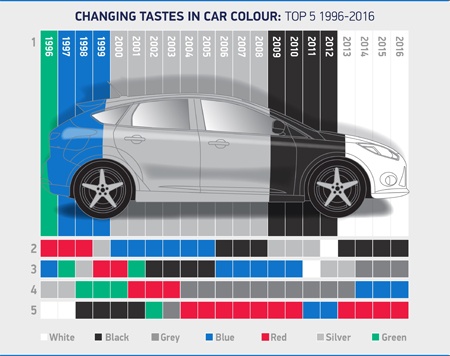 This is something that needs to be thought about when choosing the colour of your car.
It may have been a great idea to go PINK when you bought it, but try selling a pink coloured car later! You may be best sticking to the top 6 in the list, unless you are really going for impact.
And when it comes to finishes, solid and metallic colours are easier (and less costly) to put right should they need doing so, although again if you are going for impact, pearlescent is more eye-catching!
Oh, and according to the AA, a mere 1% of men and 3% of women drivers say colour's important when choosing a new car. Whether that applies to used cars is another thing!